John McAfee has been releasing crypto things with his name on it. First was a Bitcoin card that U.Today wrote about earlier.
Now he has announced on Twitter an upcoming launch of a 'McAfee Freedom Coin'.
Oops. Accidently deleted:

THE MCAFEE FREEDOM COIN:https://t.co/FfROeByhKn

— John McAfee (@officialmcafee) May 29, 2019
McAfee: Totally different from other crypto
McAfee promises that his coin would launch in autumn this year and when asked to explain how it will be different from other digital coins, he said: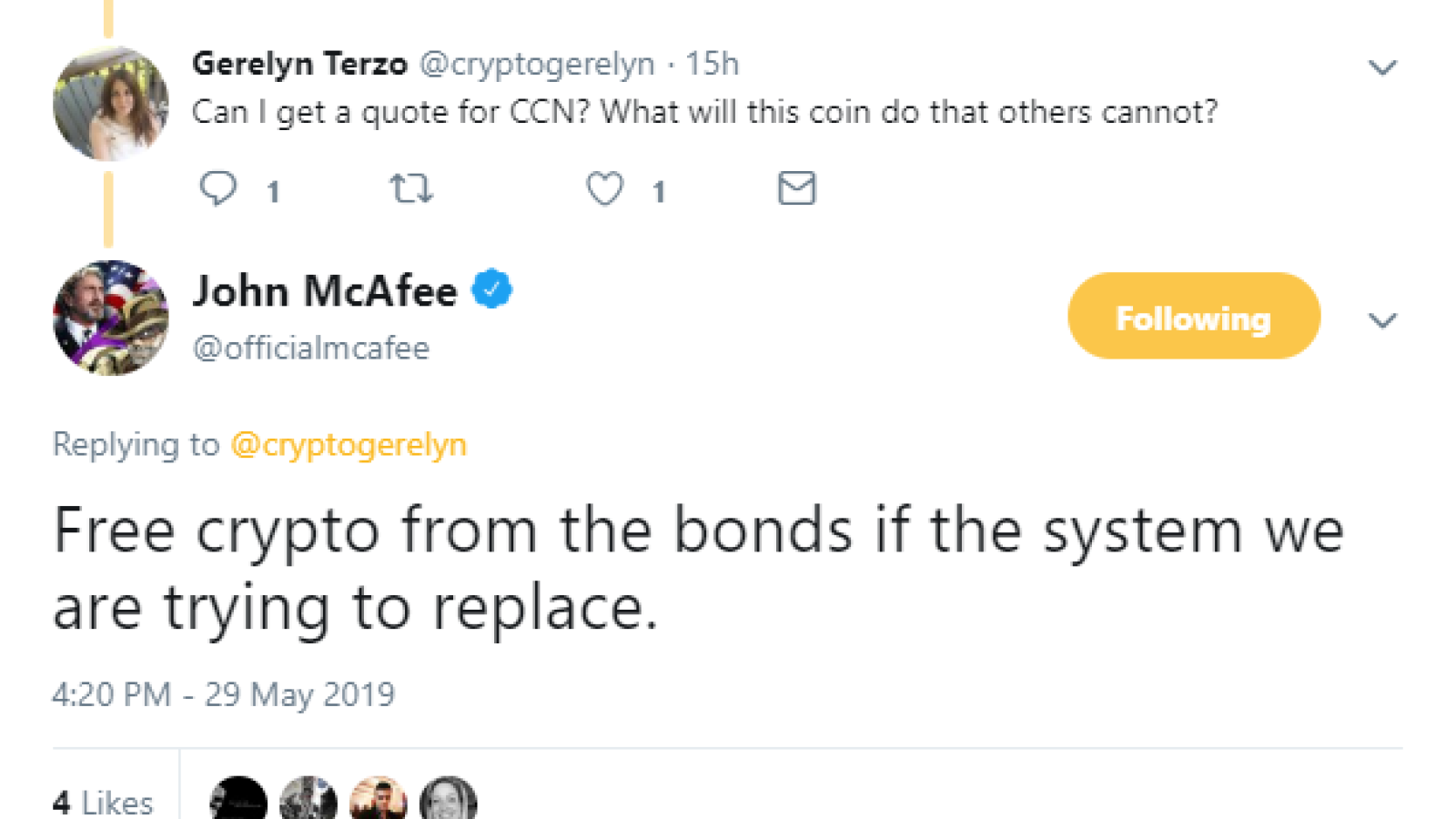 McAfee also wrote that his coin will not be minable, nor there will be an ICO. Investors will not be attracted either, as per the man.
The coin's 'whitepaper'
No official whitepaper of the coin exists, but instead there is a description on a website dedicated to it, most likely written by McAfee.
This is how the coin is described:
The McAfee Freedom Coin is designed to confront the problem of exchange head on, using a unique paradigm and a new structural concept. It is not based on any commodity nor is it connected to the value or behavior of any external item or entity. The value of the coin will always be zero in relation to any other currency yet it's natural market value is free, completely, to grow.
Besides, the new virtual asset is not claimed to be a technological novelty.
The McAfee Freedom Coin is not, by any means, a technology breakthrough - the coin's makeup is trivial and there is nothing new in it. The uniqueness comes from a new approach to understanding the evolution of cryptocurrency and the mechanisms that have kept the Holy Grail of cryptocurrency - economic freedom - out of our reach.
No profit for traders from the new coin
McAfee said that the coin will not be traded on centralized (saying nothing about decentralized) exchanges. However, holders will be able to make private sales.