On Aug. 7, 2023, American multinational heavyweight PayPal announced the launch of native stablecoin PayPal USD (PYUSD). This is the first time a Web2 major issues digital assets on a public blockchain.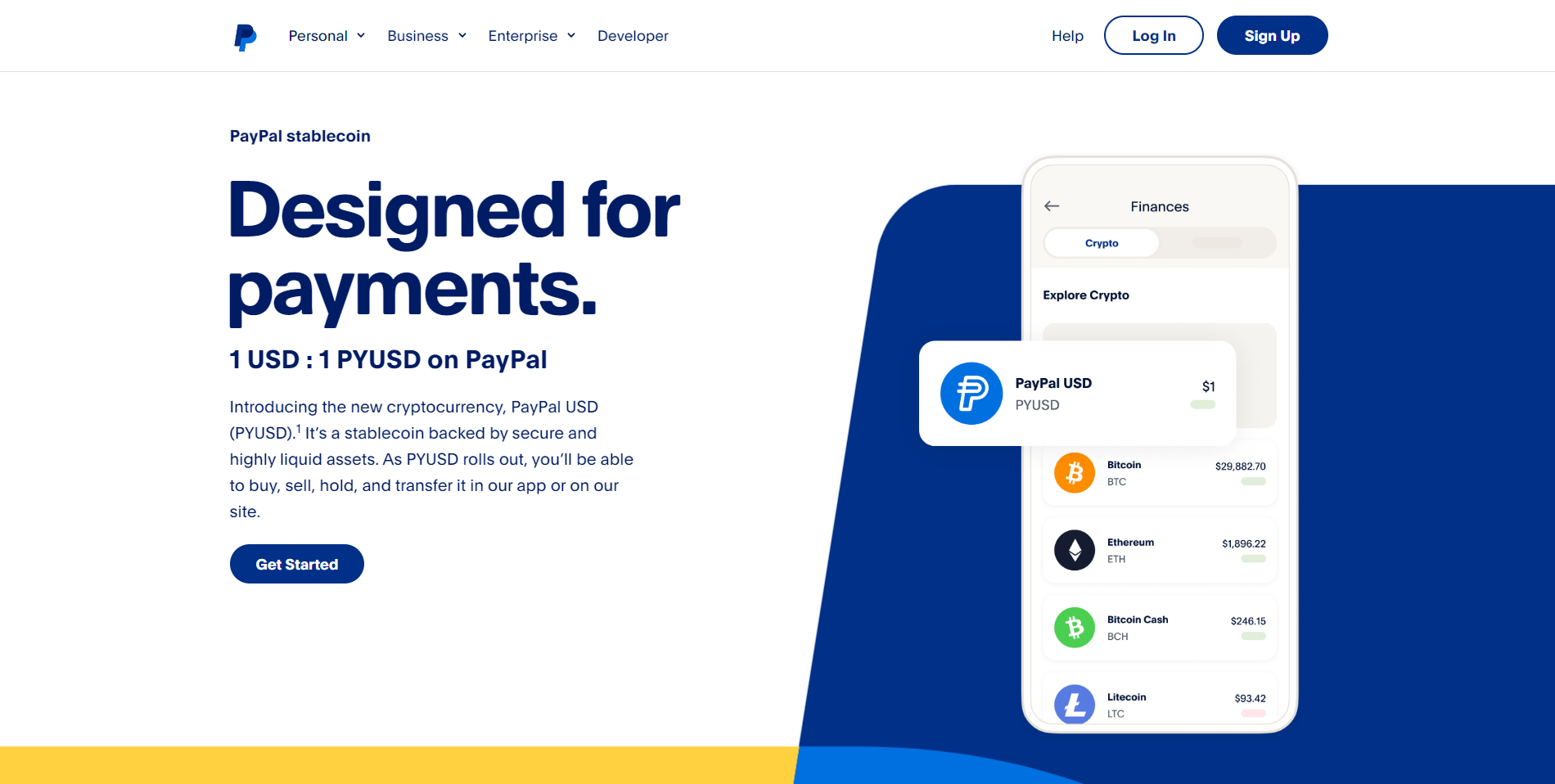 Here is what we know about PayPal USD's (PYUSD) design and the opportunities it unlocks for digital money users.
PayPal introduces PayPal USD (PYUSD) stablecoin: Highlights
The release of PayPal's PYUSD stablecoin changes the narrative in the cryptocurrencies segment: amid a regulatory crackdown, it can reestablish trust in blockchain assets as an economic class.
PayPal USD (PYUSD) is a stablecoin (stable digital currency) issued by PayPal Inc. in collaboration with Paxos Trust Company;
PayPal USD (PYUSD) is 1:1 pegged to the fiat U.S. Dollar; its peg is guaranteed by a basket of reserves that includes cash, short-term U.S. Treasuries and various cash equivalents;
PYUSD users will be able to transfer it between accounts of the PayPal app and compatible wallets, send P2P payments, fund some purchases on e-commerce platforms and convert cryptocurrencies supported by PayPal to and from PayPal USD (PYUSD);
Starting from September 2023, Paxos Trust Company will publish its Reserve Report for PayPal USD in order to demonstrate the health and balance of its reserves;
Technically, PayPal USD (PYUSD) will be issued on Ethereum (ETH) blockchain as an ERC-20 token.
The launch of PayPal USD (PYUSD) token will be a landmark achievement for the stablecoin segment: hundreds of millions of PayPal users will be able to transact ERC-20 USD-pegged stablecoins and pay for it seamlessly.
What are stablecoins?
Stablecoins, or stable cryptocurrencies, are digital assets (blockchain-based tokens) that have their prices pegged to the rates of some fiat assets. Typically, stablecoins are pegged to the U.S. Dollar or Euro. However, there are coins pegged to Offshore Yuan (RMB), Mexican Peso (MXN) and even to Gold (XAU) and Silver (XAG).
Stablecoins gained popularity thanks to their role as "Digital Dollars"; with them, traders do not need to exchange their crypto to fiat USD to protect it from volatility. Also, stablecoins are used in cross-border remittances, as a payment method and in savings accounts.
What are centralized and decentralized stablecoins?
There are two main categories of stablecoins: centralized and decentralized ones. These assets are issued and backed by their fiat equivalents in different ways.
Centralized stablecoins (USDT, USDC, GUSD) are issued by a private company. It creates a portfolio of "backing" assets: cash deposit, U.S. Treasury bills, stocks, commercial paper and so on. The issuer bears full responsibility for the safety of the basket and stability of the 1:1 peg;
Decentralized stablecoins (DAI, FRAX) rely on smart contracts; their emissions are algorithmically correlated with underlying liquidity pools.
All of the largest stablecoins by market capitalization are centralized ones.
What is PayPal?
NASDAQ-listed PayPal Holdings, Inc. is an American multinational corporation operating a feature-rich online payments system. Initially, it was launched by Max Levchin, Peter Thiel and Luke Nosek in December 1998 as Confinity.
From 2002 to 2014, PayPal was a fully-owned subsidiary of eBay marketplace. Technically, it is a conglomerate of payments solutions for individuals and companies. Starting from 2021, it allows account owners to pay with Bitcoin (BTC), Litecoin (LTC), Ethereum (ETH) and Bitcoin Cash (BCH).
What is Tether (USDT)?
U.S. Dollar Tether (USDT) is the largest stablecoin by market capitalization. It is issued by Tether Limited and is 1:1 pegged to the U.S. Dollar.
By August 2023, Tether (USDT) has launched on 15 blockchains; meanwhile, over 95% of its whopping $83+ billion supply is issued on Ethereum (ETH) and Tron (TRX).
Tether (USDT) is backed by U.S. Treasury bills, cash, money market funds, Bitcoin (BTC) and so on.
Introducing PayPal USD (PYUSD): Ethereum-based stablecoin by fintech giant
In August 2023, PayPal stole all the headlines with its stablecoin release: it may be a watershed moment for global crypto adoption, fintech and online commerce as a whole.
PayPal USD (PYUSD): Basics
As announced in a company press release, PayPal USD (PYUSD) is a U.S.-regulated, fully backed, U.S. Dollar-pegged stablecoin on Ethereum (ETH) blockchain issued by PayPal Holdings, Inc., and Paxos Trust Company.
Dan Schulman, president and CEO of PayPal, stressed the paramount importance of PYUSD's launch for the digital economics segment:
The shift toward digital currencies requires a stable instrument that is both digitally native and easily connected to fiat currency like the U.S. dollar. Our commitment to responsible innovation and compliance, and our track record delivering new experiences to our customers, provides the foundation necessary to contribute to the growth of digital payments through PayPal USD.
PYUSD's full-stack release will be finalized in a couple of weeks: the first users are already able to purchase it in the app.
PayPal USD (PYUSD): Use cases
Basically, PYUSD will be able to perform all operations that previously required either Bitcoin (BTC) or fiat U.S. Dollar. PYUSD users can transfer it between the accounts of PayPal and all compatible wallets integrated with its tech.
Also, users now have an opportunity to send person-to-person payments using PYUSD. On some e-commerce marketplaces, when choosing PayPal as a payment method, users can pay using their PYUSD balances.
Last but not least, all cryptocurrencies that PayPal supports so far can be seamlessly converted to and from PayPal USD (PYUSD). Thus, PayPal customers are able to move liquidity from their crypto portfolio to stablecoins without leaving the application.
PayPal USD (PYUSD): Design and features
PayPal USD (PYUSD) stablecoin is an ERC-20 token. This means that it technically represents a smart contract (short software program) on the Ethereum (ETH) network. As Ethereum (ETH) is a transparent permissionless blockchain, PYUSD transfers will be trackable through blockchain explorers.
Per Etherscan data, Paxos-issued PYUSD will have a relatively small supply of $26.9 million in equivalent.
As an ERC-20 token, PYUSD can be easily transferred outside PayPal; any third-party Ethereum-based DEX will be able to add it to the trading engine.
However, as PayPal is a U.S.-regulated business entity, it is highly unlikely that PYUSD will be sold without KYC/AML checks. Due to recent regulatory attacks, this will make PYUSD the dominant stablecoin for the domestic U.S. market.
PayPal USD (PYUSD): Listings
In the first 24 hours after launch, the first listing announcements regarding PayPal USD (PYUSD) arrived. Justin Sun's Huobi, a global cryptocurrency exchange ecosystem, is going to be the first exchange to list PYUSD.
According to the official team's statement, Huobi will list PYUSD in a pair with the largest stablecoin, U.S. Dollar Tether (USDT), very soon. More details of the listing are yet to be disclosed.
All operations in PYUSD/USDT pairs will be charged with a "permanent" zero commission, the Huobi team added.
Also, BitMart, a top 25 exchange by trading volume, announces the listing of the PYUSD/USDT pair: the trading is expected to start on Aug. 8.
PayPal USD (PYUSD): Further plans
The launch of PYUSD was welcomed by cryptocurrency industry heavyweights. Jeremy Allaire, CEO of Circle Inc., congratulated PayPal on the release and highlighted the importance of regulatory clarity for the adoption of stablecoins.
I'd also like to congratulate @PayPal and @Paxos for the launch of $PYUSD. It's incredibly exciting to see such a significant internet and payments company entering the stablecoin space.

This is what happens when we start to get regulatory clarity, and with the Payment…

— Jeremy Allaire (@jerallaire) August 7, 2023
In the coming months, PayPal is going to add the support for PYUSD in its Venmo app for retail payments. Also, starting from September 2023, PYUSD issuer Paxos will publish proof-of-reserves reports for maximum transparency.
Instead of security audits, PYUSD will leverage an attestations model (like USDT); the attestation will be performed by a third-party accounting firm and conducted pursuant to the attestation standards of the American Institute of Certified Public Accountants (AICPA).
Wrapping up
PayPal USD (PYUSD), a USD-pegged stablecoin by U.S. fintech giant PayPal, went live on Aug. 7, 2023. PayPal became the first payments heavyweight to issue native digital assets.
PayPal USD (PYUSD) is an Ethereum-based ERC-20 cryptocurrency token. At launch, about 26,900,000 are issued by Paxos, which is a tech partner of the launch.
PYUSD token will be available on the PayPal app as well as on third-party services; Huobi is the first crypto CEX major to announce its listing in a USDT pair.