Amid another wave of meme coin euphoria triggered by PEPE and LADYS token rallies, the right moment has come to observe the possible catalysts that can affect the price of Shiba Inu (SHIB) in the midterm.
Despite the growing popularity of novel memetic coins, their "previous generation" — Shiba Inu (SHIB), Baby Doge Coin (BABYDOGE), Floki (FLOKI) — remains in the spotlight for traders, analysts and crypto enthusiasts.
Shiba Inu price: What can affect it in 2023?
As with many large-cap altcoins, the Shiba Inu price can be affected by technology-, marketing- and community-driven catalysts as well as by general crypto segment sentiment and the global macroeconomics context.
Shiba Inu (SHIB) is a dog-themed meme cryptocurrency introduced by a group of anonymous developers in August 2020;
Shiba Inu (SHIB) champions the nonprofit ethos of cryptocurrency and is among the most common coins for cryptocurrency enthusiasts;
The token became particularly popular in late Q1, 2021, as the Shiba Inu (SHIB) price started rocketing triggered by Dogecoin (DOGE) rally;
Shiba Inu (SHIB) price can be affected by a group of factors including overall crypto sentiment, economic situation, major community announcements, loud tech releases, crucial integrations and so on;
As the token is a meme coin, the Shiba Inu (SHIB) price is subject to super-high volatility even by the standards of the crypto segment.
Thanks to the volatile dynamics of its price, Shiba Inu (SHIB) was listed on the majority of futures trading platforms soon after launch.
What are meme coins?
Meme coins should be considered a subclass of cryptocurrencies with no "real" utility and intrinsic value. Most frequently, they are developed by anonymous enthusiasts in a "just for fun" manner. As a backbone element of their narratives, such coins use memes, viral humorous images or characters.
Dogecoin (DOGE), a fork of Litecoin (LTC) launched in 2013, was the first meme coin. It uses the fictional shiba inu dog Kabosu from Japanese internet culture as a mascot.
Meme coins became the most trending segment of cryptocurrencies in early 2021 when U.S. tech entrepreneur Elon Musk started aggressively promoting Dogecoin (DOGE) in a provocative manner.
Why are meme coins popular?
There are four main pillars of meme coins' popularity in 2023: its high volatility, accessibility, aggressive marketing and fun ethos.
Volatility. Trading meme coins can be very profitable as they demonstrate enormous volatility. When the DOGE mania started in January 2021, the asset spiked 10x in a few hours.
Accessibility. As trading meme coins becomes more and more popular, centralized and decentralized exchanges are listing them promptly. This is why they can be purchased even by traders with basic expertise.
Marketing. Impressed by DOGE and SHIB successes, many more teams decided to benefit from launching meme coins. Typically, they aggressively promote their products on Twitter and Reddit, so newcomers can be easily attracted to such communities.
Ethos. Despite having no "real" product (in the majority of cases), meme cryptocurrencies are newbie-friendly, easy-to-understand and funny, as opposed to "serious" for-profit utility and governance tokens.
This is why the popularity of meme coins is here to stay: they are fueled by various catalysts of different types.
What is Shiba Inu (SHIB)?
Shiba Inu or Shiba Inu Coin (SHIB) is a cryptocurrency introduced by an anonymous developer (or group of developers) acting under the Ryoshi nickname. From the outset, it was promoted as a 100% community-driven project with no doxxed team, VC backing, detailed roadmaps, official representatives and so on.
SHIB became popular when its developers sent a decent share of its circulating supply to Vitalik Buterin, creator of Ethereum (ETH). The Shiba Inu price peaked in October 2021 at over $0.00008845.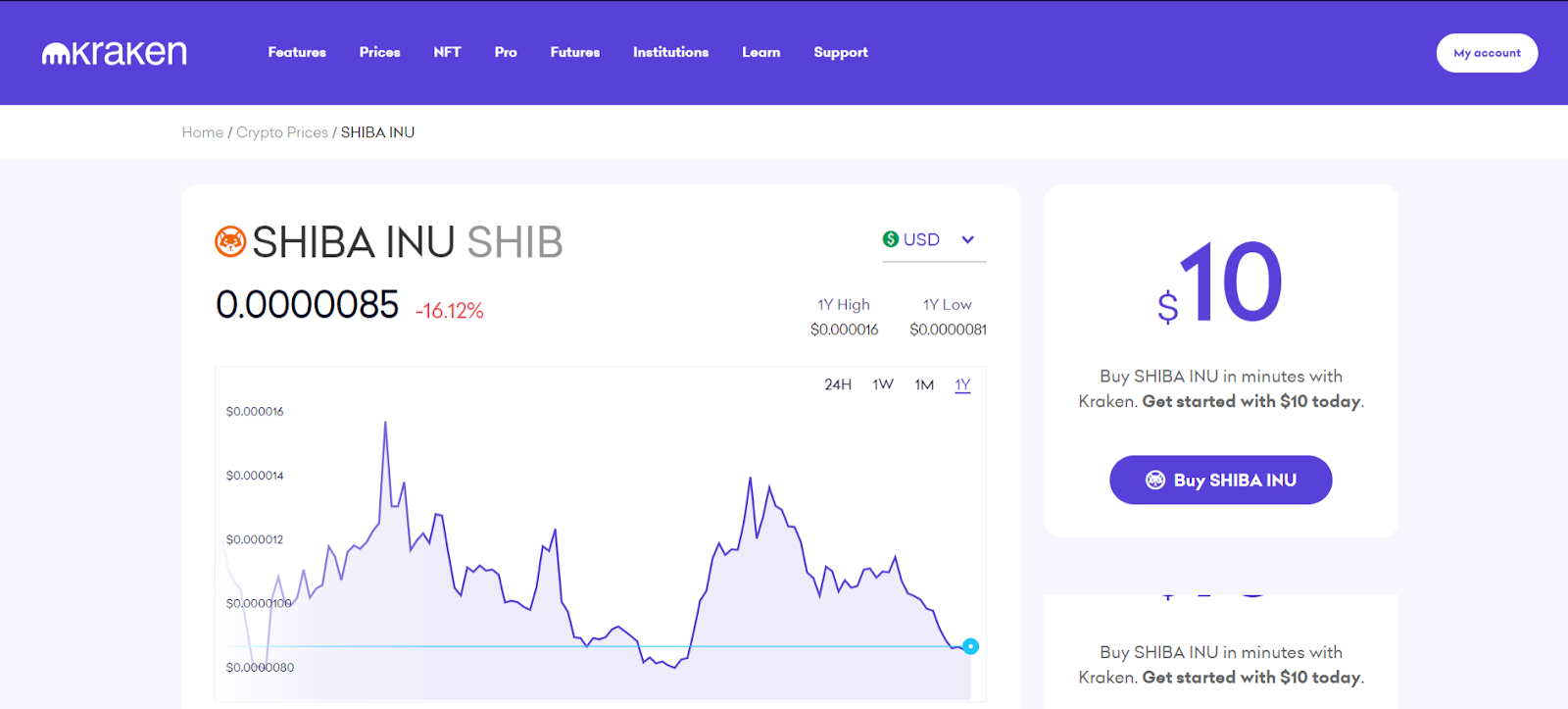 Image by Kraken
Shiba Inu (SHIB) is a unique cryptocurrency as it decided to outgrow the segment of "pure" meme coins. It launched its own decentralized exchange and metaverse platform. Also, in 2023, it is getting closer to the launch of Shibarium, the first-ever public L2 scaling platform on Ethereum (ETH) associated with the dog-themed cryptocurrency.
Shiba Inu: Quick facts
| | | | | | |
| --- | --- | --- | --- | --- | --- |
| Name | Ticker | Max price | Price (May 2023) | Market cap (M USD, May 2023) | CMC ranking |
| Shiba Inu | SHIB | $0.00008845 | $0.00008845 | 4 996 | 15 |
Right now, Shiba Inu (SHIB) is the second largest altcoin by market capitalization, only surpassed by "undisputed" Dogecoin (DOGE).
Shiba Inu price: Overview of possible catalysts in 2023
After a turbulent 2022, the Shiba Inu (SHIB) price can be affected by numerous short-, mid- and long-term catalysts. Let's review a few of them.
Shiba Inu price: General market sentiment
Just like any other large-cap altcoin, the Shiba Inu price can be affected by the general sentiment of the cryptocurrency market. When Bitcoin (BTC) and Ethereum (ETH) are growing, they are followed by all large-cap altcoins: this rule works for the last few years and can be attributed to the overall optimism/pessimism of crypto market players.

Image by Kraken
Moreover, the Shiba Inu price, in this context, can react to macroeconomic indicators and processes. For instance, during the aggressive "Quantitative Easing" policy in Q1-Q2, 2020, its price reached its first macro peak. Also, it is affected by the performance of key indicators of the U.S. economic system, including unemployment rates, CPI, DXY and so on.
Fed Funds Rate is another macroeconomic indicator that heavily affects cryptocurrency markets: when the officials announce another rate hike, Bitcoin (BTC) and Ethereum (ETH) volatility might spike in both directions. Somehow, it correlates with the "Fear and Greed" index dynamics that demonstrate the motivation of market participants.
Shiba Inu Price: New meme coin rallies possible
In addition to general processes in the cryptocurrencies segment, the meme coin sphere has its own paradigm of evolution. All of the largest meme coins exist within the same narrative; as such, they might be dependent on each other.

Image by Kraken
When Dogecoin (DOGE) surges, catalyzed by an Elon Musk tweet or mentioned on a major television channel, other large meme cryptocurrencies are likely to surge. This also works for a new generation of meme cryptocurrencies: inspired by the successes of PEPE and LADYS, investors started moving funds to the meme coin sphere yet again.
At the same time, it should be noticed that this rule works in both directions: when Dogecoin (DOGE) is in the red, other meme coins are also bleeding. Also, scandals with this or that new dog-coin might be dangerous for the segment as a whole.
Shiba Inu Price: Token burning gains traction
In order to protect the scarcity of SHIB as an asset, its token design relies on several dynamic burn mechanisms. That said, part of the circulating supply of Shiba Inu (SHIB) is being sent to unspendable ("burn") addresses periodically: these tokens are destroyed forever and cannot be brought back into circulation.
This is no reverse process: the supply of Shiba Inu (SHIB) cannot be increased. Neither developers nor supporters nor community activists are able to mine/create new SHIB tokens. Thanks to supply/demand laws, the scarcer assets are better protected from deflation with time. In crypto, hardcoded token burn mechanisms proved effective when it comes to the long-term health of tokenomics.
As covered by U.Today recently, in May 2023, the Shiba Inu burning mechanism gained traction. As such, it is crucial to track its performance to detect potential catalysts for the SHIB price.
Shiba Inu price: Effects of Shibarium
The launch of Shibarium, a pioneering second-layer solution for meme cryptocurrency, is among the most anticipated technical milestones for the Shiba Inu (SHIB) community in 2023. Currently, the product is in an open beta testing stage: developers are invited to launch their applications on Shibarium's RPC endpoints.
Once launched in "full" live version, Shibarium is set to amplify the effects of the token burn mechanism for Shiba Inu (SHIB). Shibarium will have its own gas cryptocurrency called BONE.
All transactions verified on Shibarium are charged with BONE fees. The basic fee gets immediately locked away, while 70% of it gets burned. According to recently shared screenshots, the fee can be burned once the amount of BONE locked in the contract exceeds 10 BONE. Then, it will be converted into SHIB automatically and sent to an unspendable wallet. As such, should Shibarium be active and popular, the Shiba Inu price is going to receive one more powerful bullish catalyst.
Shiba Inu price: Ecosystem progress
Last but not least, as Shiba Inu (SHIB) becomes the first meme coin to evolve into a platform for dApps, ecosystem development issues are of paramount importance to its progress. The majority of applications based on Shibarium will somehow leverage the SHIB token as a payment instrument, collateral, reputation management asset, governance token and so on.
Here is why its progress is crucial for Shiba Inu's price performance. Users of every application on Shibarium nodes will require a huge amount of SHIB. Every dApp will promote its services aggressively. As such, we might see a synergy between various Shibarium-related factors as a pivotal element in Shiba Inu's price performance.
Wrapping up
To sum up, we can indicate multiple groups of catalysts associated with Shiba Inu price performance. It depends on general market context, the status of the memetic cryptocurrencies sphere, the activity of the token burn module, the popularity of Shibarium second-layer platform and the progress of the SHIB ecosystem.
The combination of these factors can trigger rapid price movements for Shiba Inu in both directions: these potential volatility spikes can be either dangerous or profitable for SHIB enthusiasts globally.