On Aug. 7, 2023, fintech heavyweight PayPal launched its native USD-pegged stablecoin PYUSD. PayPal became the first Web2 major to issue a native digital currency as all Facebook-Meta crypto products are shut down now.
Here's what you should know about PayPal stablecoin PYUSD.
What is PayPal stablecoin PYUSD?
PayPal stablecoin PYUSD is an Ethereum-based cryptocurrency with its price pegged to the U.S. dollar. Its equivalent is $1. It is issued in a collaboration between PayPal, a U.S.-headquartered global fintech app, and New York-regulated stablecoin company Paxos Trust Limited.
PYUSD is the first stablecoin launched by a "classic" fintech. It is designed to streamline payments in the PayPal application for its customers and remove the necessity to use fiat U.S. Dollar, Bitcoin or an altcoin for money remittances and payments in e-commerce. This, in turn, makes all of PayPal's operations more streamlined and cost efficient.
When does PayPal stablecoin PYUSD launch?
The first announcement of PayPal's stablecoin launch made headlines on Aug. 7, 2023. Per the official statement of its team, PYUSD became available for some clients of PayPal's mobile application. At the same time, the process of the full-scale PYUSD rollout will take some weeks and will most likely be finished by Q4, 2023.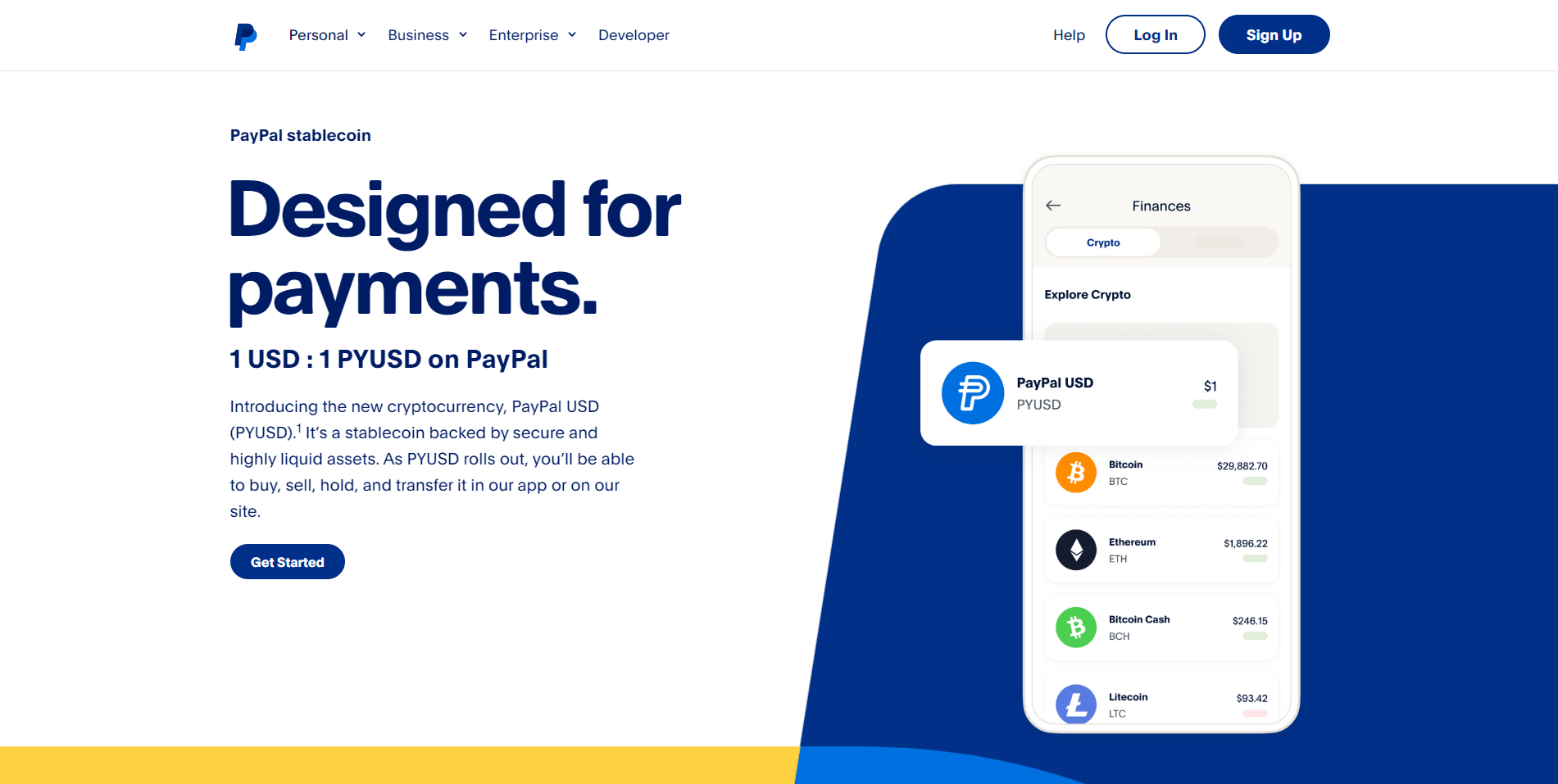 Also, the team indicated the next phases of its progress and its possible timelines. In September 2023, Paxos Trust Limited will release its first proof-of-reserves statement in order to demonstrate the reserves PayPal stablecoin PYUSD is backed by.
By the end of 2023, PYUSD will also be available in Venmo, a retail payment app of PayPal's ecosystem.
How to purchase PYUSD on PayPal?
In order to buy your first PYUSD stablecoin on PayPal, you need to set up your account first. To do so, you will be invited to pass "know-your-customer" checks. Also, PayPal account registration might be unavailable in some jurisdictions.
Then, you need to top up your account with a credit card. Also, you can ask somebody to send you some money via PayPal.
Once the account is filled with money, you can exchange them for PYUSD stablecoin and start working with them immediately. No special cryptocurrency expertise is required.
Is PayPal stablecoin PYUSD legit?
Yes, PayPal stablecoin PYUSD is a legit cryptocurrency asset issued by a highly reputable firm. First, it is an ERC-20 stablecoin based on Ethereum (ETH), the largest permissionless network with smart contracts. As such, everyone can track its distribution, transactions, aggregate supply, holders' list and so on.
Also, it is issued by Paxos Trust Limited, a top-tier issuer of stablecoins and well known as an operator of Binance USD (BUSD) and Paxos Global (PAX) USD-pegged stablecoins. The organization scored two necessary licenses ("Bitlicenses") from the New York State Department of Financial Services (NYDFS). As such, trust in PYUSD is backed by the decentralized power of Ethereum (ETH) and the reputations of two American fintech heavyweights.
Does PayPal hold cryptocurrencies?
Yes, PayPal is among the largest corporate holders of cryptocurrencies. Per its filing with the U.S. Securities and Exchange Commission (SEC) published in Q1, 2023, it holds over $1 billion worth of different cryptocurrencies. PayPal needs them to support the cryptocurrency operations of its customers.
Starting from 2021, PayPal offers its clients operations with Bitcoin (BTC), Ethereum (ETH), Litecoin (LTC) and Bitcoin Cash (BCH).
The two largest cryptocurrencies, Bitcoin (BTC) and Ethereum (ETH), are responsible for the majority of its digital assets treasury. They account for $499 million and $362 million, respectively.
How to buy PayPal stablecoin on an exchange?
So far, two large-scale cryptocurrency exchanges have announced their support for PayPal's stablecoin, PYUSD.
The first one is Justin Sun's Huobi, one of the largest cryptocurrency ecosystems in Asia. Huobi promotes its listing as the first-ever such announcement for PYUSD. However, it does not provide customers with an accurate timeline. Per its statement, PayPal stablecoin will go live "soon."
Also, BitMart, a top 25 cryptocurrency exchange by trading volume, announced the listing of the PYUSD/USDT pair. Per its statement, trading for PYUSD should have been started on Aug. 8, 2023. It is expected that more centralized exchanges will be interested in listing PYUSD in the coming months.
Is PayPal stablecoin PYUSD a scam?
No, PYUSD is not a scam. It is a legit cryptocurrency launched by U.S.-regulated financial entities. Also, its price is pegged to the U.S. dollar, so it cannot be used in price manipulations.
Then, PayPal does not plan to raise money from selling PYUSD. Instead, it should be referred to as one more instrument of payment inside the PayPal ecosystem. The PYUSD release is not a classic token sale, like ICO, IEO, IDO and so on.
As such, there are no signs that PayPal stablecoin PYUSD is a scam, an element of a pump-and-dump scheme or can somehow be used in malicious activity.
Who can buy PayPal stablecoin PYUSD?
First and foremost, PayPal stablecoin PYUSD is available for all customers of the PayPal payments application. They can set up an account, pass KYC procedures, fill it with U.S. dollars or supported cryptocurrencies and purchase PYUSD in a couple of clicks.
Purchasing PYUSD will be available on all exchanges that are going to add the token to their toolkit of trading pairs. Basically, PYUSD stablecoin will be added in pairs with U.S. Dollar Tether (USDT). Thus, users of centralized exchanges will need to purchase U.S. Dollar Tether (USDT) and exchange it for PYUSD.
Also, as an Ethereum-based token, PayPal stablecoin PYUSD will most likely be added to some decentralized exchanges in the EVM ecosystem.
PayPal stablecoin price: Where to see
As PayPal's PYUSD is a dollar-pegged stablecoin, "by default," its price is fixed at $1. However, due to increased market volatility, the price of PYUSD might be losing its peg for some periods. For major decentralized stablecoins, prices can range from $0.9 to $1.05, but for very short periods.
For instance, USD Coin (USDC) stablecoin's de-pegging lasted for several hours on March 11, 2023, on the news of the insolvency of major U.S. crypto-friendly banks. Then, the price stabilized at $1.
However, there are a couple of ways you can check the price of PayPal's PYUSD stablecoin:
PayPal application itself;
Exchanges that listed PayPal (you need to find the PYUSD/USDT quotation);
Third-party trackers like CoinGecko, CoinMarketCap and so on;
All methods will be useful, even during the periods of potential PYUSD de-pegs.
Is PayPal stablecoin PYUSD better than Tether (USDT)?
It would not be correct to compare two stablecoins directly as they have different backgrounds, different purposes, different issuers and so on.
Launched in 2014, U.S. Dollar Tether (USDT) was the first mainstream stablecoin. Initially, it was issued on Omni, an asset layer on top of the Bitcoin (BTC) blockchain.
| | | | | | |
| --- | --- | --- | --- | --- | --- |
| Stablecoin | Ticker | Issuer | Supply | Blockchains | Launch date |
| U.S. Dollar Tether | USDT | Tether Limited | $83 billion | Multiple | October 6, 2014 |
| PayPal USD | PYUSD | PayPal Holdings, Paxos Trust | $26.9 million | Ethereum | August 7, 2023 |
While U.S. Dollar Tether (USDT) has already established itself as a reliable stablecoin, PYUSD has yet to demonstrate its benefits to market participants.
How can I sell PayPal stablecoin PYUSD?
Just like with buying PayPal stablecoin PYUSD, there are a number of options for cryptocurrency investors interested in selling PYUSD:
PayPal application itself: PYUSD can be exchanged for Bitcoin (BTC), Ethereum (ETH), Litecoin (LTC), Bitcoin Cash (BCH), as well as for fiat U.S. Dollar in PayPal's account.
Centralized exchanges: So far, PYUSD is listed on Huobi and BitMart in pairs with U.S. Dollar Tether (USDT). As such, users can sell PYUSD for USDT and then exchange stablecoins for other cryptocurrencies.
It is highly likely that in the near future, PYUSD selling operations will be available on Ethereum-based decentralized exchanges like Uniswap and "over-the-counter" trading platforms.
Is PayPal stablecoin centralized?
Yes, PayPal stablecoin PYUSD is a centralized one. Its circulating supply, dynamics of emission, legal basics and listing policy is controlled by its issuer Paxos Trust, which acts on behalf of PayPal itself.
The centralized design of PYUSD has a number of pros and cons. Its centralized mechanism (i.e., being issued by the U.S.-registered business entity) has streamlined achieving regulatory-compliant status for PYUSD. Amid increased regulatory hostility, this feature might be of paramount importance.
However, just like with any centralized stablecoin, PayPal has too much control over PYUSD. For instance, it is able to voluntarily freeze PYUSD accounts if malicious activity is suspected.
How much PYUSD is in circulation?
PayPal USD's (PYUSD) circulating supply is 26,905,005.66 PYUSD, as displayed by its contract via Etherscan explorer. As such, its market capitalization is equivalent to about $26.9 million in its initial release.
That said, PayPal USD (PYUSD) is the 31st largest stablecoin by market capitalization and 22th largest USD-pegged stablecoin. By the standards of the stablecoin segment, this is not that much, but it already eclipses some popular stable assets — USDP, Djed, HUSD, Celo Dollar — by net market capitalization.
Most likely, PayPal will increase the supply of its stablecoin after its full-fledged release to users.
Is PayPal stablecoin PYUSD launched on Ethereum (ETH)?
Yes, PayPal's PYUSD stablecoin is issued as an ERC-20 token on the Ethereum (ETH) blockchain. This means that its transactions are verified by Ethereum (ETH), the largest programmable blockchain in Web3.
As such, PayPal's PYUSD will be easily integrated into the ecosystem of Ethereum-based DeFi protocols: exchanges, yield farming machines, other stablecoins and so on. It is also compatible with the most popular Ethereum (ETH) wallets, like MetaMask and TrustWallet.
At the same time, dependency on Ethereum (ETH) makes PYUSD vulnerable to spikes of gas fees on the second largest blockchain.
PYUSD/USDT pair: Where to trade
Currently, the PYUSD/USDT pair is expected to be listed on two major exchanges, Huobi and BitMart. Users will therefore be able to exchange PayPal's PYUSD stablecoin in U.S. Dollar Tether (USDT). Huobi has already stated that all operations in this pair will be charged with zero fees.
In the coming months, it looks natural for PayPal and Paxos Trust to list PYUSD in pairs with the ERC-20 version of USDT on more centralized and decentralized exchanges. Also, the launch of PYUSD/USDT liquidity pools seems possible.
Summary
PayPal's PYUSD stablecoin is an Ethereum-based stable cryptocurrency by fintech major PayPal. It allows PayPal users to leverage the potential of the native stablecoin with no need for a crypto-to-fiat conversion.
PYUSD is issued as an ERC-20 token; its net supply is over $26.9 million in equivalent. Currently, Huobi and BitMart exchanges are sharing their plans to list PYUSD in pairs with U.S. Dollar Tether (USDT).