Today, management of the supply chain is a very challenging task: depending on the companies and products handled, the chain can include over 100 stages, numerous geographical spots, a lot of payments and invoices, as well as hundreds of people involved. The whole process of a product going through a supply chain can last for months. The logistics industry lacks transparency and efficiency, and this is where blockchain comes in handy. How does it change the rules of the game, and will blockchain replace the current state of things?
What is a supply chain?
To put it simply, a supply chain is a network of all organizations, specialists, resources, and activities involved in the process of production and sale of a product. Logistics is only a part of this complex network. Supply chain management is the control over the flow of services and goods from the moment of handling raw materials and to the point of selling and consumption. Smart execution of supply chain management can:
boost sales and increase revenues;

optimize expenses;

improve quality;

contribute to production, distribution, and sales.
Of course, the supply chain sphere is not devoid of drawbacks: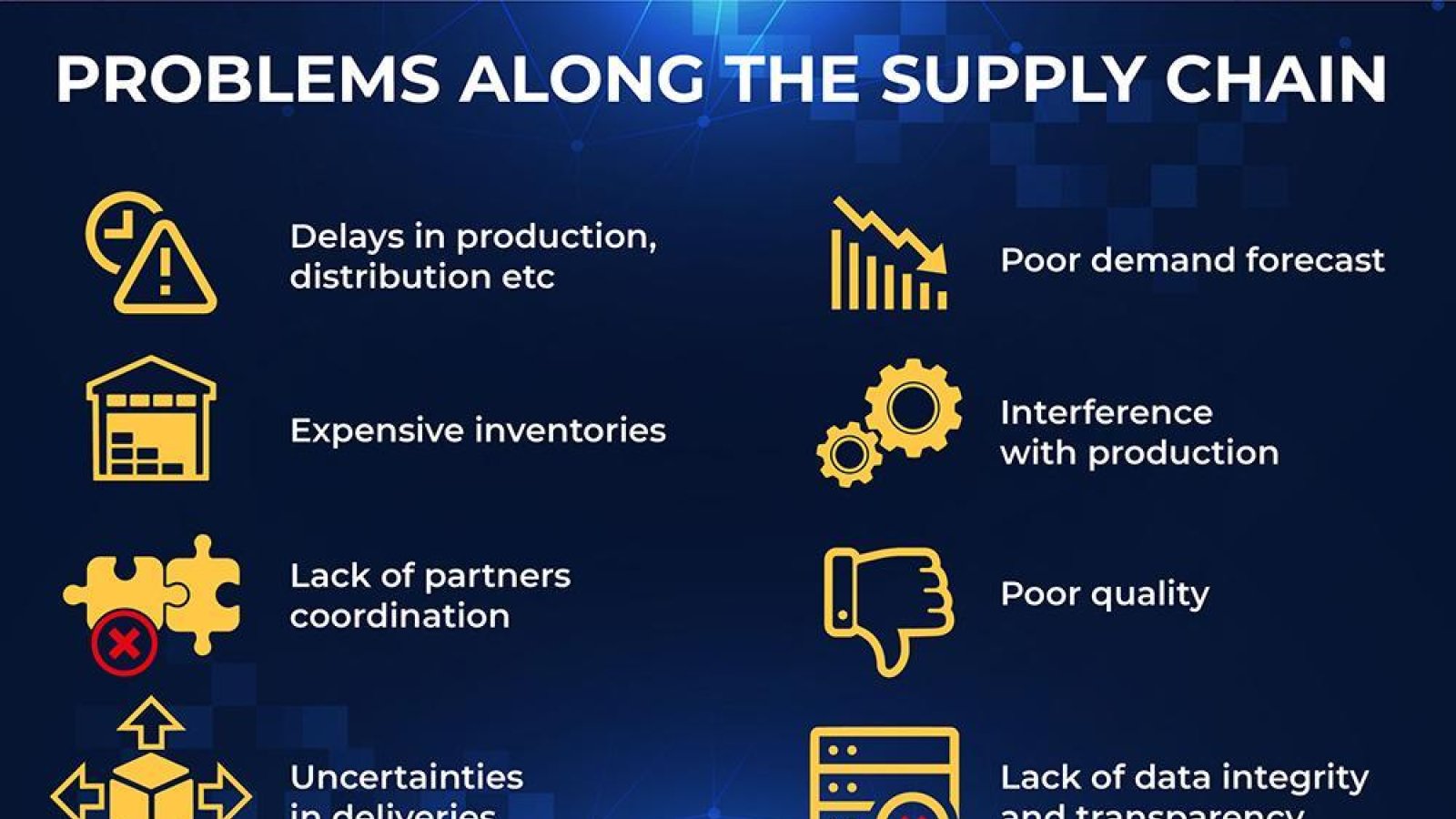 A few decades ago, control over logistics was way easier due to the fact that all products were traded locally. Today, companies go international, so managing transportation, production and communication has become challenging.
What's the role of blockchain in it?
Although blockchain is mostly known to drive cryptocurrency, this technology has a lot of spheres of application. A distributed ledger can be efficiently used in contracts and agreements, exchange, payments, tracking, and so son. Every transaction stays recorded in a block over multiple copies of the ledger and distributed over numerous computers, or nodes. The data stays totally transparent, and storage is secure because blocks are linked to one another. There is no central authority, and blockchain is very flexible. It can boost the efficiency of the supply chain and make it more scalable. Besides, a blockchain may have a chain of commands built-in.
card

Still not clear? Let's consider the following example:
"Let's say you visit a pharmacy and need to buy rare expensive medicine. When checking out the package, you see "Store the drug in a dry cold place below 15 °C, failure to do so will make the product not fit to use." Okay, the pharmacist took care of it, but how do you know that the same conditions were met during transportation and that the distributor was careful about it, too? You don't know whether you can trust and buy the product. What if the drug has lost its properties because of mishandling?
In such cases, blockchain could be of much help. There might be a microchip sensor (IOT chip) in the package of medication to keep track of the conditions right from the moment of dispatch from the factory, and to the moment you take it in your hands. This data is regularly renewed and submitted to the blockchain ledger.
You can simply use your smartphone to check out the details and verify the drug was stored in a proper environment. With the help of IOT coupled with the blockchain, you don't have to rely on the pharmacist and distributors only – all essential information is at your fingertips."
Other examples include blockchain being integrated into the diamond trading sphere (chips are attached to diamonds to prove their history and origin) and food supply chain (here, blockchain proves that products are fresh and stored in compliance with standards).
Therefore, blockchain proves to be useful at all stages of supply chain management.
Problems of SCM addressed by blockchain
When it comes to supply chains, blockchain brings about a lot of benefits. It solves all major problems in the following ways:
It enables direct communication without a myriad of third parties. All relationships can be managed in a complex ecosystem.

Blockchain makes data and interaction totally transparent. The problem of trust to third parties is solved.

This is a move to digitalization, which means a lot of questions can be solved without personal meetings.

Blockchain is the key to data decentralization and integrity.

Blockchain plays the role of data repository with real-time synchronization among all nodes involved.

The risk of fraud and counterfeits is significantly reduced.

Blockchain allows cutting on auditing costs.
Benefits of blockchain in supply chain management
As you can see, blockchain is a perfect replacement for banks, messengers, business management software, and logistics solutions. This is a versatile technology that renders the whole gamut of advantages:
Dynamic changes and compliance with ever-changing demands and rules.

Digitization of the supply chain ecosystem. The technology-focused approach reduces operational time and the risk of human mistakes.

Stronger, more efficient collaboration between all participants of the supply chain network.

Security, integrity, and reliability of data.
Therefore, a distributed ledger automates processes across the entire chain and optimizes time and expenses. As a result, participants enjoy an accelerated delivery process and streamlined the flow of services and goods.
SCM projects that use blockchain
Blockchain is being slowly integrated into the infrastructure of both new ICOs and old, well-established companies. Let's find out who is among the first to reap its benefits.
In the food industry, Walmart was one of the pioneers: it uses blockchain to track the pork pieces that it exports from China. Blockchain shows where the meat came from when it was processed and stored. Nestle, Unilever, Dole and Tyson jumped on the train to use blockchain for the same task.
De Beers, a diamond trading company, uses blockchain to track the stones from the moment they're found to the moment they're sold to buyers. That helps a trader to avoid conflicts and guarantees customers they purchase genuine stones.
Tomcar, an Australian vehicle producer, pays its suppliers in Bitcoin. Therefore, it avoids paying extra taxes, dealing with traditional banks, and waiting for eternity to have payments processed. Blockchain does this job for them.
Other projects using blockchain for supply chain management are:
Blockshipping;

DAV network;

Modum;

Cloud Logistics;

Ambrosus;

WaBi;

Provenance.
Bottom Line
Supply chain management has grown into an enormous global system that includes a lot of manufacturers, distribution patterns, contracts, relationships, and organizations. Add to that a short product life cycle, globalization, and rising demands, and you will realize that the SCM sphere is in dire need of improvements. With blockchain, we can create the most dynamic and flexible supply chain ecosystem possible. It will improve the quality of the services and data involved.