Flare Finance will be the first decentralized financial ecosystem to leverage the benefits of Flare, the much-anticipated "utility fork" of XRPL. As it inches closer to its mainnet release, the Flare Finance team decided to disclose the name of its security audit partner.
Certik has been appointed as Flare Finance security audit vendor
According to the latest tweet by the Flare Finance team, it has chosen Certik Foundation as its security audit partner. Certik will conduct the first rounds of Flare Finance's codebase comprehensive technical audit.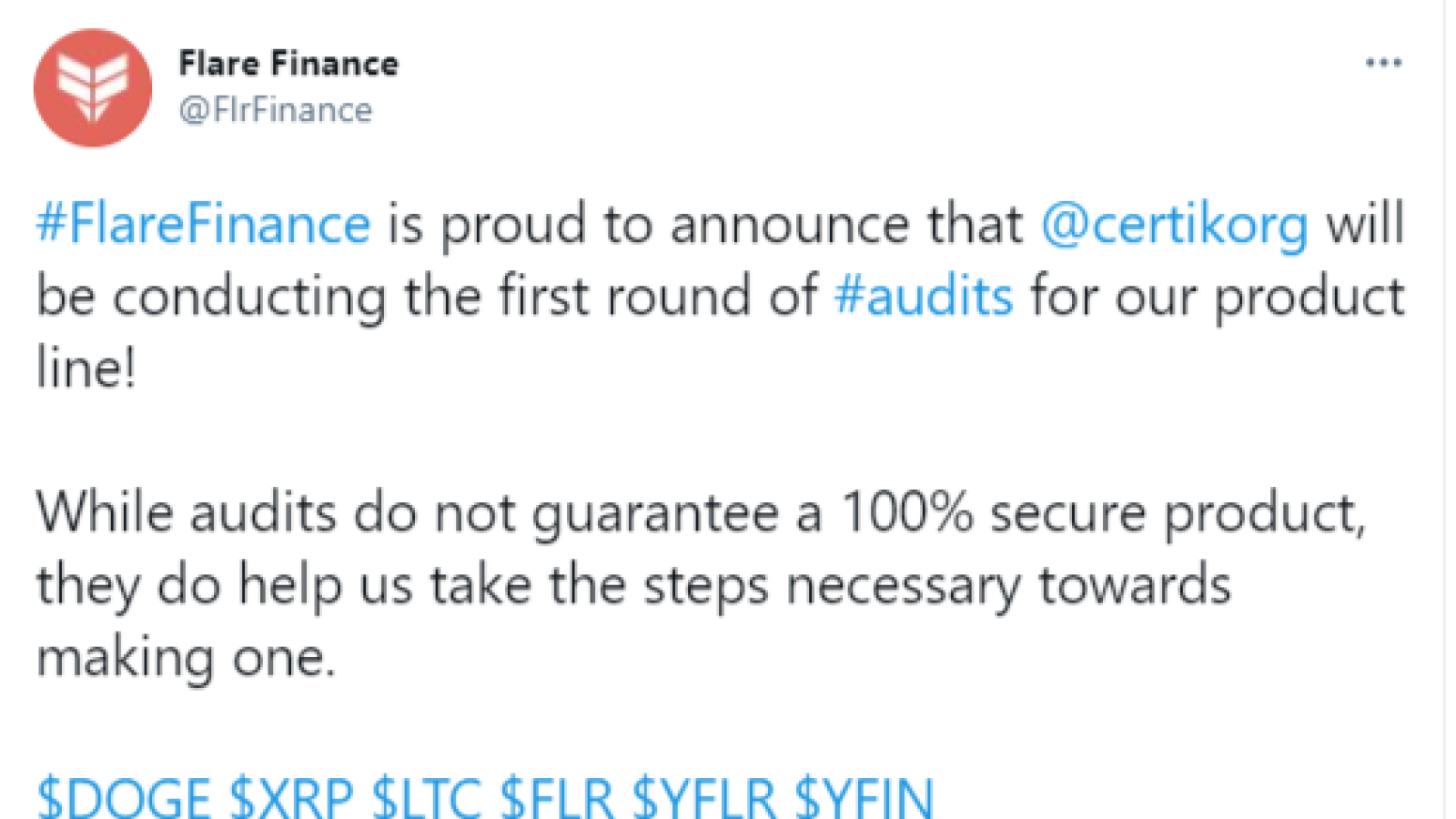 Flare Finance's team underscores that no security audit can guarantee the complete security of a project's codebase, but if conducted perfectly, it can help in releasing a safe product.
Certik Foundation is among the flagship cybersecurity vendors when it comes to blockchain-focused products. It audited the codebases of Tether (USDT), Bancor (BNT), ThorChain (RUNE), Band Protocol (BAND) and so on.
Moreover, Certik also has a massive portfolio of security audits in the decentralized finance segment. It investigates the open-source code of Aave Protocol (AAVE), Ampleforth (AMPL) and many onther DEXs, stablecoin protocols, and "yield farming" instruments.
DAOFlare (DFLR) airdrop is taking shape
Flare Finance also shared some news of its ecosystem's progress. As such, centralized exchanges started to announce their support for DFLR airdrop to FLR holders.
DFLR refers to "DAOFlare token," i.e., the governance asset of the much-anticipated DeFi ecosystem. Thus, more and more holders of Spark (FLR) will be involved in network governance.
As covered by U.Today previously, Flare blockchain announced its first real-world integration. It will support the transactions of NFT assets by Gala Gaming startup.