Tron, through the entire 2018 bear market, was one of the most talked about coins and continues to show why it may well be living up to its optimistic prediction. The coin, headed up by Justin Sun, has faced criticism, too, but recent developments and progress in the markets seem to suggest that there is possible further growth for the TRX token.
Since November alone, when Bitcoin fell by over 50 percent, Tron has in fact doubled in value and continues to show positive signs. Between November 20, 2018, and January 18, 2018, the TRX/USD pair rose from 0.0132 to 0.0249.
Today's chart sees a lot of red across the board, especially in the top 20 coins, but over the last 24 hours, Tron has recorded gains of up to 10 percent. It is an impressive display for the TRX token as the graph analytics seem to suggest that it has broken a bearish resistance level.
Breaking the bear trend
In recent days, we have seen bearish moves in Litecoin, Ethereum, Bitcoin, Ripple and other altcoins, but Tron's price remained supported against the US dollar.
Looking at the chart, the TRX price broke the $0.0250 and $0.0255 resistance levels, and it is currently trading well above the 100 simple moving average (4-hours).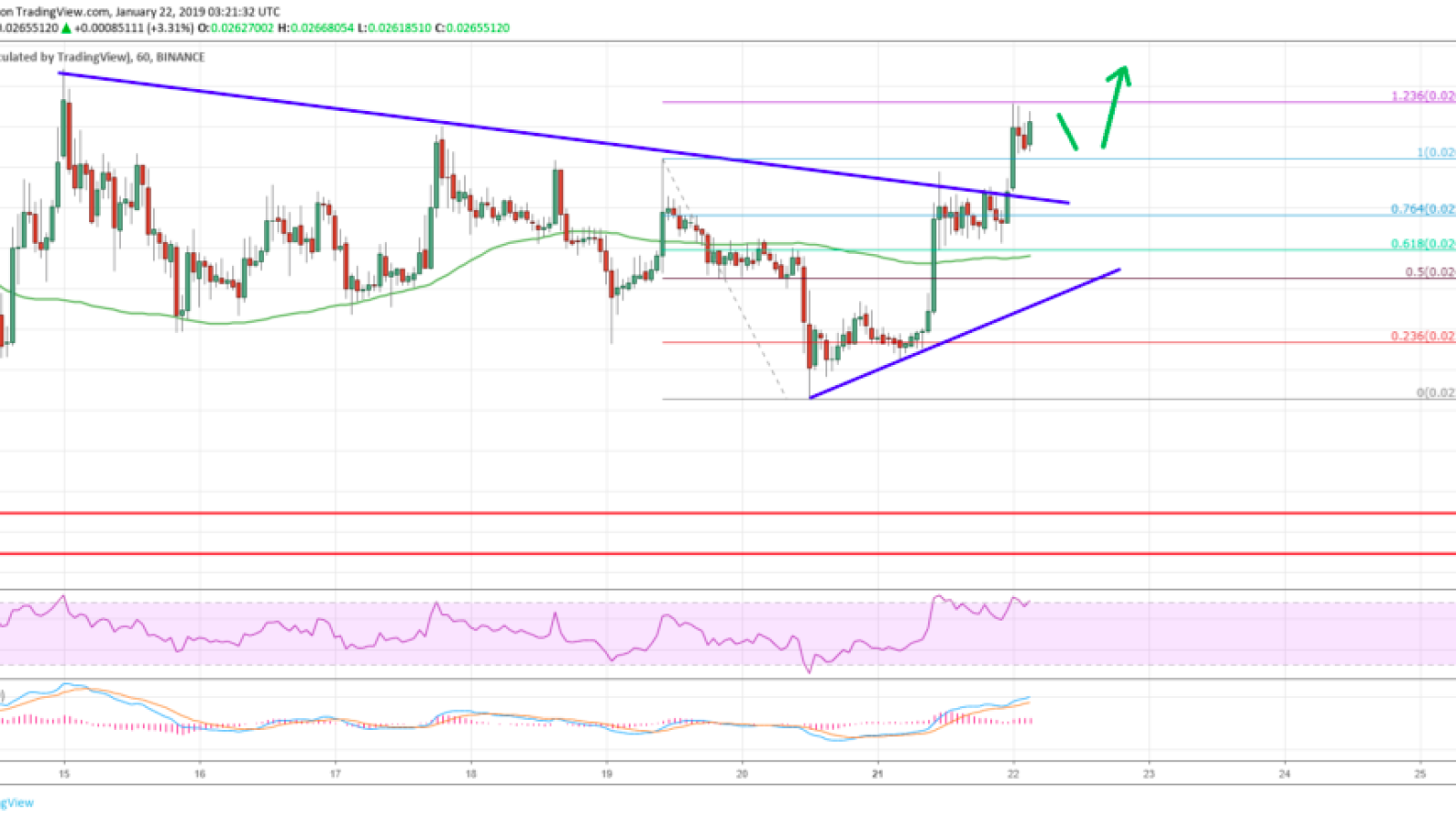 Reasons for its growth?
A big part of the reason that Tron is doing so well recently has to do with its acquisition of BitTorrent last year. Justin Sun has now revealed that they will "create a token-based economy around the usage of networking, bandwidth, and storage" in BitTorrent's file-sharing system.
Because of this decision, it means that the 50 million users of BitTorrent are immediately induced into Blockchain usage and thus are part of the adoption wave. Sun also said that TRX holders would receive some stakes in BTT, perhaps one of the major reasons why Tron's token's demand has increased dramatically.
There has been a lot of noise out of Tron in the past few months, especially since the BitTorrent acquisition, and while a lot of people call it filibustering and without substance, it cannot be argued that there is nothing happening at Tron.
The biggest criticism that blockchain projects face, especially those out of ICOs, is that once the money has been collected, there is no action on the roadmap and nothing of substance is ever done.
Tron is bucking this trend by being active and bust. Of course, it remains to be seen if they are heading in the right direction in the long run, but as it stands, the activity coming from Tron is showing up positively in their market value and is keeping them on an optimistic path to their prediction.