Last week, Justin Sun was 'warming up' his Twitter followers for "a big win for the blockchain community", promising details first after June 1 and then particularly fixing the day of the report on June 3.
On Monday, he broke the news of winning a charity dinner with Warren Buffett, the world famous investor who is a cryptocurrency hater and despises Bitcoin in particular.
I officially announce I've won the record-setting 20th-anniversary charity lunch hosted by @WarrenBuffett. I'll also invite #blockchain industry leaders to meet with a titan of investment. I hope this benefits everyone. #TRON #TRX #BTT #BitTorrent pic.twitter.com/EMZ4TMhgpR

— Justin Sun (@justinsuntron) June 3, 2019
However, Justin Sun apparently believes that at that dinner, he will be able to change something in Buffett's mind regarding crypto. So do many in the Tron community.
Opinions of the Tron community's split
Despite the positive take by many crypto enthusiasts, some have publicly called the whole thing useless.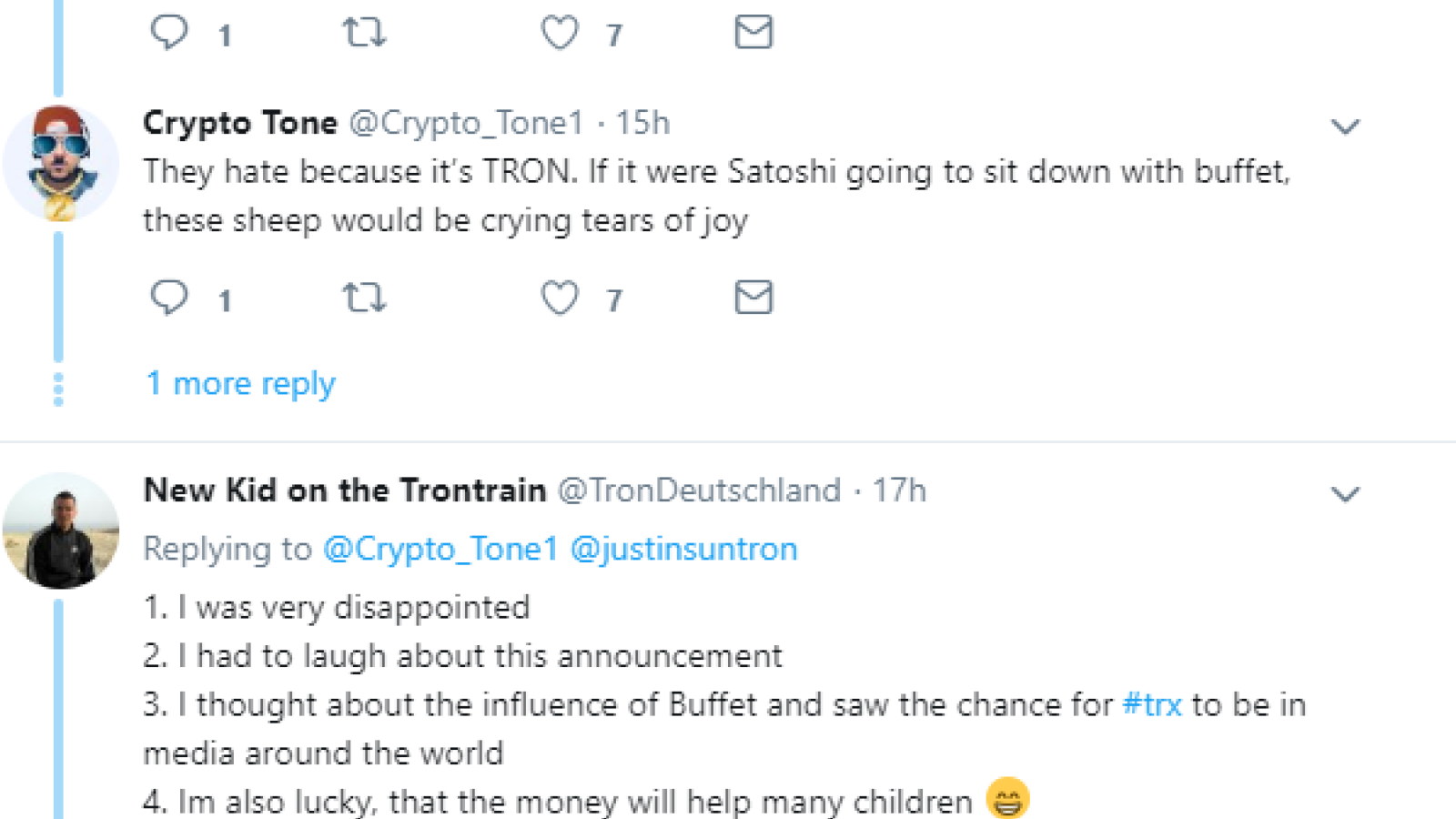 However, prominent Tron supporter Misha Lederman disagrees and has even outlined the positive outcome of this dinner in points.
Positive impact of Justin Sun's bid of $4,5M for lunch w/ Warren Buffet?

1. Discussing benefits of #blockchain with world's most influential investor
2. Uniting #crypto community by inviting heavyweights to event
3. Charity record for @GLIDEsf cause
4. Mainstream media exposure

— Misha Lederman (@mishalederman) June 3, 2019
Will Warren Buffett change his mind on Bitcoin?
Jennifer Ablan from Reuters posted a tweet, saying that Warren Buffett is actually curious about meeting Justin Sun and his 'friends' – leaders of platforms from the blockchain industry.
WARREN BUFFETT SAYS HE IS DELIGHTED THAT CRYPTO PIONEER JUSTIN SUN HAS WON THE CHARITY AUCTION LUNCH AND 'AM LOOKING FORWARD TO MEETING HIM AND HIS FRIENDS' @Reuters @justinsuntron

— Jennifer Ablan (@jennablan) June 3, 2019
Previously, in several interviews, Warren Buffett called Bitcoin a "delusion" with no unique value and also called BTC "rat poison squared". The billionaire did acknowledge the importance of blockchain technology, though.
Does anyone understand how influential Warren Buffet is? He claims he's not a fan of Bitcoin, but is curious about the underlying tech, yet not sold on it. Now look at who gets to convince him. This is much bigger than you think $TRX #TRON @justinsuntron https://t.co/pdV3L34Kxr

— Crypto Tone (@Crypto_Tone1) June 3, 2019
The news of Sun having burgers and Coke at McDonald's seemed to be one of the most important in the financial and crypto worlds on June 3 and made headlines in major news media.
Still, believe some in the Tron community, Buffett will hardly change his mind on crypto but at least this event will make waves on Wall Street.
Justin Sun winning the bid for lunch with Warren Buffett is a pretty big deal.

I doubt Warren will change his views on crypto or Bitcoin. But, at least Bitcoin is going to make headlines and waves in the traditional financial sector.

— Crypto Godfather (@CryptoGodfatha) June 3, 2019