Earlier this week, Justin Sun tweeted that something exciting was going about BitTorrent and Tron, promising details after June 1.
I did it! Big win for the #blockchain community! Big reveal June 3. Stayed tuned! #TRX $TRX $BTT #BTT https://t.co/C2ZcINfcKb

— Justin Sun (@justinsuntron) June 1, 2019
Today is June 1, and the Tron price is surging 13 percent. Besides, now Tron is back on spot 11 on CoinMarketCap.
'Something amazing' – is that BTFS?
Yesterday, on May 31, Justin Sun announced that Tron and BitTorrent are working on BTFS – BitTorrent File System.
BTFS is a new decentralized solution for data storage from BitTorrent, which intends to enable all 100 mln users to get each other to store files on PCs. The whole army of Tron's nodes, as well as Super Representative nodes will be also engaged in that.
The testnet for BTFS was launched in Q3 this year. Later in June, as the roadmap shared by Justin Sun in Twitter says, is to be launched in Q3 2019.
Check out our plan of #BTFS roadmap! The BTFS roadmap holds many exciting new developments in the future. #BTFS will also be integrated with BitTorrent to bring the network and its benefits to over 100 million users. #BitTorrent #BTT $BTT pic.twitter.com/QTOZpA5oMf

— Justin Sun (@justinsuntron) May 31, 2019
Still, in the original tweet, Sun promised details of this 'something amazing' thing after June 1. Now he has specified the date, urging everyone to stay tunes and see another announcement on June 3, Monday.
Tron is back on spot 11 CMC
Recently, TRX was pushed from its position 11 on CMC to spot 12. It happened after Craig Wright registered a copyright on Bitcoin whitepaper and Bitcoin SV started its aggressive surge, breaking back in the top ten line of coins.
At press time, BSV is holding spot 8 and is trading at $189.95.
As for Tron, it is now ranked 11 once again and is going at $0.0354, putting up an over 13-percent rise.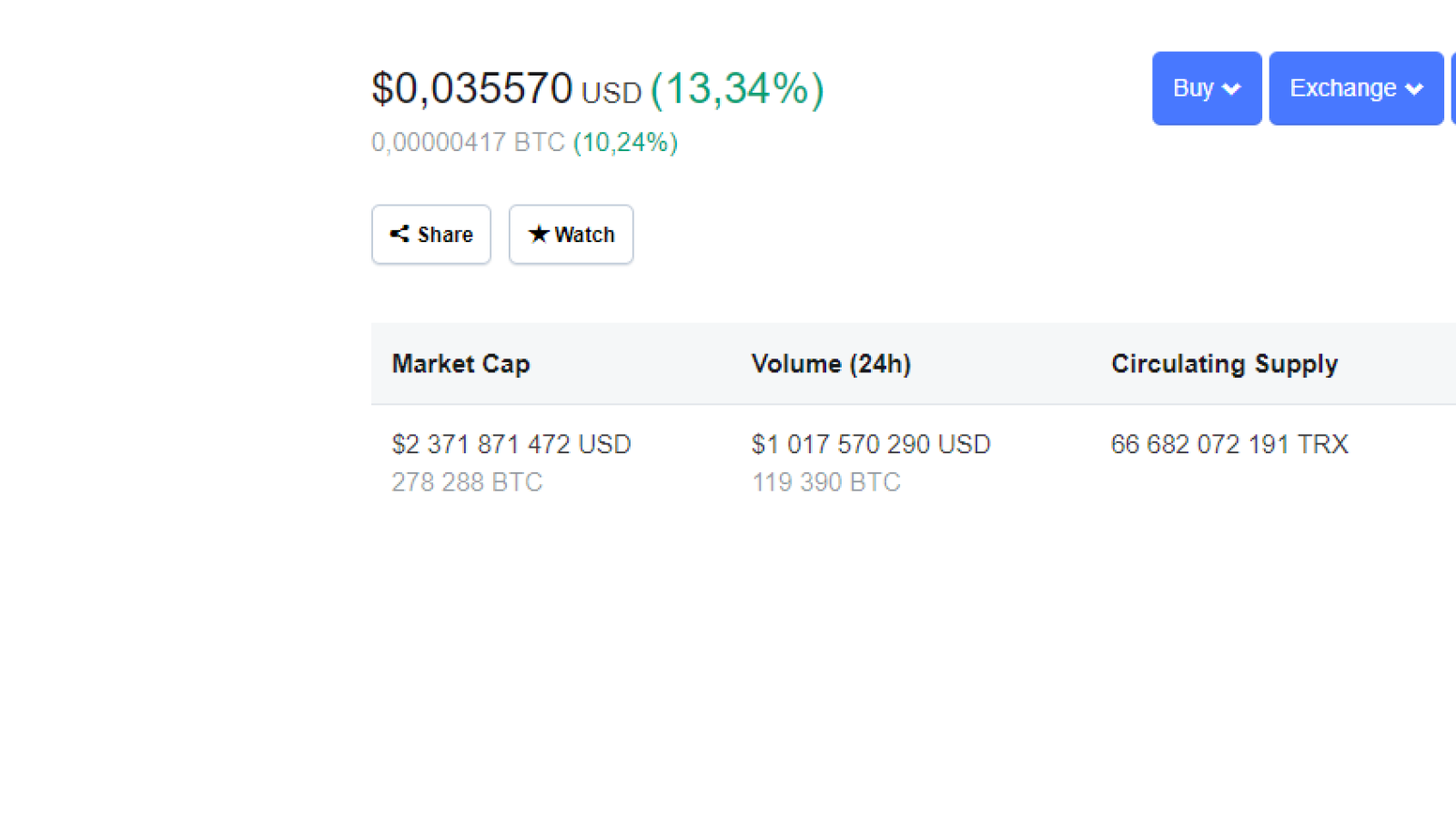 Besides, Justin Sun has promised that BTT would be in top 30 in Q3 and said that TRX would be back in top ten in June.
BTT is currently ranked 30.