The most influential global crypto trader, Binance intends to issue two stablecoins. One is developed by Stably. The second one is being made by Binance and Changpeng Zhao, currently in a test phase.
First ever stablecoin on Binance Chain
Recently, the Stably firm has spread word of its StableUSD (USDS) coin to come soon. The asset was created with the assistance of Binance. The new crypto is called USDS.B. This will be the fiat-backed asset from which Binance Chain starts working with stablecoins.
A recent Medium post says that the new currency will give its users multiple bonuses, such as a high security level, high operation speed, user-friendly scheme of operation and some others. Several thousand of TPS are promised to be conducted by the coin.
Stably will emit 90 bln coins backed by USD at a 1:1 rate.
Binance to issue its own fiat-backed crypto
The head of Binance, CZ, made a post of this exciting news on Twitter, emphasizing that the coin is not Binance-operated.
Boom! Welcome the first stable coin @StablyCoin on @binance_dex. And it is not operated by Binance. Early adopters usually rip big benefits when the adopted platform/technology works out. https://t.co/q13n4eupEv

— CZ Binance (@cz_binance) June 3, 2019
However, Twitter user @CryptosBatman has posted the news that Binance may well release its own stablecoin soon. The fiat basis for it would most like be the pound sterling (GBP).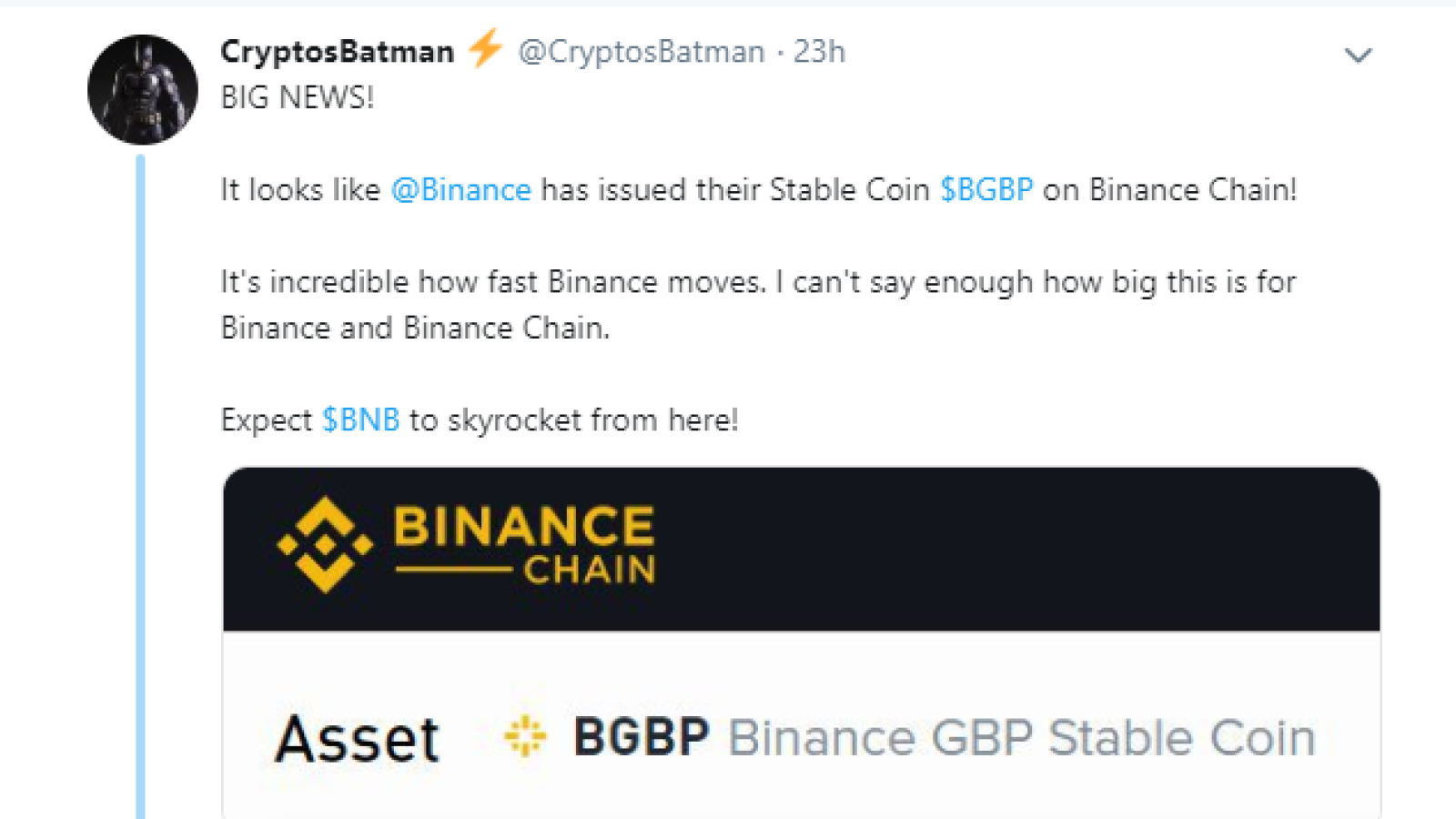 CZ confirmed the news, saying that the project is only being tested so far and that merely £200 in crypto have been launched.
This is in testing phase still, only £200 minted so far. Slowly, but surely...

— CZ Binance (@cz_binance) June 3, 2019
The alleged name for the Binance-backed stablecoin is BGBP-CF3.
Binance keeps its aggressive expansion
Even though Binance has had trouble after losing 7,000 Bitcoin to hackers earlier this year, overall, 2019 has been good for the company so far.
Binance has set up its own distributed ledger, created a dex and added margin trading. Besides, it is seeing its native coin BNB actively rising in value and popularity.