Shiba Inu's profitability has sunk to new lows as the SHIB price tumbles to levels last seen months ago.
SHIB was down 1.92% in the last 24 hours to $0.00000799 at the time of writing. SHIB was last trading at or near this level in June of this year.
Per IntoTheBlock data, the percentage of Shiba Inu holders in the money, or in gains, has dropped to 12%. This percentage was previously at around 16% at the week's start but then dropped as the SHIB price fell.
IntoTheBlock's "In/Out of the Money" indicates the percentage of holders profiting at the current price and categorizes addresses according to whether they are profiting (in the money), breaking even (at the money) or losing money (out of the money) on their positions at the current price.
Currently, per IntoTheBlock data, 12% of Shiba Inu holders are in the money, 10% are at the money and 78% are out of the money.
Shiba Inu price action
SHIB's price steadily declined after touching highs of $0.0000113 on Aug. 12. Notably, SHIB identified a double top formation near this level, which triggered a drop.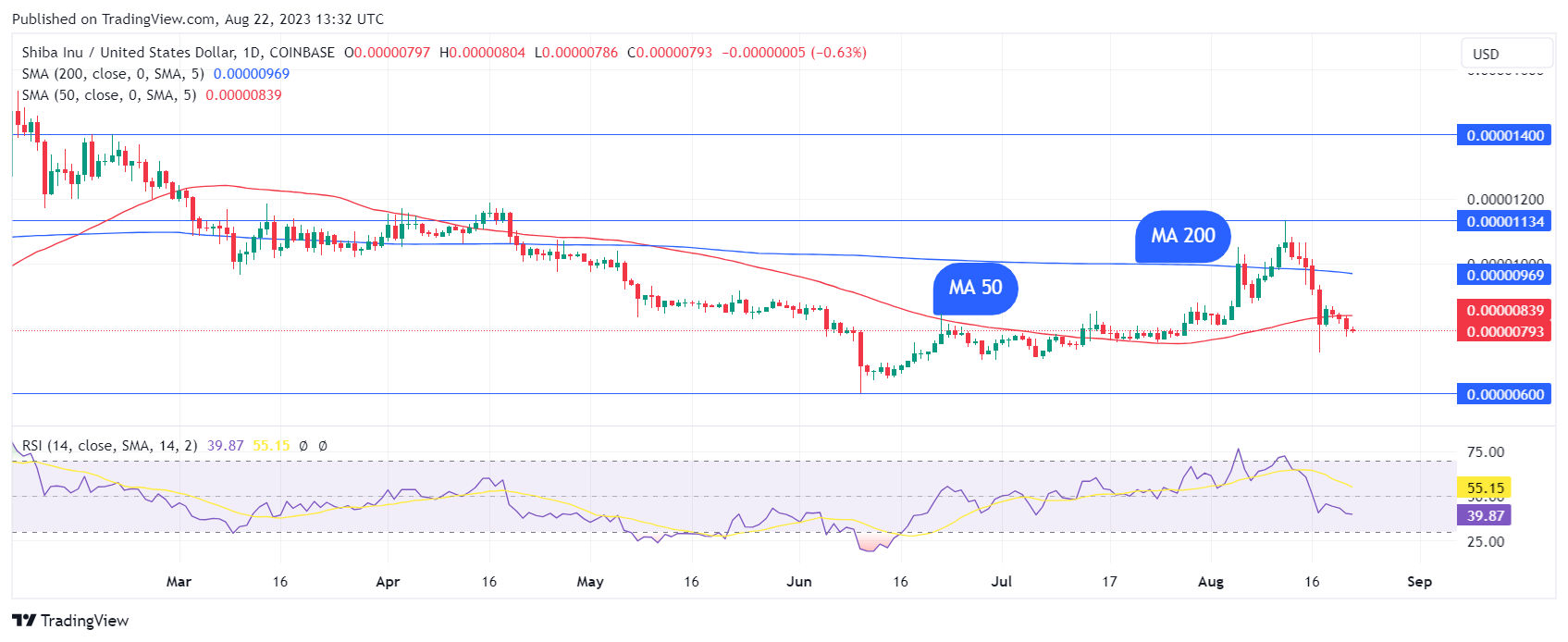 The declines caused SHIB to trade beneath its moving averages of 50 and 200 located at $0.00000849 and $0.00000968, respectively.
A bullish comeback might prompt SHIB to challenge these key areas as resistance in order to trend higher and confirm a retest of the $0.000011 levels. In this scenario, a close above the moving average might be regarded as the first sign of strength.
Shiba Inu is also about to print a key signal on its short-term charts as the moving averages on its four-hour chart are set to cross. Perhaps the outcome of the golden cross or death cross will define the trend in the short term.
Also, positive news about the Shibarium and SHIB ecosystem might serve as a catalyst for the price in the days ahead. Per the most recent update shared by Shiba Inu lead Shytoshi Kusama, Shibarium is now enhanced, optimized and almost ready to reopen to the public.
Similarly, the general market trend may influence SHIB price movements in the days ahead.