Shiba Inu launched the Shibarium mainnet, a Layer 2 scaling solution and a fork of Polygon, on Aug. 16.
Events took a dramatic turn when Shibarium encountered an unexpectedly massive influx shortly after its launch, causing it to pause.
According to an update shared by SHIB developer Kaal Dhairya, Shibarium received millions of "compute units" of traffic in a matter of seconds, causing it to go into fail-safe mode and, hence, it stopped to ensure funds were safe.
Dhairya added that the Shiba Inu team continues to stand by the assertion that the funds "paused" in the bridge are safe and, as a result, chose to "insure" $2 million if there is any issue after Shibarium is restarted.
Shiba Inu's price reacted negatively to the Shibarium-related concerns. SHIB's value fell by 11% on the previous day before recovering to roughly $0.0000086 at press time. BONE plummeted by more than 18% before recovering to a price of $1.02 at the time of publication.
Regardless of the recent unforeseen circumstances surrounding the Shibarium launch, Shiba Inu whales or huge holders appeared to respond differently.
Per IntoTheBlock data, Aug. 16-17 saw an increase in SHIB large holder inflows from 1.48 trillion SHIB to 8 trillion SHIB. This implies that over 6.52 trillion SHIB were bought by these large holders or whales within this time frame.
Large holders' inflow up whopping 664%
Large holder inflows have increased by 664% in the last seven days, with the big inflow spike seen on Aug. 17 accounting for most of this.
The Large Holders Inflow metric from IntoTheBlock tracks funds flowing into addresses belonging to whales or large holders. A surge in large-holder inflows could indicate a market bottom or that major buying activity is in progress.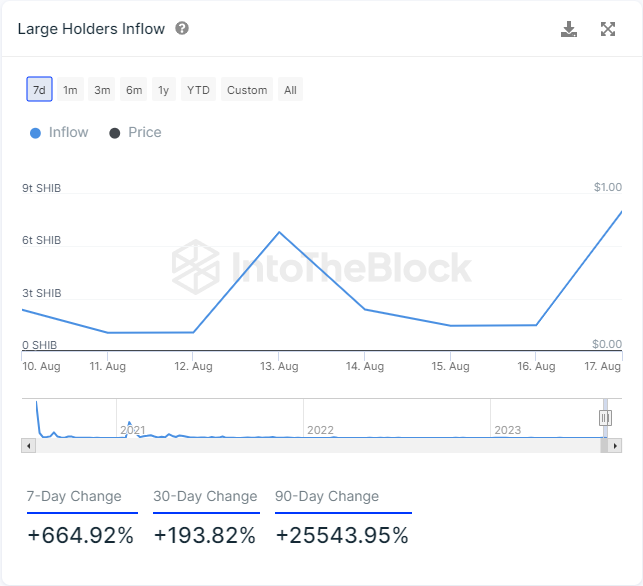 Furthermore, Shiba Inu's large transaction volume has soared 339% in the last 24 hours, suggesting that whales are making moves on the market.
Currently, Shiba Inu ecosystems are posting a rebound as dip buying gains traction. Bone and LEASH were higher at 3.19% and 2.86% in the last 24 hours at the time of writing.