What is Reddcoin?
Reddcoin is project which is making foray into the untapped market of microtransactions. Being market as "social media" coin, it facilitates transferring payment via social media with the help of its P2P network. The peculiar thing is that these transactions are conducted instantaneously and no fees are charged. Its modus operandi is similar to Facebook Cash or other social media payment services, but the difference is that it utilizes Blockchain technology.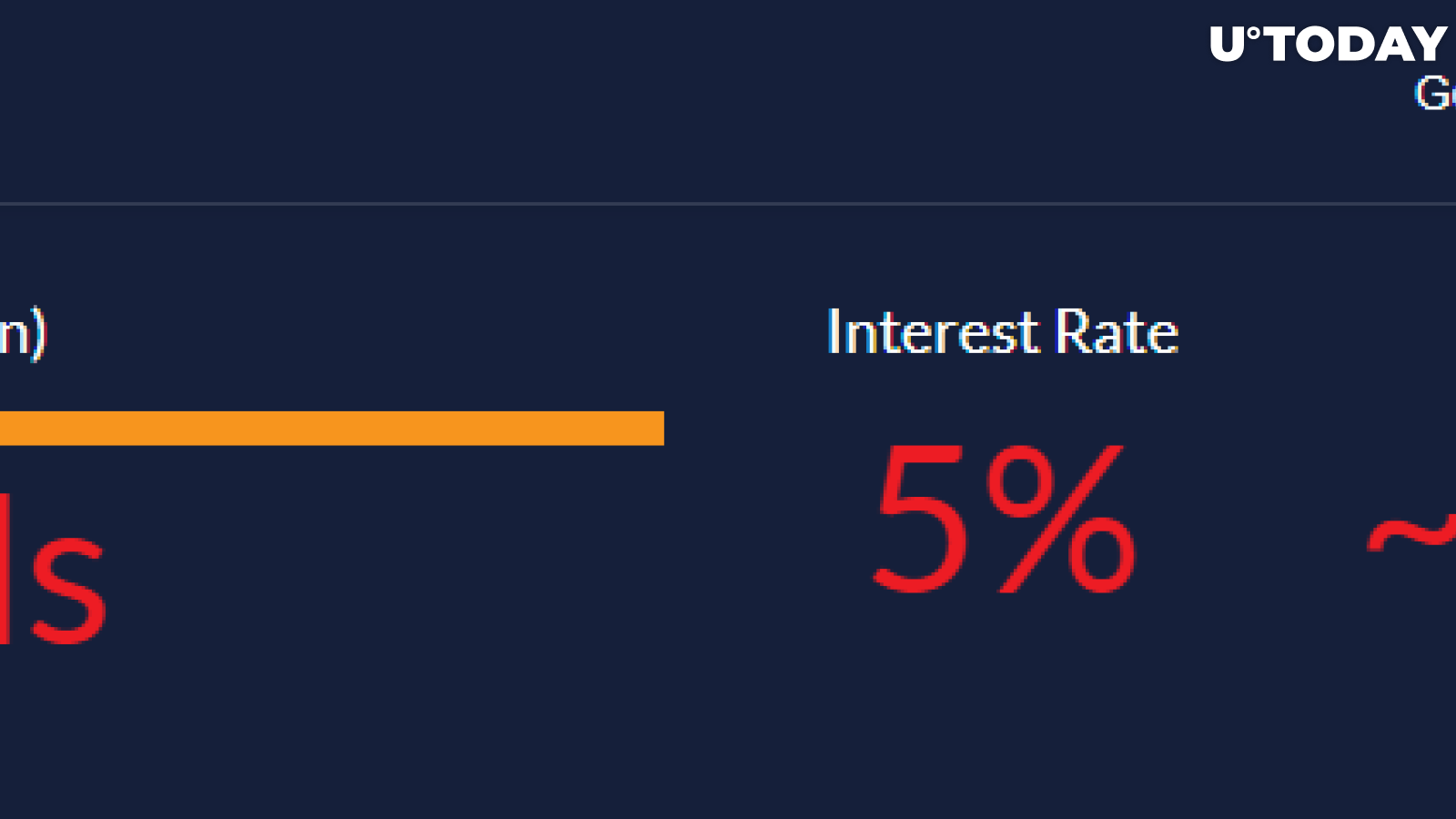 Another important advantage is that Reddcoin can be used with different platforms, so you are not restricted to only one social network like in the case of Facebook Cash or Snapcash

Reddcoin is also a reward system for content makers. With its PoSV algorithm, the network employs a democratic system of governance.
Reddcoin 2018 price performance
Back in December 2017, RDD witnessed a gargantuan spike in price (almost 650 percent) after John McAfee voiced his endorsement of this coin on Twitter. The coin started growing like crazy after years of inactivity (the project started back in 2014).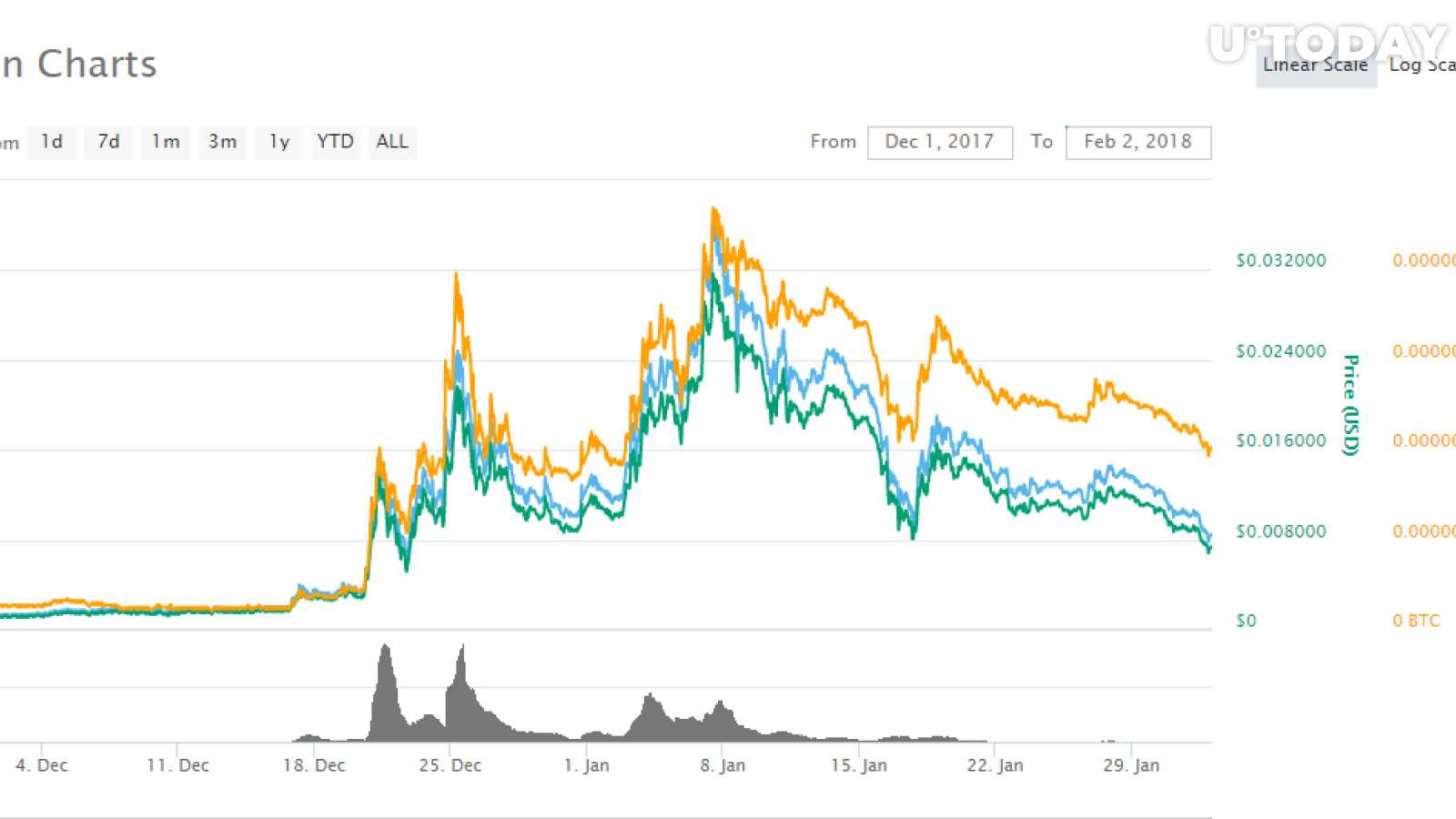 Shortly after that, Reddcoin reflected the generally bearish market sentiment with a huge drop in price However, this huge drop was just too obvious for many skeptics not to become suspicious about McAfee's tactics. There are plenty of speculations that the famous Bitcoin evangelist is actually involved in market manipulations when he promotes different coins on Twitter in order to inflate their value.

Currently, the price of Reddcoin is sitting at $0.003 with a market cap of $97.9 mln. It has dropped by more than 97 percent (which is a huge decline even for a little-known altcoin).
Reddcoin price predictions
Since RDD is only 64th biggest cryptocurrency on CMC, it's not surprising that it slips under the radar, so there are very few credible Reddcoin price predictions for 2018 out there.

A well-known YouTube crypto analyst David Hay weighed in on the future price of this currency when RDD price rose by 800 percent just in a couple of weeks. Hay believes that this sudden surge was most likely a fluke. He doesn't rule out that this fluke can happen again, but it will be immediately followed by a huge drop in price, so there is no point to hold this currency for a long time.
"In long-term, I think that Reddcoin could reach $0.25 and stay at that level, but I don't think it will ever go further than that," - David Hay.
What may push Reddcoin price?
Reddcoin has rolled out a number of other different projects in 2018, including Reddpay.me that gives users an ability to send tokens to e-mail addresses. That might have a huge impact on Reddcoin price predictions (2018). Meanwhile, Reddcoin-Alliance.com makes it easier for merchants to adopt cryptocurrencies as a main means of payments.
In August, unlike many other altcoins, RDD coin slightly rose in value. After that, it experienced a major increase in price in September.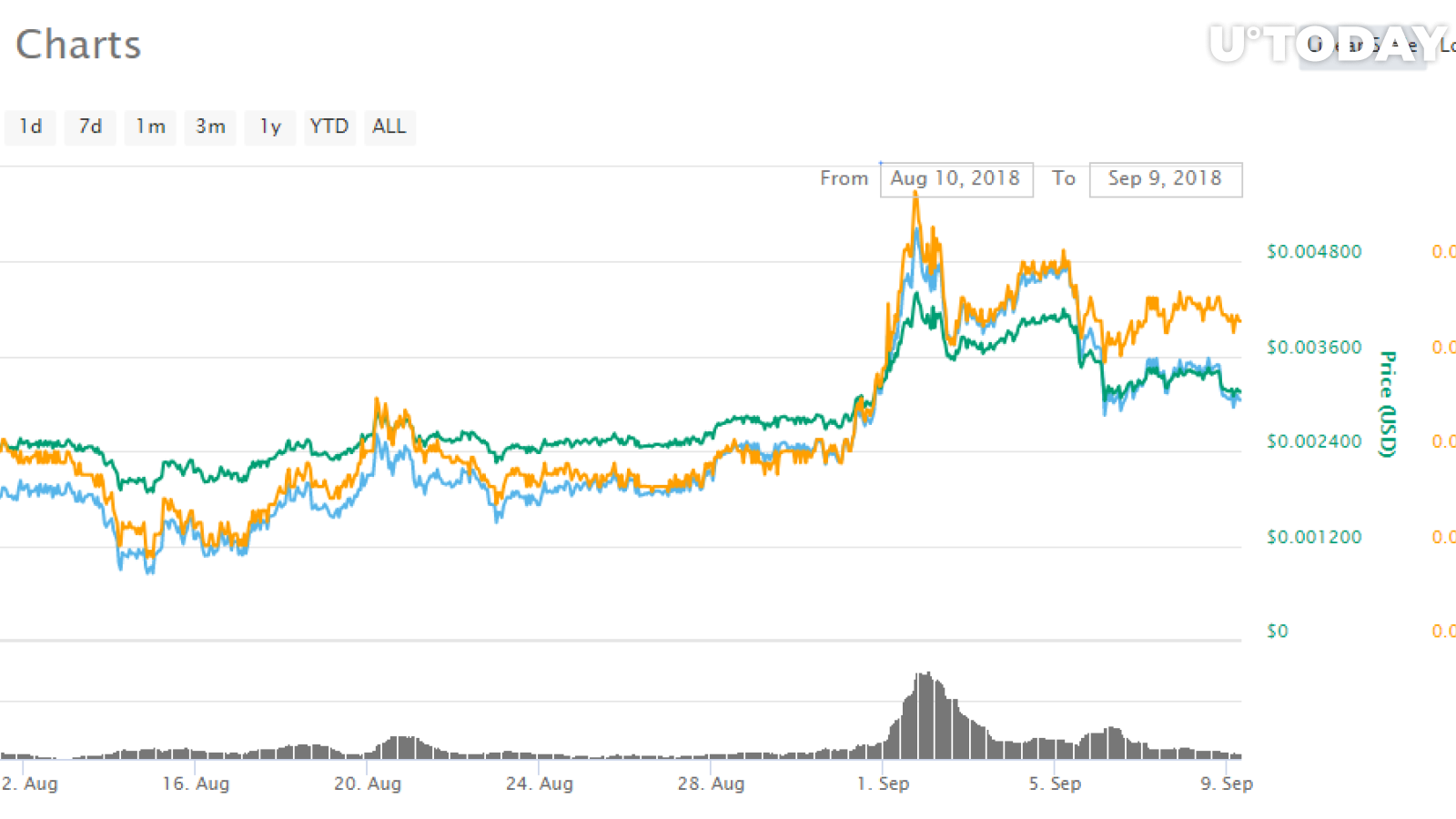 Here's the list of Reddcoin's new features that may push it way further:
Redd-ID. This September, they are going to reveal its Redd-ID feature. The announcement alone made Reddcoin price spike by almost 40 percent, but it's nothing compared a potential long-term effect of integrating Redd-ID for different social platforms. Social media users will be able to share different content and get rewarded with tokens.

ReddCard. This is a deposit card with a QR address. It makes money transfers much easier. One only has to scan a QR code in order to send money to his/her wallet.

ReddPay. The feature allows conducting payments, using fiat currency. Money can be transferred without completing registration in a matter of seconds.

Is Reddcoin a good investment? The coin's performance is far from satisfying, but with all the aforementioned features one cannot rule out that the coin may reach widespread social media adoption as early as this year if it plays its cards right.
Why Reddcoin may struggle?
While Reddcoin is definitely poised to revolutionize social media, the coin, which was launched in 2014 and has mainly been under the radar ever since, may have lost already lost its competitive advantage to bigger competitors, since both Ripple (XRP) and Nano (NANO) already have their tip bots. Bitcoin Cash (BCH) may also be used for tipping if the initiative to lower transactions levels gets the green light.

On top of that, Reddcoin will find it difficult to increase in price because of a huge circulation supply, according to another RDD price prediction. It's a commonly known fact that lower circulation supply drives the coin's price.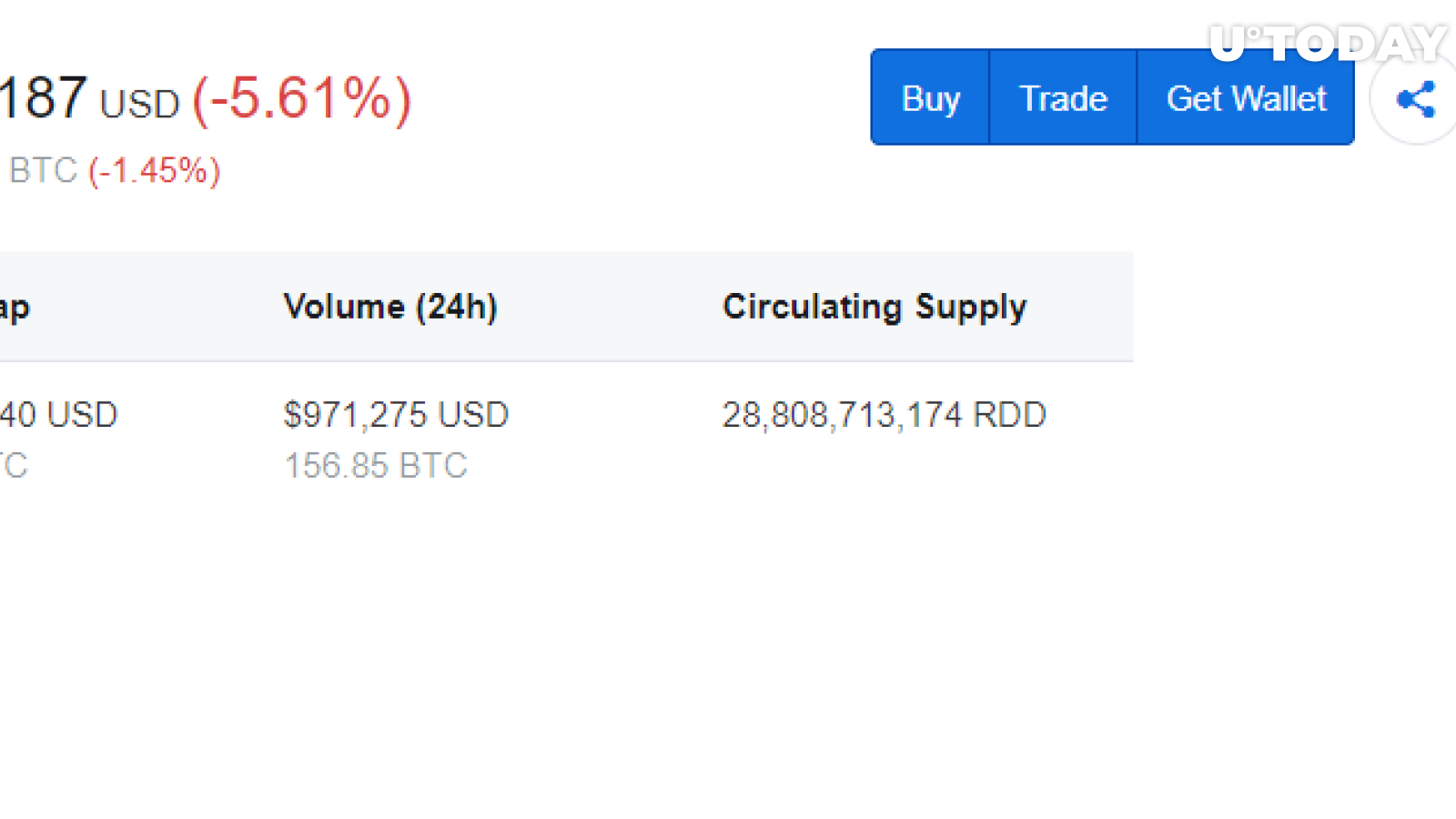 Many Reddcoin proponents (the same is true for any other altcoin) would say that taking into account a slew of new features, the price of this coin could increase exponentially. If Ripple and Stellar were able to hit $1, why it would be so far-fetched for Reddcoin? However, the problem with Reddcoin is that, unlike the aforementioned projects, it doesn't have huge organizations behind them. Investors aren't overly enthusiastic about putting their money in the currency that only has a handful of coin hobbyists behind it.
Will Reddcoin hit $1?
No, it is currently just a pipe dream of those who might have made a bad investment decision earlier. Redd-ID may push its price way higher, but the coin actually has to experience real adoption in order to increase to hit that huge milestone, which is not going to happen anytime soon.

Even a hypothetical CoinCheckup prediction, which adjusts the coin's price to some popular growth models, doesn't go as far as predicting $1. Here's the projection for 2024:

| | |
| --- | --- |
| Growth Model | RDD Price (2024) |
| Moore's law | $0.41 |
| Google | $0.03 |
| Facebook | $0.77 |
| Mobile phones | $0.02 |
The bottom line
Is Reddcoin dead? Definitely not. However, in order to win over its stronger competitors, the team behind this project has to step up their marketing game for increasing RDD adoption on all popular social media platforms. Moreover, the aforementioned RedID feature already looks like a big breakthrough for this coin

Even if you are not certain about Reddcoin's future, it is still a good option for low-budget investors, considering its very low price. With Reddcoin, you may dive into the cryptocurrency market without lashing out too much money. Taking into account the current RDD price ($0.003), you would be able to buy over 30,000 coins with just $100.