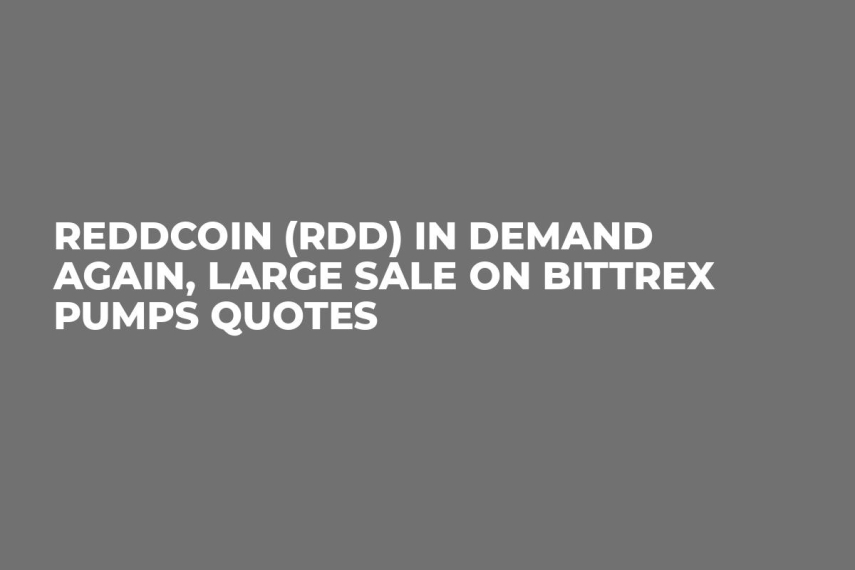 Cover image via U.Today
Recently ReddCoin (RDD) soared to $0.005, despite the market being still under sellers. This big price rise was caused by an extremely large purchase of RDD on the Bittrex exchange– 5.8 mln coins.
Currently, the token is paired only with Bitcoin, no fiat pair or any other cryptocurrency. For this reason, the RDD rate can be manipulated by BTC whales or used for speculating and inflating prices, it can be used for getting some quick profit when Bitcoin prices go flat.
Recent ReddCoin moves
Lately, the coin made a partnership with the Linda (LINDA) platform. Also last week RDD partnered with Phore Blockchain.
LINDA has been doing well– last week it grew by over 31 percent when the markets went down and reached the $0.002 price. Overall, during the past month, the coin has been growing against Bitcoin.
Nearest plans of ReddCoin
The platform is busy preparing to launch a mobile staking wallet and become one of the coins suitable for mobile use. At the moment, most crypto tokens need a PC to operate well, but if RDD managed to create a staking mobile wallet, it would move the coin up to the level which has been planned only by Electroneum (ETN) so far.
Currently, RDD is only represented on Bittrex and Upbit. A listing on a large Asian exchange could get the coin to the same level as Verge but for now it is not happening and RDD has nothing but follows its basic aim– be used on social media.
Nonetheless, in a bearish market, this coin could be used as a means to oppose BTC risks.