We have been quite pessimistic about Bitcoin price perspectives recently – it has stuck to the level of about $3,900 and doesn't move much. With this fact in mind, many traders started predicting Bitcoin's price fall to the $3,600 support zone. However, during the cloudy weather, we see a ray of hope: TradingView users start seeing positive signs in Bitcoin price charts. What are they? How might Bitcoin's price change soon? Let's find this out.
Bitcoin is entering a long bear-to-bull transition phase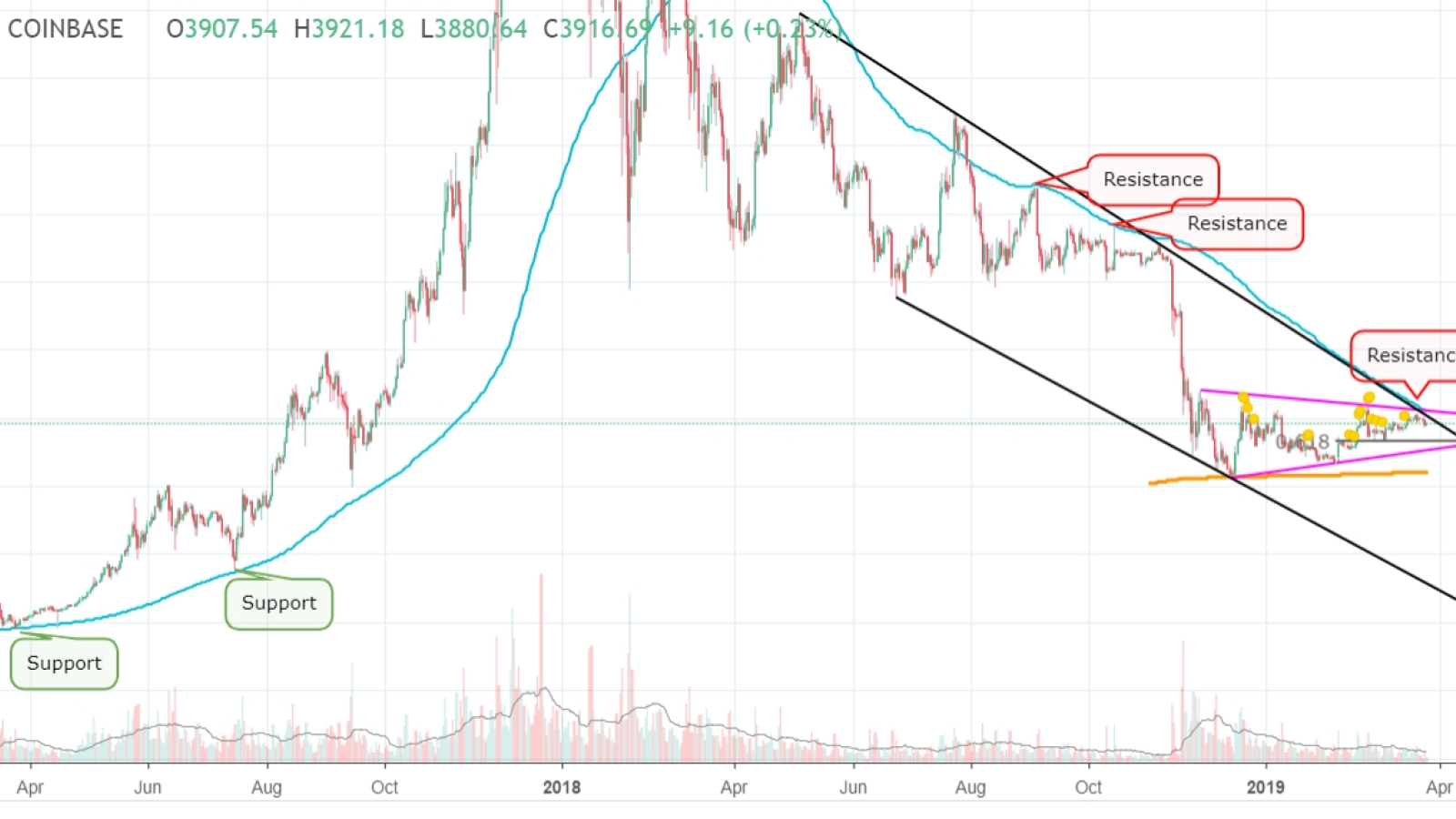 Bitcoin price chart from MagicPoopCannon
Looking at the daily BTC chart, you can see that price is in an area that is rife with resistance. The 150 days moving average (in light blue) was particularly useful for support in the beginning stages of the bull market, and now, it is an important indicator of overhead resistance, in these final stages of the bear market.
Besides, according to MagicPoopCannon's price charts, BTC is in a downtrend channel (in black). Technically, it is more of a falling wedge than a channel – this formation might cause a slight breakout to the upside.
"I do believe that there is a much higher probability that BTC will continue to chop sideways for the majority of the year, in a range between 3,200 and the low 4,000s."
Looking at the chart, we can see that price has been forming a triangle pattern since December (in pink). Such formations are continuation patterns, and the market has been in a downtrend since the all-time high. So, technically, the "continuation" should be to the downside. Downside risk exists, but it's minor and will be limited to $3,200 or so. Even if that happens, just buy more.
Looking more closely at the 150 EMA (in light blue) we can see that price held it consistently through the beginning of the bull market. In fact, nearly all of the previous peaks either stopped directly on the 150 EMA or somewhere near it. Looking at the current price action, you can see that we are just below the 150 EMA. We can see that the 150 EMA is clearly resistive. This clear resistance is why the market volume is so quiet right now. We're in a sideways consolidation, and until the price is able to break higher or lower, the volume will probably remain quiet.
"As I've said on many occasions, I believe that the market will just continue a long grind sideways from here. I don't see a major breakout toward 6000 in the cards right now. Based on my analyses, I think it is far more likely that Bitcoin will breakout for 6000 closer toward the end of the year. Even then, I believe it is likely to be a slow grind on a slightly uphill slope, as opposed to an explosive breakout to the upside. I still believe that the market has probably bottomed, but we may see a retest of the 3150 levels sometime in October before the next bull market begins."
Against the law: support falls, but BTC doesn't dump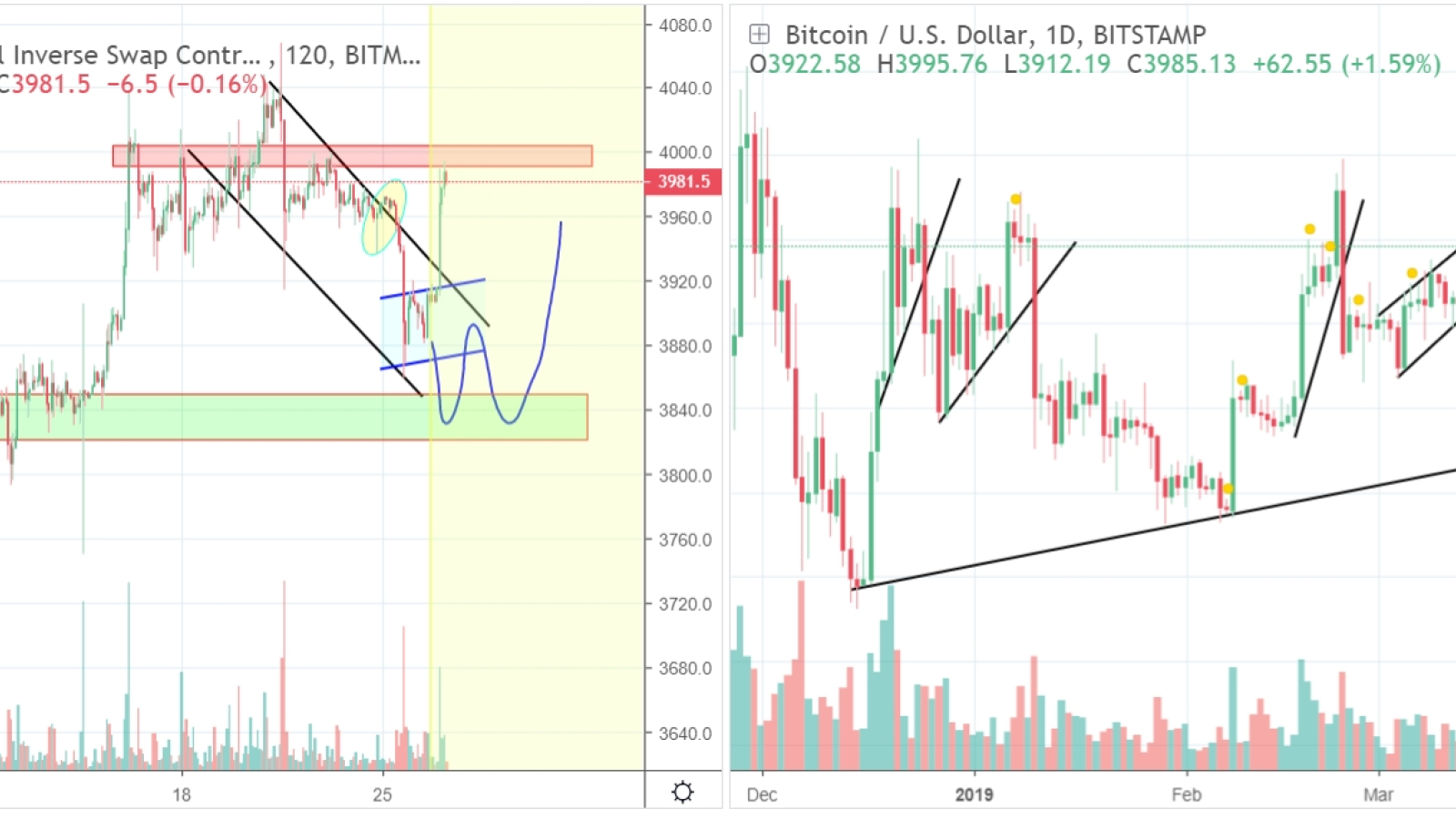 Bitcoin price chart from botje11
BTC's drop to $3,920 six days ago made it quite clear we would see another drop happening, completing an ABC correction wave. However, BTC didn't move much since then, so traders decided to stay neutral. Looking at the yellow circle, we might think there's a double bottom. There was a bounce up there, but the bulls were too weak and the bears simply distributed more there. So that was a sign that the bulls were failing.
If this correction was an ABC, we can find out whether it has been completed already or very close to it. Defining support zones now is tricky because there are so many levels between the 3,900/3,670. According to botje11, 3,820/40 is a support zone that must hold to prevent a drop to $3,700. A realistic scenario now would be, seeing another move up to $3,900/20 to complete this bear flag and then continue the drop. Now comes of course the question, will this be another bear flag giving a 100 point drop or will be it something else?
So, if we see a drop but seeing it slow down around the $3,830, there is a good chance we will see something like the blue line.
Now, look at the channel. If it is a wedge, there is room for a moving up towards the $3,960/4,000 (red line) even to seeing resistance again there and then seeing a real big drop happen. A retest like this is typical for a wedge. $3,700 could be a big support zone and if this one breaks, BTC can drop all the way back to around $3,500.
Recently, BTC already made a small bounce above $3,900, so we could see the bear flag getting completed now. For the bear flag to stay real, it should stay below the $3,930 (max $3,940). A break of $4,000 would reduce the bearish pressure again.
Bitcoin bots switched from bearish to bullish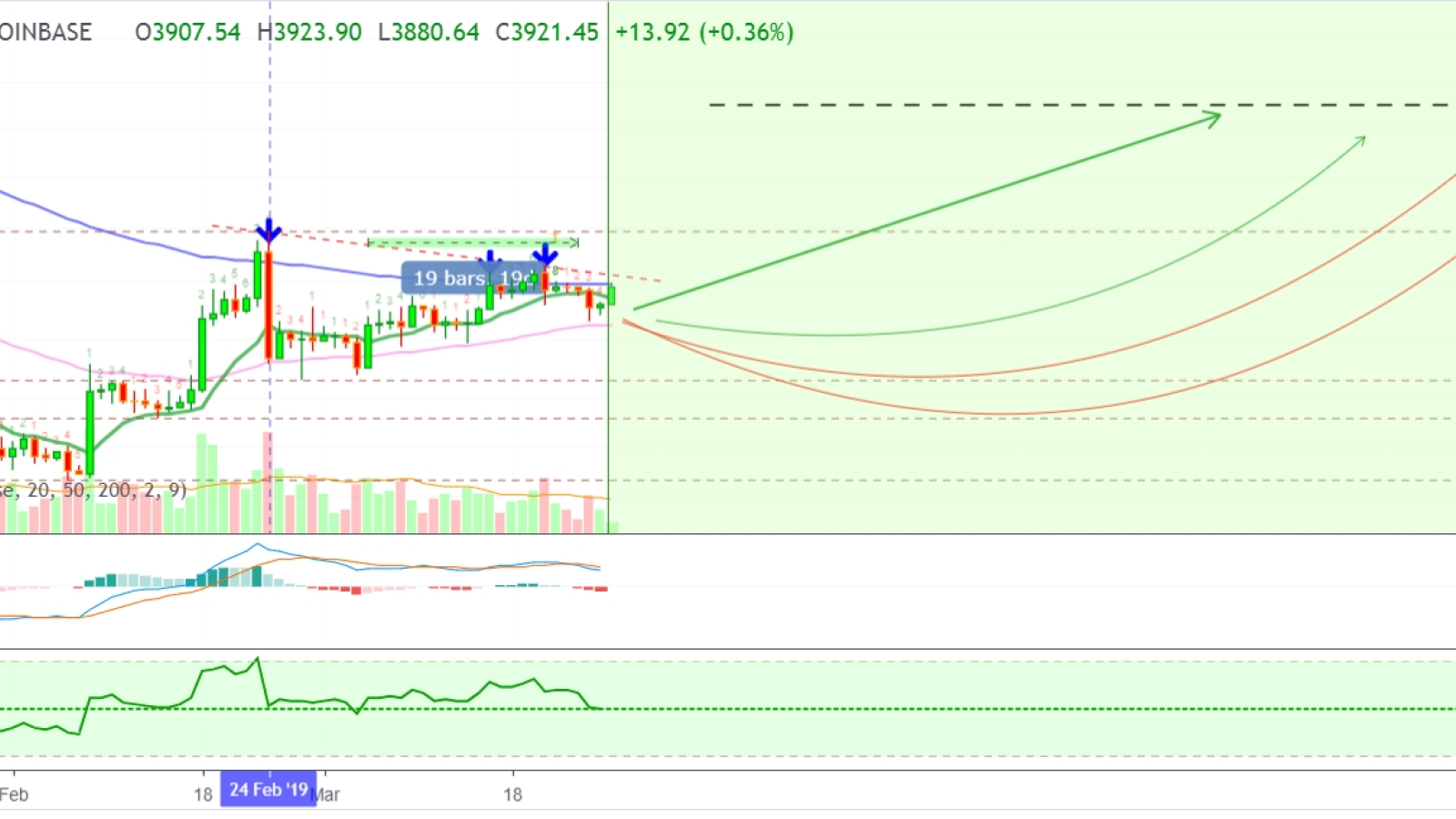 Bitcoin price chart from alanmasters
When analyzing BTC price perspectives, alanmasters paid attention to the EMA100 (blue) resistance rejecting Bitcoin's continued growth and the fact that Bitcoin needed to retrace before trying again to break it, but something changed.
All throughout last year until recently, all sorts of bear action would come up with massive strength and momentum, but this is no longer the case.
It took Bitcoin 5 months to break above EMA50 and turn this resistance into support. Now, each time we had a retrace, we would see each support level being taken out very easily, so now Bitcoin is showing great strength.
In fact, the bear volume is really low – nobody wants to sell their Bitcoins. Even though it's now retracing, we can see that bearish period is to change to bullish. Bitcoin can still drop lower but not as much as we thought before. We still trade with caution, remain open to all scenarios, and profit even more trading as many altcoins as we want.
BTC/USD price chart on TradingView
Disclaimer: The opinion expressed here is not investment advice – it is provided for informational purposes only. It does not necessarily reflect the opinion of U.Today. Every investment and all trading involves risk, so you should always perform your own research prior to making decisions. We do not recommend investing money you cannot afford to lose.