Bloomberg's chief commodity strategist, Mike McGlone, believes that Bitcoin is still in a price discovery mode. However, he expects BTC to continue appreciating. Here's why.
"Bitcoin supply is declining and demand is rising"
Mike McGlone has taken to Twitter to share his view on Bitcoin's prospects. He has reminded the community that the circulating supply of the world's largest digital currency is falling and the demand for Bitcoin keeps growing.
The economic recession, which started last year due to the pandemic that began in China and the lockdowns that followed around the world, pushed multiple financial institutions and retail investors to embrace Bitcoin this year as a hedge against the inflation expected in the near future.
Shrinking supply and rising demand leads McGlone to believe that the Bitcoin price will continue to rise over time and, in the future, a higher Bitcoin plateau will be established as the crypto sphere becomes stronger and more mature.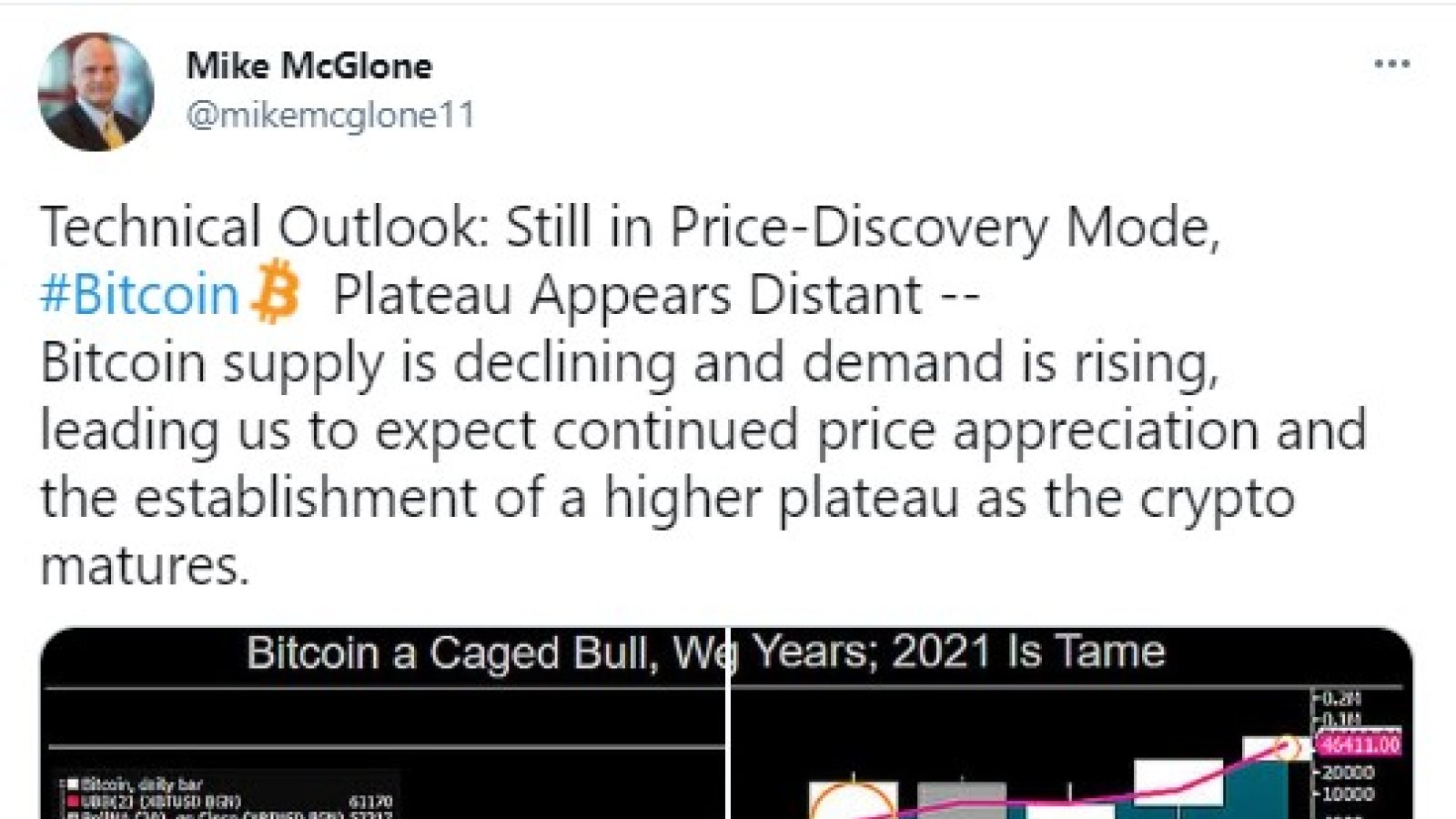 In early March, Mike McGlone shared that he expected Bitcoin to surge to the $100,000 level as BTC is replacing gold as a store of value.
Bitcoin strives to surpass its $61,800 ATH
Earlier today, BTC strived to surpass its recent all-time high of $61,800 reached on March 13. The rally was largely driven by the upcoming direct listing of the Coinbase exchange on the Nasdaq, which is expected on Wednesday, April 14.
Coinbase, spearheaded by Brian Armstrong, will be the first major cryptocurrency company to go public. The U.S.-based Kraken exchange will follow suit next year, as was reported earlier by U.Today.
Bitcoin spiked 2.6 percent today, reaching the $61.229 level, its highest peak in almost a month.