With the crypto market currently underperforming today, OX, the native token of the Open Exchange, is leading a very unique altcoin resurgence. The digital currency is currently up by 24.36% to $0.03856, pushing the token to a weekly high of $0.04063. The growth of OX has been notably steady over the past week, and it has increased by 36.92%, per data from CoinMarketCap.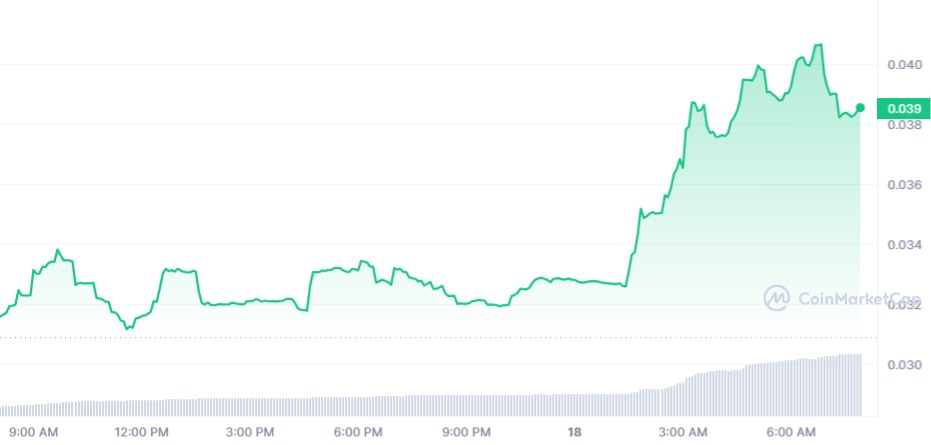 Open Exchange's performance seems surprising, seeing as it is connected to the founders of the now-defunct crypto hedge fund Three Arrows Capital (3AC). The growth appears to be a vote of confidence in the project as the crypto community is now giving the project a second chance.
However, the current growth of OX is being fueled, in part, by the ongoing whale accumulation of the token. According to data from crypto analytics service provider Lookonchain, a whale has been accumulating OX tokens over the past five days. The latest tranche of buy-ups involved the injection of 421 ETH worth approximately $823,000 to buy 26.43 million OX at an average price of $0.031.
Per the data insight, the whale has a total of 140 million OX tokens worth about $5.7 million. Of these massive tokens, a total of 100 million is locked, 30 million is in the liquidity pool and 10 million OX tokens are currently in the wallet.
Potential for OX to enter top 100
While Su Zhu and Kyle Davies' 3AC did not have a native token at the time, the hedge fund was a prolific investor in tokens or projects with very unique growth potential and hype. Their design of the OX token must have stemmed from the wealth of knowledge they have in the space.
OX is still in its infancy with a market capitalization of $108.7 million. This low cap gives the token a very good growth upside, a point of attraction that can further attract investors in the long term.