Although Blockchain is a pretty safe and failure-proof technology, it doesn't mean hackers cannot find security breaches. This is a never-ending war in proactive mode: websites introduce new protection features, hackers find new ways to break into. Therefore, if you want to sleep soundly knowing that your cryptocurrency is in safe hands, you need to find the most secure online Bitcoin wallet.
Selecting a suitable service can be pretty challenging, but we have compiled the list of the most reliable and secure Bitcoin wallet solutions.
What to consider?
Before we start reviewing the most secure Bitcoin wallet options, let's take a quick look at the key types of wallets and salient features. There are the following Bitcoin secure wallet kinds:
The hot wallet is connected to the Internet directly and supposed to be used online only.

The desktop wallet is installed on your system as software and allows for offline Bitcoin handling.

The mobile wallet is installed on your smartphone. You can use Bitcoins by connecting to the Internet.

Hardware wallet is a portable device where you store Bitcoins protected by strong encryption.

The cold wallet is a 100 percent offline wallet that can only receive Bitcoin. It is considered to be the most secure cryptocurrency wallet, but it is only suitable for long-term coin storage.
Most typically, users choose online Bitcoin wallets with a large number of functions. How to secure your Bitcoin wallet? Just pick up the solution that comes with essential protection features.
First, choose a wallet that allows you to own and control your private keys. It should also have features for backup and security, such as pin codes. Secondly, the wallet you're going to use should be compatible with different operating systems (iOS, Android, Windows, Mac). Do not forget that convenience of the interface is also crucial– you should be able to understand what is what easily: intuitive navigation is a must.
Lastly, check out how the wallet is maintained, and whether the community is participating in development and helping each other. Having 24/7 access to assistance and guidelines is more important than you think.
Now when the stage is set, let's observe the 5 most secure wallets for cryptocurrency.
1. Jaxx
This is a software wallet that allows you to have instant access to cryptocurrency anywhere and anytime. Jaxx is the first mobile wallet solution that supports iOS, Android, and browser. The main technology underlying Jaxx is a mnemonic seed that can be used to backup your wallet or transfer funds to a different device. Other great features include:
Receiving funds,

QR code scanning,

shapeshift integration,

wallet linkage in different platforms,

viewing of your crypto assets.
Jaxx was called the most secure Bitcoin wallet 2016, and is still widely used by cryptocurrency owners. The only drawback is somewhat sophisticated interface and navigation: it might require some training to understand how this platform should be exploited. Besides, with some new integrations, the app features may be unstable.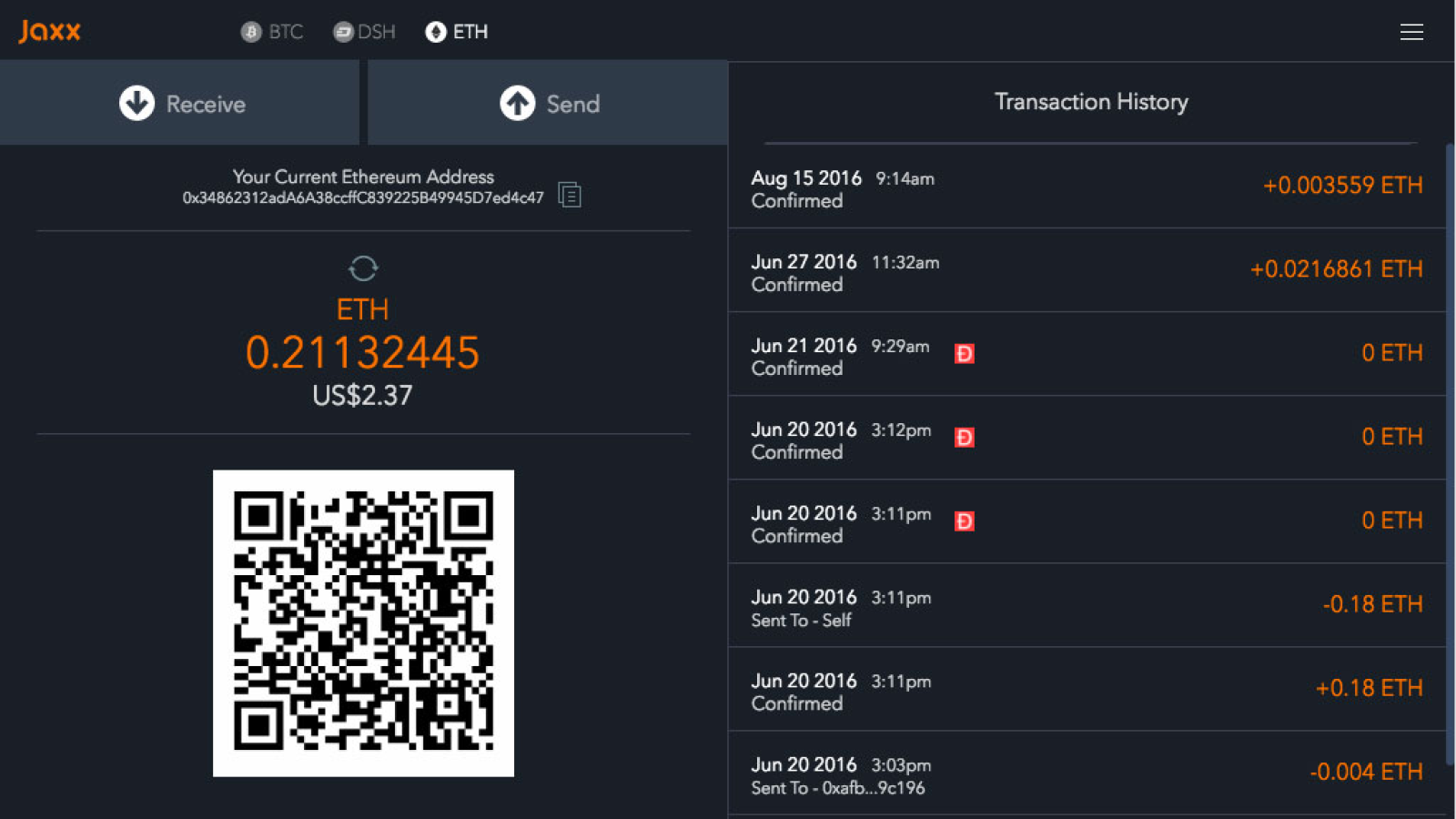 2. Electrum
In fact, this is one of the oldest Bitcoin wallets. The users need to generate a private encryption key using a seed of 12-24 words. That makes up for key privacy between 128-bits and 254-bits, which is very hard to crack.
Don't like memorizing passwords? Then you can exploit the seed phrase as a recovery tool and bring your content back. Besides, the private key encryption type is AES-256-CBC– it's super-strong. To top it off, Electrum leverages multi-signature support, two-factor authentication, offline cold storage, USB drive installation and server decentralization (it makes downtime impossible). So if you need the best secure Bitcoin wallet, Electrum might be the most agreeable choice.
3. Exodus
This is a desktop-only wallet that's compatible with Mac, Linux and Windows and allows you to store multiple cryptocurrencies. The creators put a heavy focus on user convenience.
First, there are no hosted logs or servers. Secondly, no identity verification is required for using Exodus, but you should make a backup of the seed key (you'll be asked for your email ID to send you one-click link recovery feature). If you want to spend your funds, you will need to set up a password.
You can recover Exodus account using the seed key and password, but it's only possible if you have some balance on your wallet! To get help with wallet management, you can contact the customer support service via email.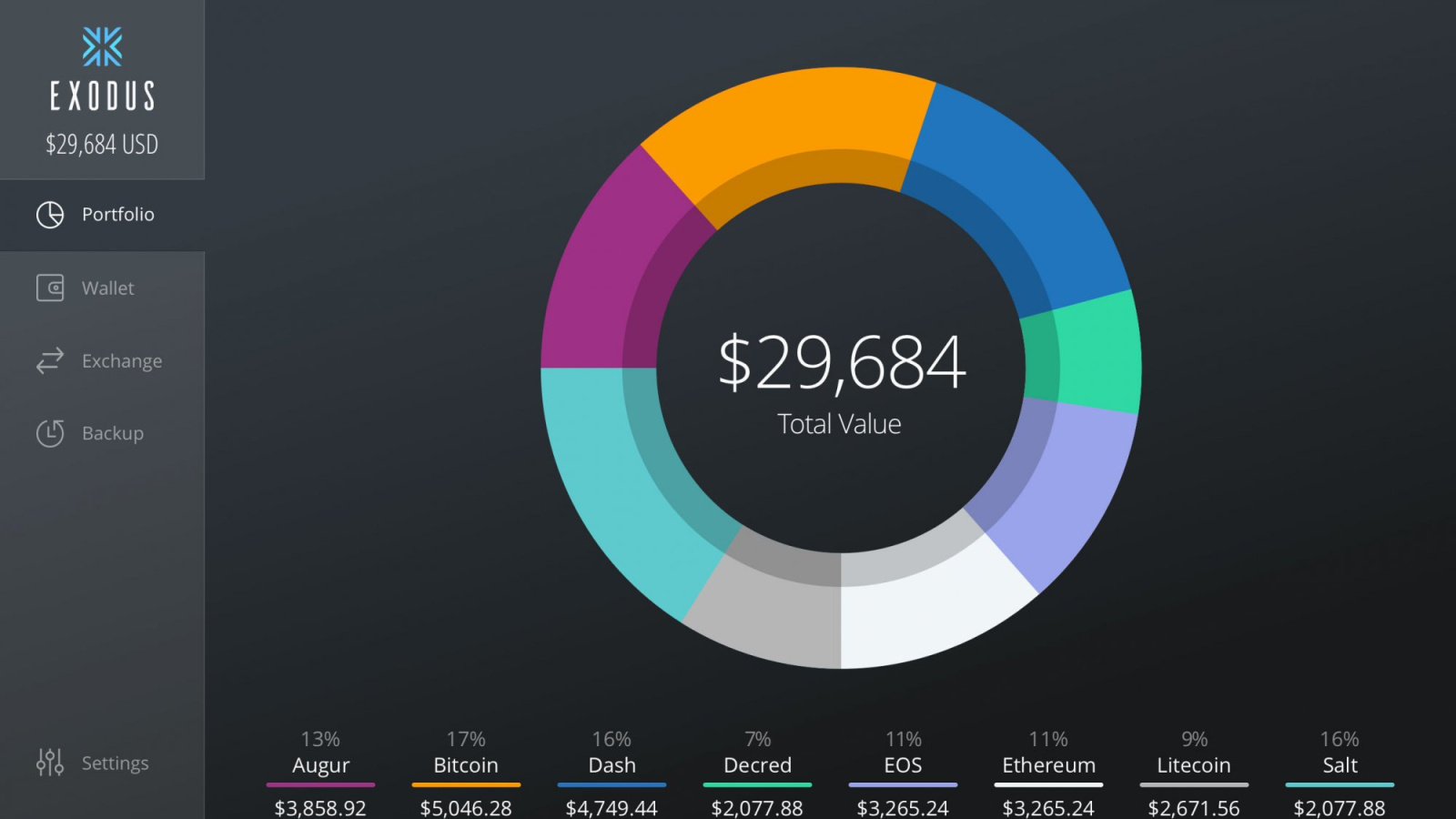 4. Coinbase
This is an online-based hot wallet for making GDAX exchange instantly and without a fee. Using the same interface, you are free to purchase items with fiat currency. Besides, all crypto holdings on Coinbase are insured!
How to secure Bitcoin wallet on Coinbase? Activate 2-Step Verification and Google Authenticator, and there's even a vault available for extra security. Please, note that Coinbase supports Bitcoin and Ethereum only.
5. Trezor
This little device from SatoshiLabs is the world's first Bitcoin hardware wallet. Trezor is connected to your phone or computer via a USB, and stores your private keys and sign transactions. To start working with it, you will need to enter the same 9-digit pin code on your PC screen as on its OLED screen. This code is generated randomly every time you connect your Trezor device. After that, you will need to type your 24-word recovery seed. Keep the recovery key safe– this is the only way to restore access to your Bitcoins.
All in all, Trezor is similar to the Nano S device in use. Although it's pretty costly, this is a very efficient way to secure your crypto assets. Today, you can buy this secure cryptocurrency wallet in both official online store and many other places– it costs around $110.
Which wallet is what?
Now when you understand what kind of wallet you need, let's divide the most popular solutions into categories for your convenience:
| | | |
| --- | --- | --- |
| Hardware Wallets | Software Wallets | Desktop and online wallets |
| Trezor, Ledger Nano S, KeepKey | Jaxx, Mycellium, Electrum, GreenBits, Blockchain | Exodus, Coinbase, MyEtherWallet |
Although a hardware wallet is the safest way of keeping your Bitcoin earnings, this is a costly solution (hardware wallets come for $100 on average) and requires some manipulations to access your assets. From the convenience standpoint, software wallets seem to be the easiest to use, but they are more prone to hacking and errors.
Bottom line
The solutions we have reviewed are among leaders in the sphere of cryptocurrency storage: trust your assets to these platforms, and you won't be disappointed. But remember that a free wallet is not always the best wallet – be ready to invest in your privacy and security. Store your Bitcoin earnings away from exchange platforms. Otherwise, you risk losing your virtual money.
With a secure wallet, Bitcoin is stored safely and efficiently. You can get access to your precious assets anytime and anywhere without being afraid of hacking. Remember: although most wallets leverage a wide range of security features, you bear responsibility for the safety of your private keys and the key seed – do not disclose this information and keep it away from other people.