Ethereum-based artificial intelligence-based digital currency CryptoAI (CAI) is leading altcoin momentum after printing sudden 35% growth over the past 24 hours. Following the surge, the token is now worth $0.02864, with the impressive growth metrics spreading to its 24-hour trading volume.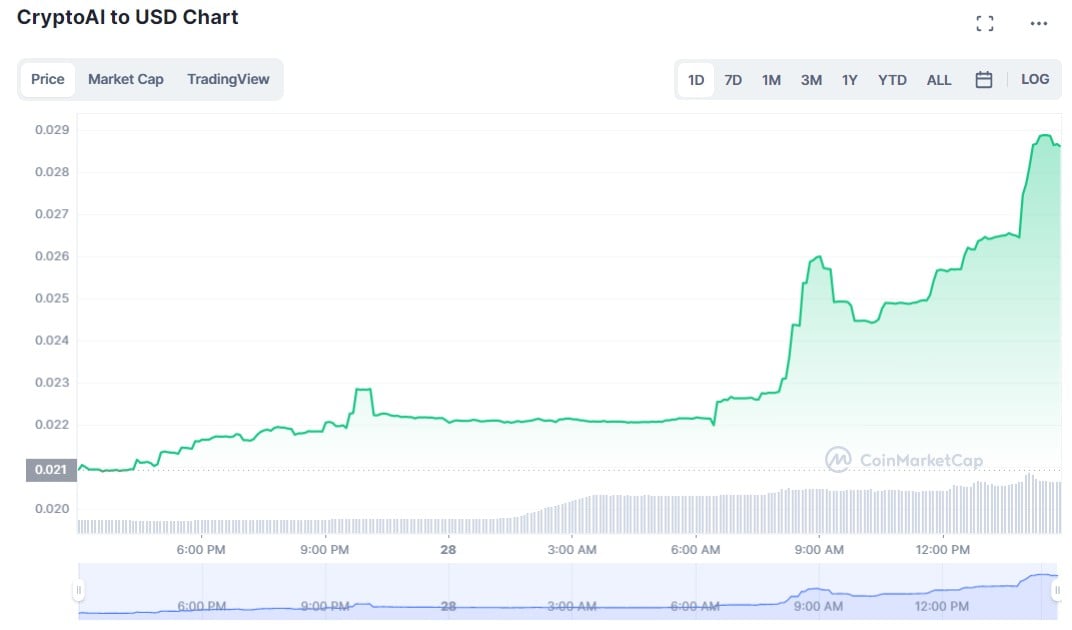 CryptoAI is benefiting from two major bullish fundamentals at this time, and that includes the hype around artificial intelligence (AI) following the popularity of ChatGPT and Bard, as well as renewed interest in Ethereum as a highly functional proof-of-stake (PoS) protocol.
While these fundamentals are a plus for the CryptoAI project, it is developing its own ecosystem as it looks to be the dominant protocol powering all AI-related content generation. In recounting its achievements since inception, the protocol noted that it has launched "the first Analyze bot capable of scanning any smart contract and providing a clear, simple analysis of token distribution among holders."
The use of AI in the blockchain ecosystem is still somewhat limited, and while innovators are still figuring out their way in the industry, CryptoAI has made a number of other advances, including giving the "ability for anyone to freely generate AI text-to-video content."
Blockchain and pioneering AI innovators
With AI pivoting to becoming a prominent innovation, receiving the greatest attention in the tech world today, a number of blockchain-based protocols are now taking up the position as innovators pioneering how tech and smart contracts can be integrated.
Cardano-backed SingularityNET (AGIX) is among these early pioneers with the mission of creating a platform that can allow anybody to easily "create, share, and monetize" AI services, with the help of its globally-accessible AI marketplace.
Prominent crypto leaders, including Charles Hoskinson, have also shared deep interest in harnessing the powers of both blockchain and AI to develop new solutions that will span other industries, such as healthcare.