Cardano (ADA) has recently reached a significant milestone within its ascending price channel, hitting a "diamond" support level that has been guiding the cryptocurrency's value upward for the past few months. This development could signal a potential 16% rally, which, if realized, would place ADA's price at the upper border of the same channel.
The diamond support level is a critical point on the chart, indicating strong buying interest from investors and traders, which could potentially drive prices higher. As Cardano approaches this level, market participants might view it as an opportunity to enter long positions or add to their existing holdings in anticipation of further price appreciation.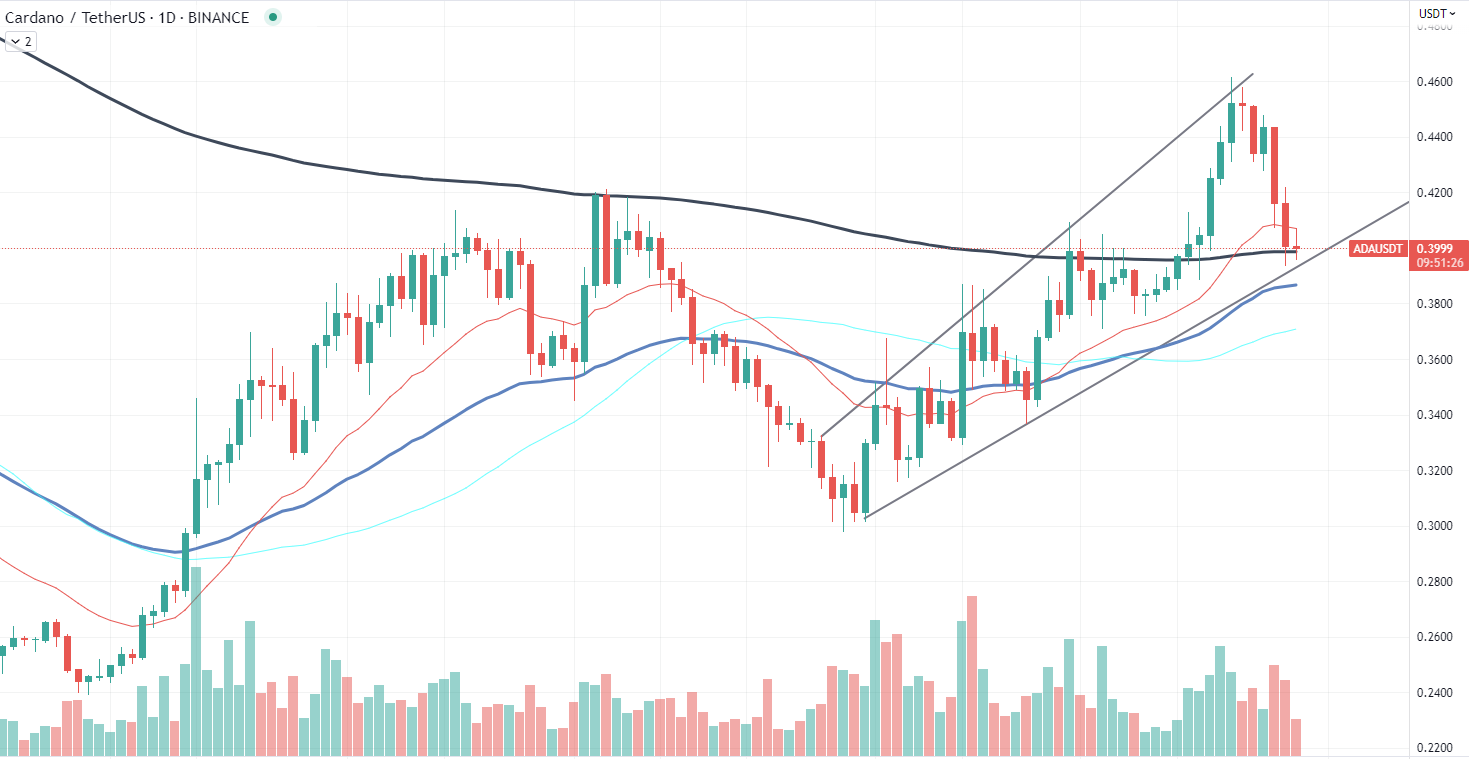 The ascending price channel in which ADA has been trading has acted as a reliable guide for the cryptocurrency's bullish trajectory. The lower boundary of the channel has consistently provided support, while the upper boundary has acted as resistance. If the current trend continues and the diamond support level holds, it is possible that Cardano could experience another rally, pushing its price toward the upper border of the channel.
A 16% rally from the current price would represent significant gain for Cardano and could attract even more attention from investors looking for promising opportunities in the cryptocurrency market. However, it is essential to note that the cryptocurrency market is inherently volatile, and price predictions should always be taken with caution.
XRP falling without breaks
XRP has recently experienced a significant retracement, losing all of its gains from the past 30 days and hitting the 50-day moving average. This downturn in the asset's price mirrors a similar reversal that took place in November 2022, when XRP's price dropped from a local high of $0.57 to a year's low of $0.32.
The recent drop in XRP's value has left many investors and traders concerned about the cryptocurrency's short-term prospects. The decline has pushed the asset to test its 50-day moving average, a critical technical indicator that often serves as a gauge for medium-term trends on the market. Should XRP manage to hold this level, it could signal a possible trend reversal or, at the very least, a period of consolidation.
In November 2022, when XRP last tested its 50-day moving average, the asset experienced a sharp decline, losing nearly 44% of its value in a short period. This historical precedent has left some market participants wary of the current situation, fearing that XRP could face another, similar drop.
Dogecoin surprisingly stable
In the midst of a cryptocurrency market drawdown, Dogecoin (DOGE) has shown resilience as one of the few assets that has not fallen below its ascending trendline. This has allowed the popular meme-based cryptocurrency to maintain its local uptrend, despite the broader market experiencing a downturn.
Interestingly, the convergence of the moving averages suggests that Dogecoin has not entered an accelerated uptrend, which could potentially explain the lack of a more pronounced correction observed in other digital assets.
Dogecoin's ability to remain above the ascending trendline during the recent market pullback underscores the cryptocurrency's relative stability within a challenging landscape. This continued upward trajectory has enabled DOGE to outperform several other cryptocurrencies that have succumbed to downward pressure and broken through their respective trendlines.
However, the convergence of moving averages indicates that Dogecoin's uptrend may not be experiencing rapid acceleration. This more measured pace could be the reason why the cryptocurrency has avoided a substantial correction like the corrections seen by other digital assets.