Seasoned enthusiasts of Cardano (ADA) staking ecosystem, Staking Rocks pool, unveiled their latest development, i.e., a bridge mechanism designed to seamlessly move value between BNB Smart Chain (BSC) and Cardano (ADA).
This protocol bridges Cardano (ADA) and BNB Smart Chain
Per the statement of the Staking Rocks team, for the first time ever, Binance USD (BUSD), a core USD-pegged stablecoin of Binance (BNB) ecosystem, becomes seamlessly available on Cardano (ADA) blockchain.
$BUSD has landed on #Cardano mainnet. 👌

More details very soon. https://t.co/NerAiAixqU pic.twitter.com/w1gPwSUZFL

— PHRCK | Cardano stake pool (@PHRCKpool) January 23, 2023
They shared the transaction hash that can be scanned through Cardano (ADA) explorers. The fmBUSD token was minted on Cardano (ADA) blockchain on Jan. 23, 2023. The token minting became possible due to non-custodial bridge Finitum.
Finitum bridge, which is now undergoing public beta testing, is created to ensure value transfer between Cardano (ADA) and BNB Chain (BSC) blockchains.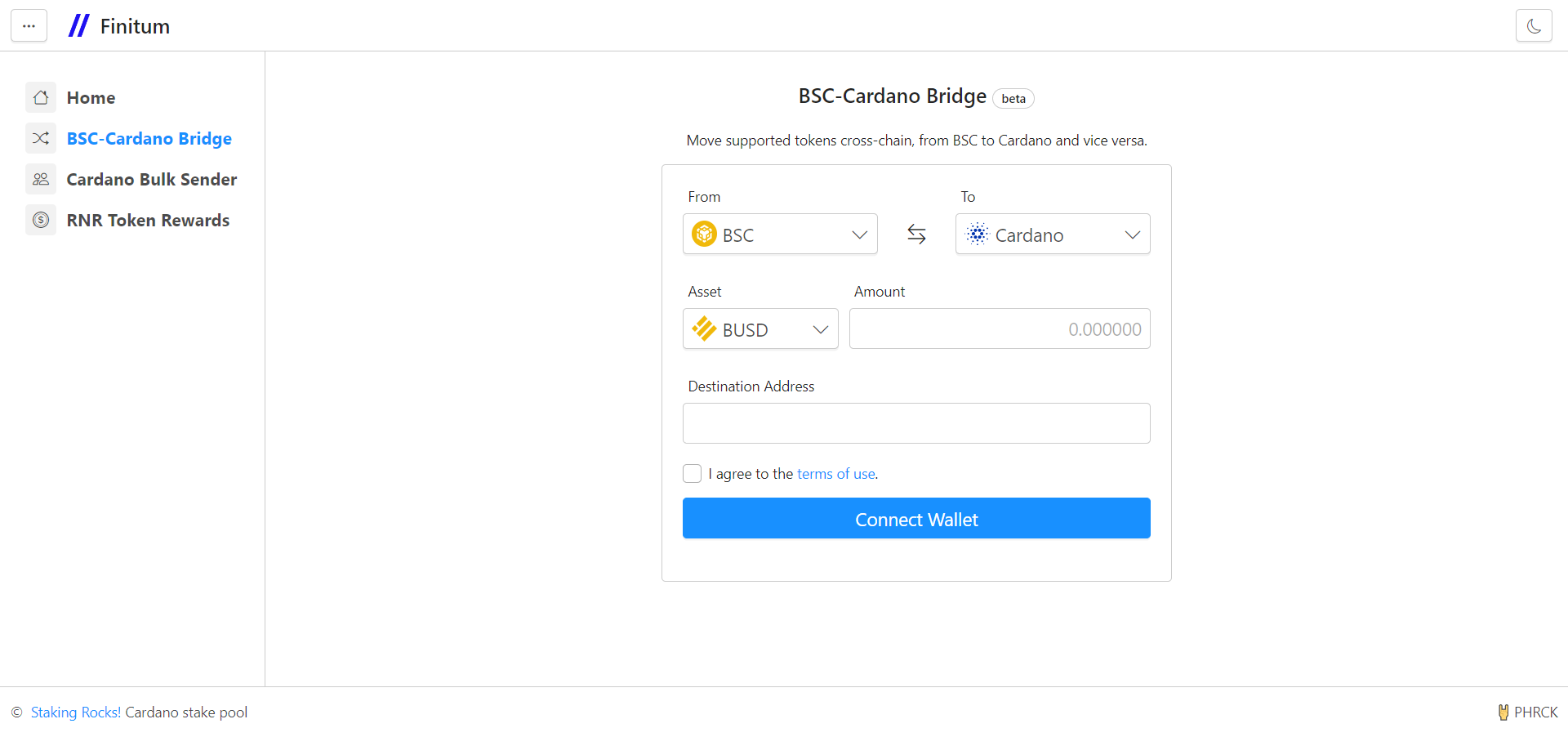 To mint the "mirrored" tokens on the target blockchain, a user must choose the destination (Cardano-to-BSC or BSC-to-Cardano), target address, name of token (BUSD, UMB, BHC, HPS tokens are supported) and desired amount of tokens to be minted.
The creators of the token stressed that more details will be shared soon.
Community welcomes new bridge
Also, Staking Rocks representatives revealed that, right now, the team is preparing documentation for the new product. Although the final "dress rehearsal" is yet to be announced, people are already invited to stress test the bridge mechanism.
Largely, commentators welcomed the announcement: many of them called the solution "interesting and promising for the progress of the Cardano (ADA) ecosystem.
However, some other Cardanians admitted that they are scared to interact with noncustodial bridges after the Wormhole and Ronin incidents of 2022.
As covered by U.Today previously, the two most anticipated new tokens of the Cardano (ADA) ecosystem - DJED stablecoin and its SHEN reserve currency - will be listed by Bitrue service.