Bitcoin has risen from a "tulip bubble" to a potential "preferred currency for global trade", according to a 108-page report of Citigroup. As its market value tops $1 tn, it has become too big an asset for the world to ignore. When we search "Bitcoin" on the Internet, usually we will be introduced to the concepts of decentralization, capped supply, and blockchain technology. These are some of the factors that contribute to Bitcoin's success. But they have been here since Bitcoin's birth, so what are other factors that drive Bitcoin's rallies since 2020? Today we will look into two main driving factors.
More Use Cases
One of the things Bitcoin opposers constantly argue is that Bitcoin has limited use cases and thus "valueless". But Bitcoin is one step closer to becoming mainstream in 2020. Paypal and Visa are two of the first giant payment companies to allow customers to buy and sell Bitcoin. Tesla, a leading electric-vehicle company, announced a purchase of $1.5 billion worth of Bitcoin, and that it would consider accepting Bitcoin as payment. The announcement sent the Bitcoin price significantly higher.
More use cases no doubt help to promote people's awareness of Bitcoin. In 2021, we are expected to see Bitcoin increasing its profile as more companies provide Bitcoin-based services. Cash App announced that users can send Bitcoin to other cashtags for free via its app.
Easier Access
Easier access means more money inflow from retail investors and big investors. Just a year ago, the ways for investors to get some exposure to Bitcoin is limited: they either buy Bitcoin from exchanges or invest in derivatives such as futures trading or options trading. But now more Wall Street companies are providing pseudo-ETF to investors and investors would invest in companies that have added Bitcoin to their balance sheet. Investors' choices range from Greyscale's GBTC, MicroStrategy, or smaller mining companies including Marathon, Riot and Hut 8.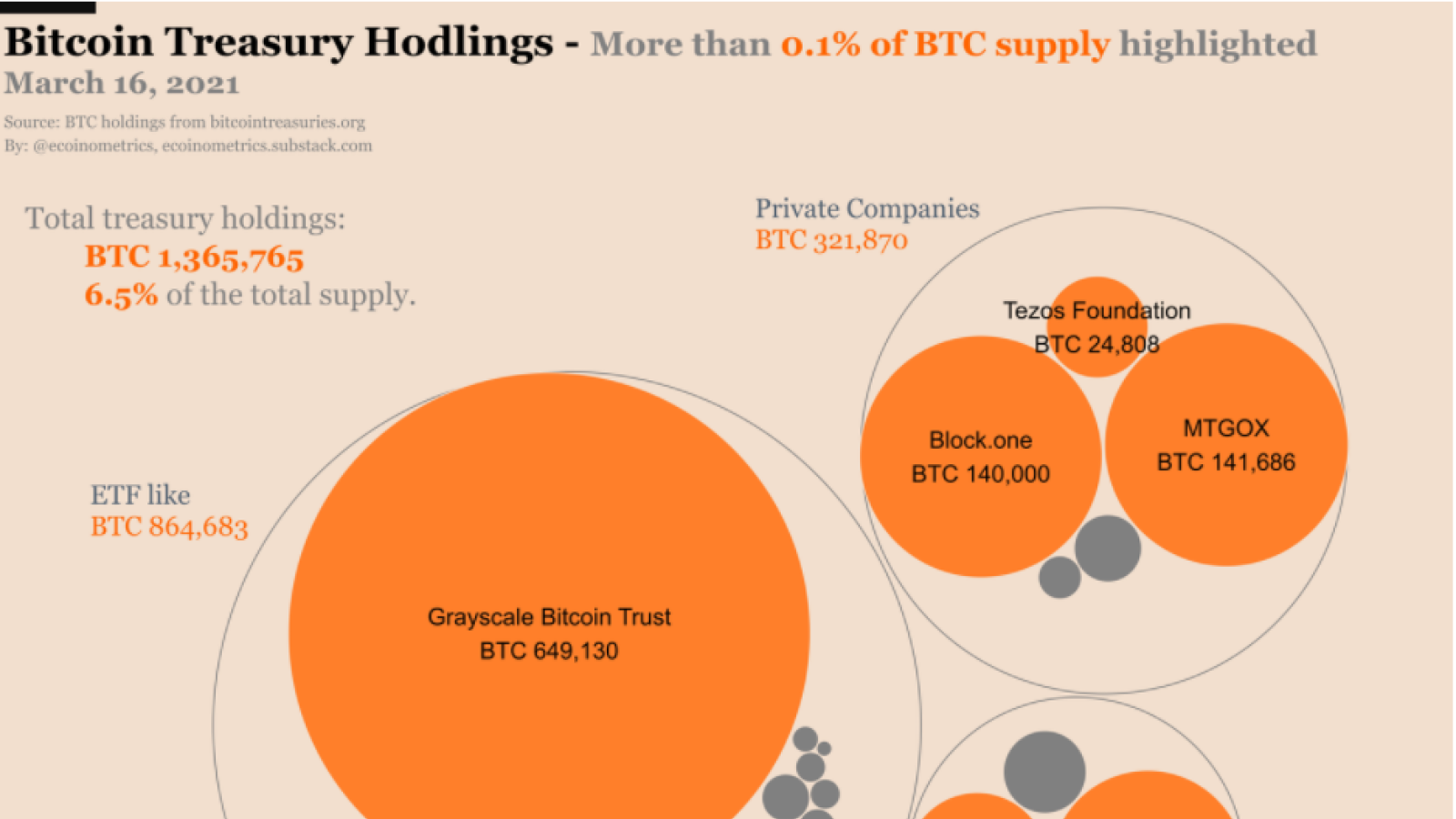 Bitcoin is getting closer to mainstream with every passing day. Some analysts have proposed wild guesses on Bitcoin's price and famous crypto analysts PlanB's Stock to Flow model is one of the most popular models. The Stock to Flow model measures the relationship between an asset's scarcity and value. In his article, PlanB presents the prediction that Bitcoin will reach $100k by the end of 2021, and his prediction has been right on track so far.
However, although many analysts believe in Bitcoin's long-term potential, assets across different markets in the past few weeks suffer significant drops due to the rise of the U.S. 10-year treasury bond and concerns for interest rate hike. The Bitcoin craze has cooled down a bit since the ATH of February. Cryptocurrency fund inflows declined by 59% last week. Now the Bitcoin fear & greed index stands at 66, a drastic decline from last month's 91 of extreme greed.
Bitcoin is trading sideways between $53,000-$60,000. $53,000 is a strong support for Bitcoin and the next one will be $50,000. If bulls fail to protect this area, we may revisit $48,000 again. But a correction below $45,000 seems unlikely as many whales buy Bitcoin at this price level.
Here are two options worthy of trying while waiting for the bull:
Option 1: A Wallet Designed for Traders and HODLers
You might want to continue to hodl your BTC and wait for the bull market to come after the halving. However, as we don't know how long it will be until the next bull market, meanwhile you could consider storing your BTC into an interest-bearing wallet, where your deposit could gain up to a 21% annualized interest rate.
Option 2: Managing Trading with Less Risks
Besides buying more BTC and waiting for the bull market, you could earn additional BTC with leveraged trading, which allows traders to open a leveraged position X times more than their actual capital. By predicting the right trends of Bitcoin's price, traders can earn greater returns within a shorter period of time. Bexplus, a leading cryptocurrency leverage trading platform, even offers a 100x leverage. Even at times of great volatility, you can generate profits with the help of Bexplus. And its Stop Loss & Take Profit options could help you lower the risks and lock in profits.
Bexplus - Recommended Leverage Trading Platform
No KYC requirement, registration with E-mail verification

Demo account with 10 BTC for traders to get familiar with leverage trading

100% bonus for every deposit and 10% off of transaction fee

Intuitive and full-featured App on Apple App Store and Google Play

Affiliate program with up to 50% commission reward
24/7 customer support and analysts service (https://t.me/Bexplus_Geoff)