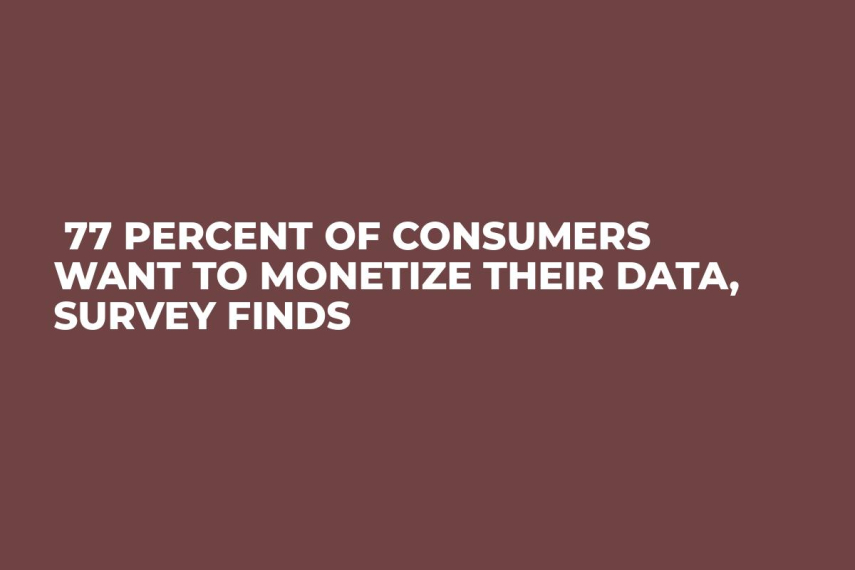 Cover image via U.Today
As companies like Facebook and Google continue to use consumer data as a source of massive revenue, a new survey finds that users are looking for a way to monetize their data.
A survey of 1,000 people, commissioned by Insights Network and released on Friday, found that 90 percent of consumers think it's unethical for their personal data to be used without consent and more than 77 percent say they would be willing to share it if they knew who was using it and were paid for its usage.
The Cayman Island-based Insights Network is developing a platform using the EOS Blockchain that enables users to choose who they share their data with while being financially compensated.
Brian Gallagher, CEO of Insights Network, says:
"Under current practices, our data is being collected behind our backs for nefarious purposes, and we need to move to conventions for data use that are based on transparency and consent."
Gallagher said in an interview on YouTube that he learned about the "over-reach" and "abusive practices" in the data brokerage industry when data brokers approached him after developing a successful platform for users to upload restaurant receipts to receive cash-back rewards.
Being an early Blockchain token purchaser and a part of the crypto community, he understood the power of decentralized networks and saw an opportunity to bring it to the data brokerage industry, he said.
The problem is that third-party organizations, known as data brokers, collect information about people from internet services and mobile applications, and sell it to advertisers who make huge profits without the users' permission or compensation.
Acxiom, a top US-based data broker that has on average 1,500 pieces of information on more than 200 mln Americans, earned $77.26 mln in profit in 2012, according to the white paper published by Insights Network.
Not only are consumers unable to share profits, but their personal identity becomes vulnerable to hackers capable of stealing it to commit identity theft and fraud.
Equifax, US-based credit services firm, was just one of many companies that recently experienced a hack which comprised the personal data for more than 140 mln Americans.
Now, with the emergence of decentralized storage, digital currencies and smart contracts have allowed Insights Networks to create a platform for conducting marketing research and securely storing consumer data, the company says.
Insights Network users, not data brokers, sell their data directly to brands and companies they prefer by using smart contracts without disclosing the user's identity. Marketing organizations can use the platform to make requests for data from more precisely defined populations selected from the company's members.
Insights Network has created the first version of its mobile app, which includes a digital wallet and dashboard for users to monitor their data daily and earn tokens.
On the consumer side, the platform both mitigates the possibility of data hacks and increases transparency by eliminating third-party brokers.
Gallagher says it is a win-win for both sides. Companies want to engage with their user-base directly because it results in a much higher quality of feedback than from a third party.
Further, the company says its full compliance with the upcoming General Data Protection Regulation (GDPR) which goes into effect in the European Union on May 25, prevents marketers from facing hefty fines if they use a consumer's data without consent.
Once in effect, the GDPR can levy fines up to $10 mln for the first violation and $20 mln every time thereafter if an individual's data is used without proven consent.
The company says its "proof-of-concept" had already garnered more than 100,000 users and plans to scale rapidly. The company's Instar wallet is currently available via Google Play store and awaiting IOS approval from Apple.