Yield App, the official digital asset wealth management partner of premier league football club West Ham United, has enjoyed great support from its community during the rollout of Version 2 (V2) of its platform, reflected in the upward momentum in its native token, YLD.
The platform was launched just 11 months ago in February 2021, but in this short time it has attracted more than 70,000 registered users, who have entrusted it with more than $420 million in assets.
The newly launched Version 2 of Yield App's platform, which brought a raft of new features, was a huge hit with its community, driving up the value of its native token, YLD.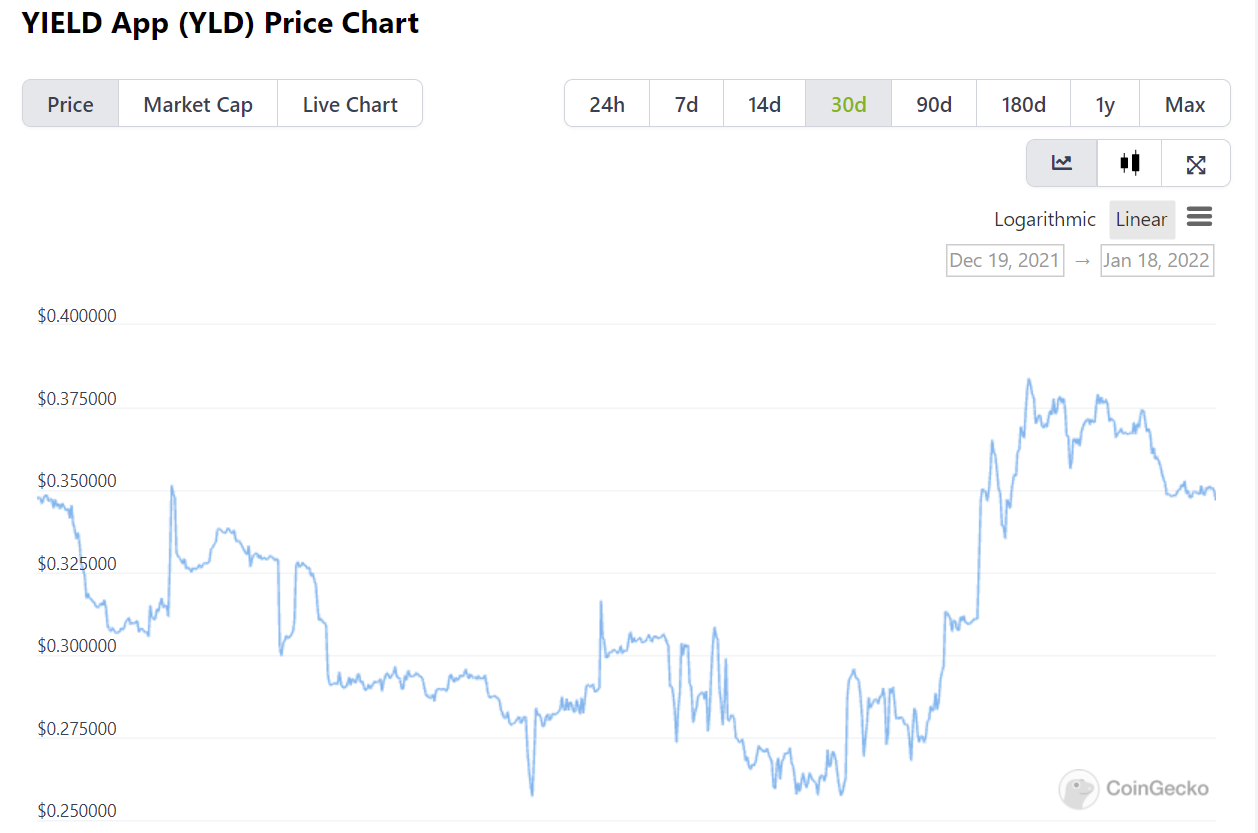 Among a host of new features, Yield App's V2 boasts a slicker user interface, enhanced security features and greater control over earnings, while the platform will also be expanding its product offering. Yield App has added DAI to its stable for the V2 launch, with a promise of further assets to come in following weeks. Currently, Yield App offers the market's leading rates on USDT, USDC, DAI, ETH and BTC. Here's an overview of the most exciting changes.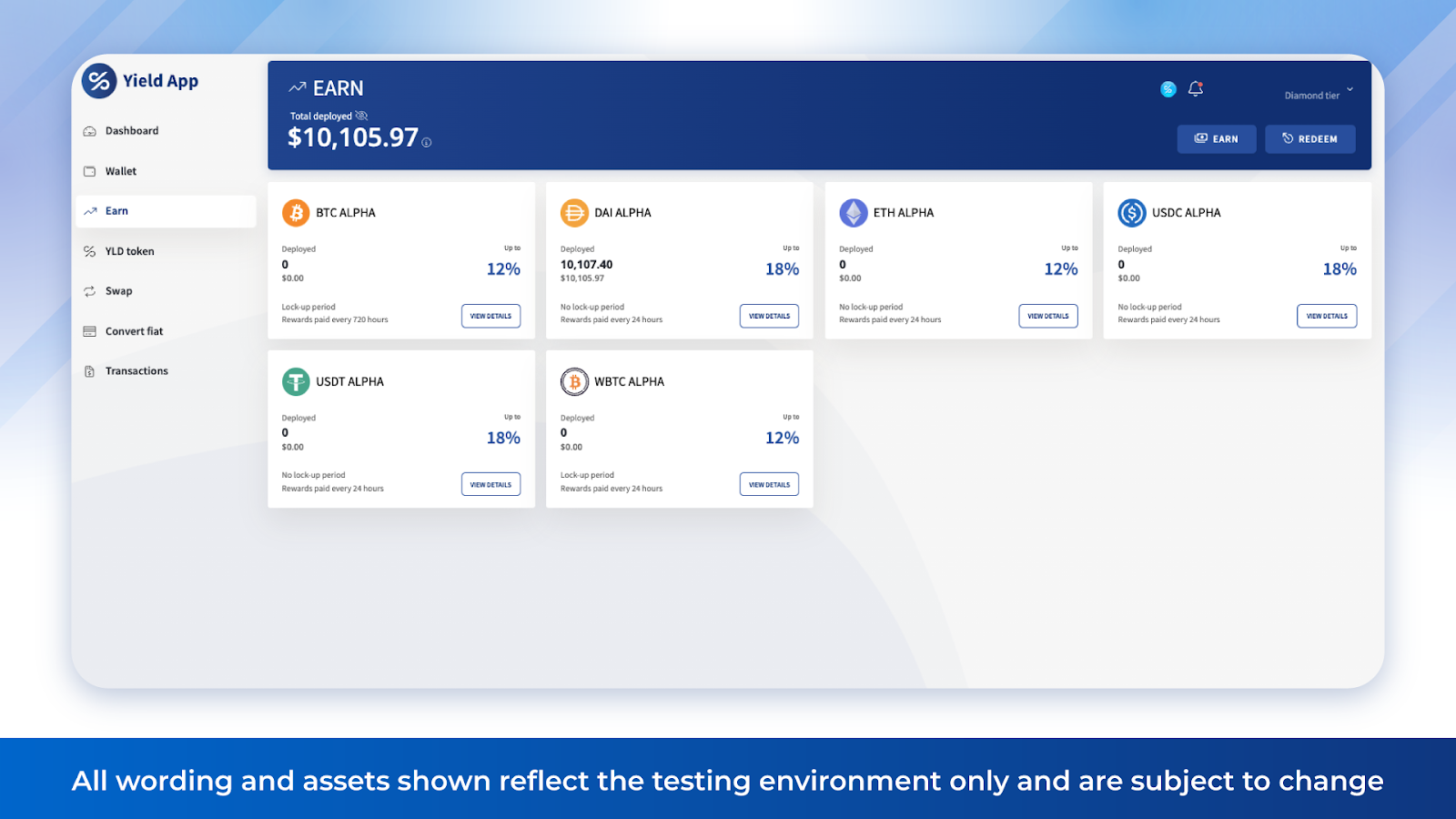 Staking and locking feature for YLD
The V2 upgrade brought with it an overhaul of the existing YLD rewards structure. Now, users can choose between staking and locking their YLD tokens to boost earnings. Staked YLD (from 1,000 YLD) can earn up to 6% per year, depending on a user's Tier level, while locked YLD (also for balances above 1,000 YLD) earns a flat rate of 12% a year. To celebrate the V2 launch, however, Yield App is offering 20% APY on locked YLD over 12 months for users that lock their tokens between the launch of V2 on January 18 until March 1, 2022.
Earn higher rewards in YLD
The platform update also enables users to earn all their rewards in the native token, YLD, to boost their base returns by 2% a year.
New Tier Rewards structure
As part of V2, Yield App has also introduced a brand new Tier rewards structure which will see users transition to four tiers: Bronze, Silver, Gold and Diamond. The structure pays variable returns dependent on a user's Tier level, rewarding all users with the market's leading rates. The table below offers an overview of the new structure.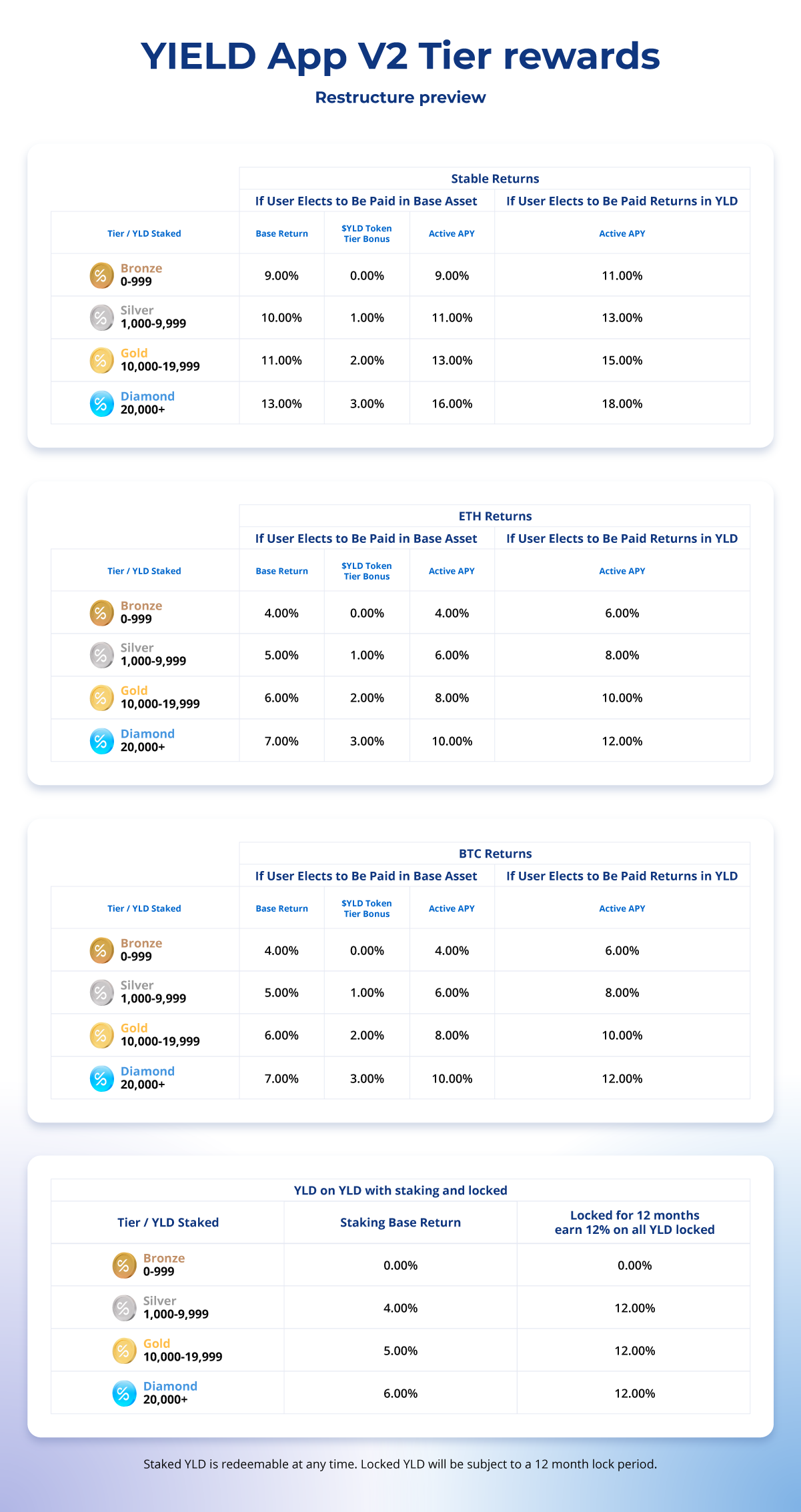 Full Cycle Swaps
In addition to greater flexibility over earnings, Yield App also now allows users to swap any of their assets for another asset available on the platform. Yield App currently supports stablecoins USDT, USDC and DAI, as well as Ether (ETH) and Bitcoin (BTC).
Enhanced security, reporting and so much more
Meanwhile, the new version of Yield App comes with enhanced security features, such as an automatic logout feature, the ability to whitelist trusted addresses, and more robust two-factor authentication.
Monitoring and reporting digital asset activities has also become much easier with V2. From February 2022, users can download a report of all their transactions with one click that includes the time, ip addresses and location of the transactions.
In such a short time since launch, Yield App has reached some huge milestones, and its journey is only just beginning. The rollout of V2 has garnered a hugely positive response with the community, driving up the value of the YLD token and firmly placing Yield App in the digital asset wealth management leaderboard for 2022.
Here's a detailed overview of all the new and exciting features of Yield App V2: