Last week, we looked at The Biggest Crypto Owners in the World by Nation. It turns out that while Turkey's 18% of the population reportedly own cryptocurrency, it is the United States with its 8% of the population that actually has the largest number of cryptocurrency owners, around 26 million people. That, coupled together with another fact about the US having the most computational power, miners, and Bitcoin nodes, puts the United States far ahead of its crypto rivals.
Today, we bring you the Biggest Crypto Winners by Name, a fresh list that has been put together with an aggregation technique of analyzing data from various online sources. Unsurprisingly, this list is also dominated by the Americans. Almost entirely. But not quite…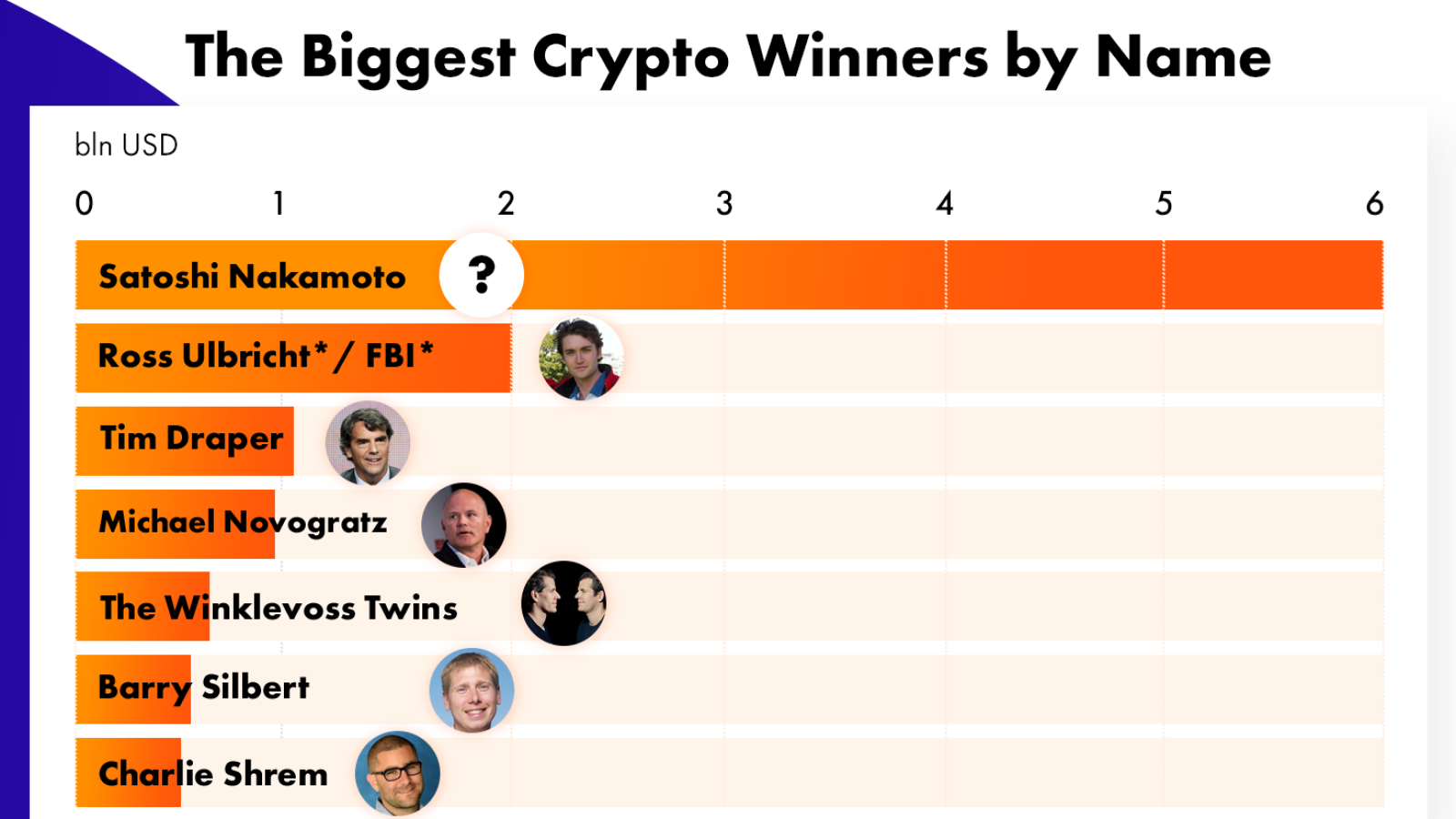 In 7th place is Charlie Shrem (USA), an interesting character to say the least, one of the biggest Bitcoin pioneers who was at one point under criminal investigation for money laundering with a subsequent two-year prison sentence. Clearly, that did not curb the man's crypto enthusiasm, and he is now back with a hefty $450 million, according to many sources.
In 6th place is the founder of Digital Currency Group and owner of Genesis, Barry Silbert (USA), with an estimated net worth of over $500 million. In 2014, he bought 48 000 Bitcoins in an auction held by US Marshals due to the shutting down of Silk Road; as a result, he has since been able to reap tremendous financial benefits from Bitcoin's climb to the top.
In 5th place are the famous Winklevoss Twins (USA) with their supposed combined wealth of $600 million. While Cameron and Tyler were unsuccessful in gaining control of Facebook in the well-publicized legal battle against Mark Zuckerberg, as they were unsuccessful in creating a Bitcoin Exchange Traded Fund (ETF), they did invest religiously in Bitcoin back in 2013. Since then, the crypto exchange rate has skyrocketed and grown more than 20 times the original price making their initial investment very peachy indeed. Well, when you are twins, doubling your money may be somewhat easier.
In 4th place is Michael Novogratz (USA), a hedge fund manager and trader who began investing in cryptocurrencies back in 2013 and four years later created a $500 million crypto fund with over a quarter of that sum coming from his own pocket. Having involved himself with most major cryptocurrencies, most notably Bitcoin and Ethereum, Novogratz continued to buy and sell the various crypto units, quickly becoming a major crypto player on the market. His net worth is now estimated to be over $900 million.
In 3rd place is Tim Draper (USA), a venture capitalist and the founder of the investment firm Draper Fisher Jurvetson. Initially making his fortune through viral marketing and associated investments in such big brands as Skype, Hotmail, and Yahoo, the native Californian purchased 30 000 Bitcoins in the 2014 public auction (the very same one that gave way to Barry Silbert's vigorous accumulation of wealth). All these well-executed efforts combined have put Draper's wealth at over $1 billion!
In 2nd place*, we have both Ross Ulbricht (USA) and America's very own Federal Bureau of Investigation. It must be noted that this place is entirely hypothetical: Ross Ulbricht's funds have been confiscated. He is currently serving a double-life sentence for being the mastermind behind Silk Road and popularizing Bitcoin usage on his platform for the purposes of decentralized trade. This may sound innocent enough, but the punchline is that his infamous creation, Silk Road, traded and exchanged mainly illegal products, such as illicit substances and firearms, all in the depths of the infamous Dark Web.
In 2013, Ulbricht was arrested and 9 months later charged with money laundering, computer hacking, and drug trafficking. The FBI seized Ulbricht's Bitcoins and passed them onto the US Marshals, who held an auction and sold them all off to those willing to pay, among them Silbert and Draper (who clearly did the wise thing by buying into them). Ulbricht's Bitcoins which ended up in the FBI's hands along with his other funds would have been now worth approximately $2 billion, which, in theory, puts both Ulbricht and simultaneously (though fleetingly) the FBI at our very respectable number 2.
In 1st place is the crypto household name Satoshi Nakamoto. As a matter of fact, no one knows, or at least no one admits to know, who Nakamoto really is. All that's known is that this name is a pseudonym used by some man or woman, or possibly even a group of people, who created a pioneering mathematical code which resulted in the first ever cryptocurrency unit. The only other fact that's known is that Nakamoto owns around 1 million Bitcoins, which roughly translates to the staggering $6 billion or more! That's one filthy rich Japanese mystery at our number 1.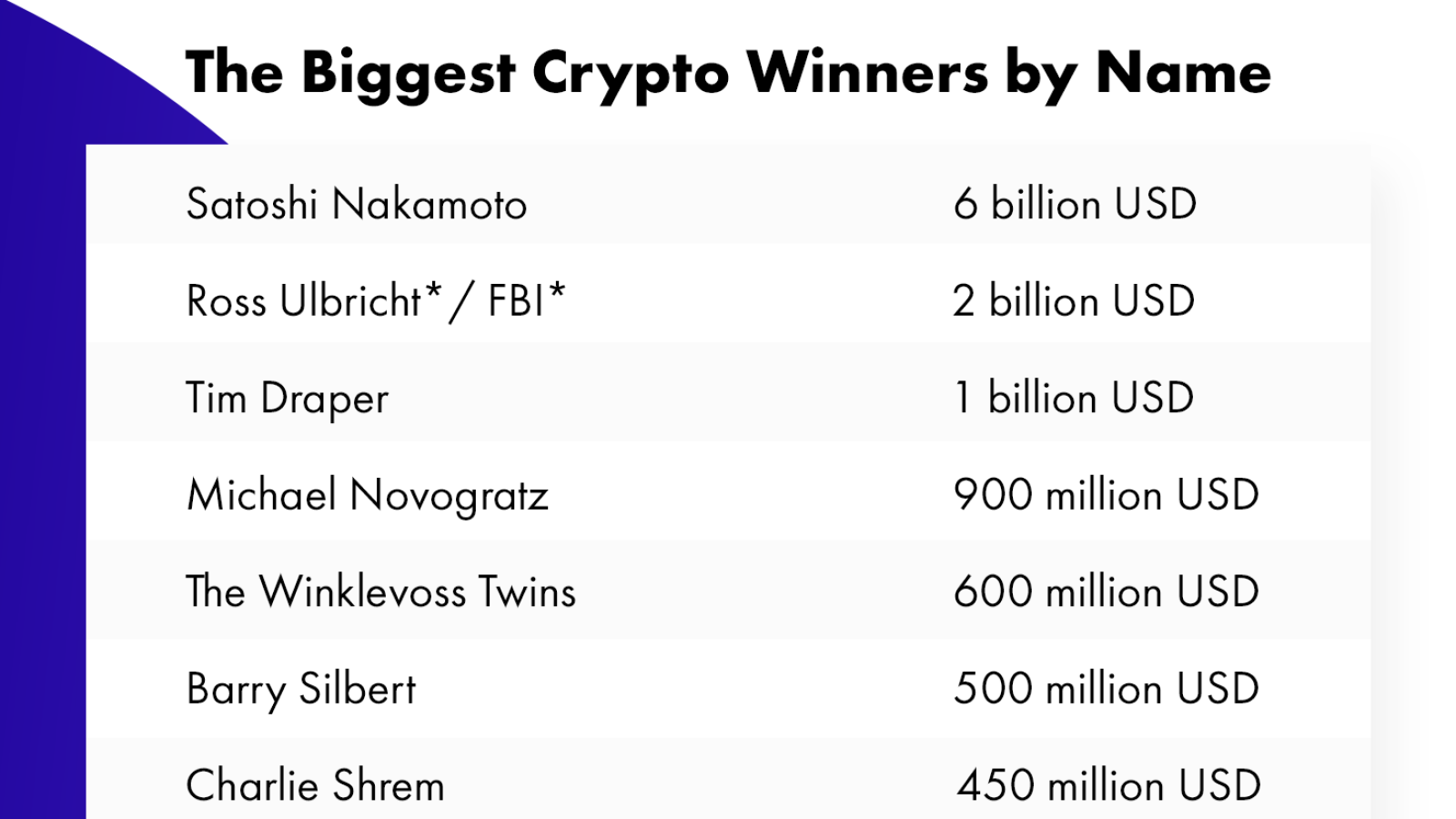 Interestingly, if Nakamoto were to actually sell off his Bitcoins, this would cause panic in the crypto market and consequently drive the price of Bitcoin down, which would leave Nakamoto with a lot less than Nakamoto has in assets right now. Talking about being left holding the crypto bag!
We hope you enjoyed our list. Stay tuned for more.