Currently standing at around $6,500, Bitcoin remains the highest valued cryptocurrency unit in the world. As a decentralized peer-to-peer network, it relies on immense amounts of computing power (i.e. miners) to validate its multiple transactions every second of the day. But the miners who do the processing must also transmit their transactive messages through a vast array of 'nodes', which is the only way a block in the Blockchain can be properly completed and confirmed. The more working nodes there are, the safer it is, and the further away we are from the problem of double spending.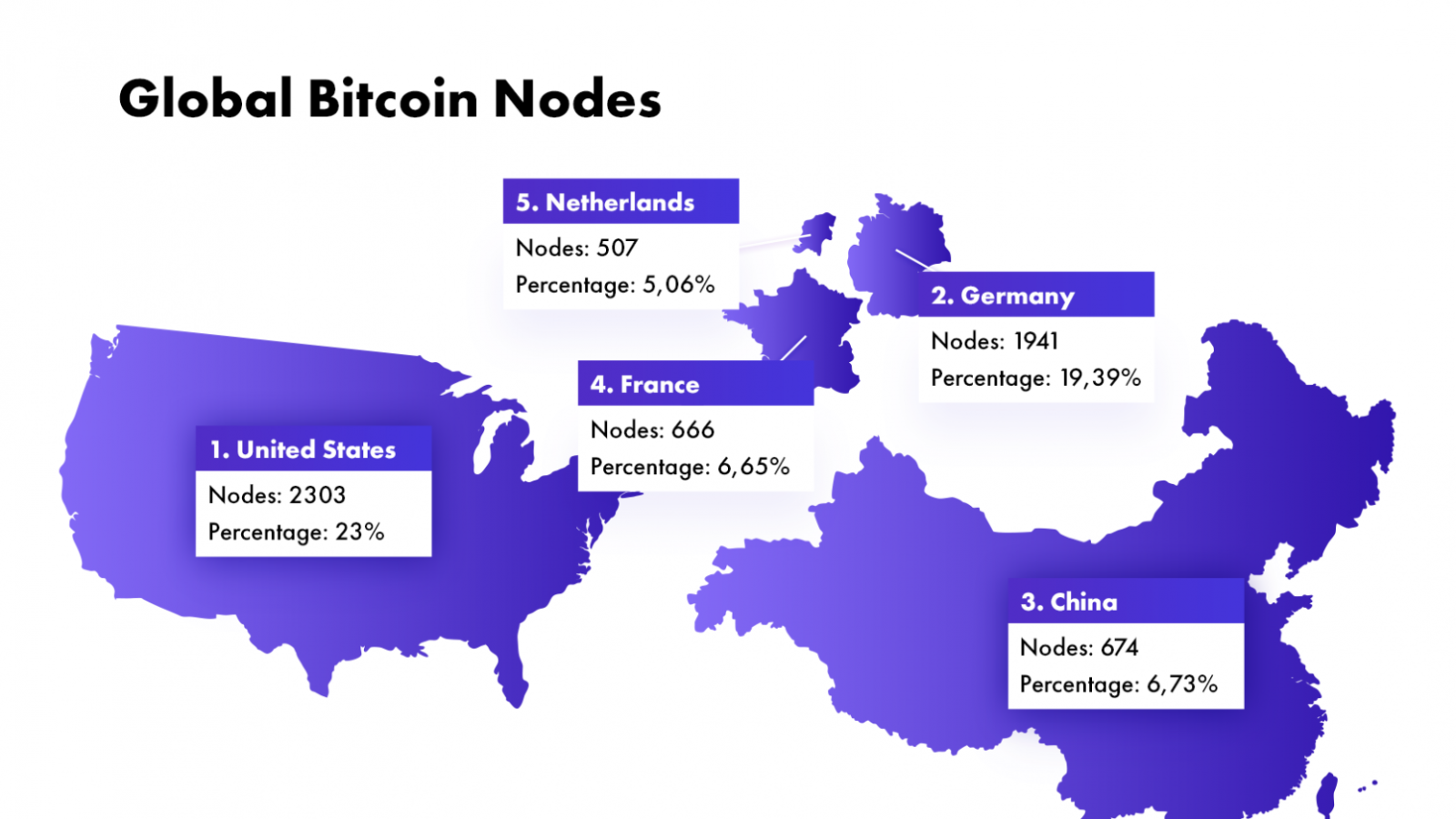 The map above shows today's top five world leaders by the number of working Bitcoin nodes: The United States is in first place with 2303 nodes (23%); Germany with 1941 nodes (19.39%) is second; China with 674 nodes (6.73%) is third; France is right behind China with the devilish 666 nodes (6.65%), followed by the Netherlands with 507 nodes (5.06%) at number five.
The United States, being the current leader, relies on these top five states for its functioning Bitcoin nodes: California is first with 582 nodes (26.75%), i.e. more than most countries, no surprises here though, after all, the Golden State is home to the tech hub Silicon Valley; New Jersey with 227 nodes (10.43%) comes second, far ahead of its famous neighbor New York with the modest 85 nodes (under 4%), which surprisingly eliminates the world's financial capital from our list; Virginia with 183 nodes (8.41%) comes next; Oregon with 127 nodes (5.84%) is further down the list, followed by Ohio with 123 nodes (5.65%) at number five. Texas is not too far off with its solid 120 nodes (5.51%) but ultimately doesn't make our top 5 list either.