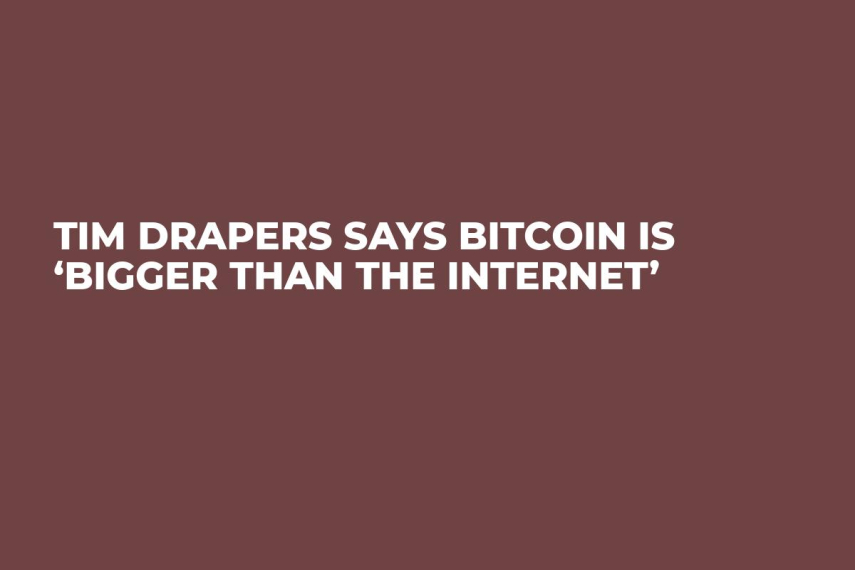 Cover image via U.Today
With Bitcoin price rebounding again, the likes of legendary Venture Capitalist and Bitcoin Backer, Tim Draper, have come out with positive sentiments about digital currencies. The VC who was an early investor in companies such as Skype, Tesla and Hotmail believe that Bitcoin will be bigger than all of those combined.
He previously made bullish calls that Bitcoin would reach $250,000 by 2022, and has now reiterated that point as the digital currency crawls back over $9,000.
In comparison
Draper has made his success by identifying investment opportunities in their embryonic phases and investing in them, especially in the world of tech. He has now boldly said that Bitcoin is the next big one, in fact, it is the biggest.
"This is bigger than the Internet. It's bigger than the Iron Age, the Renaissance. It's bigger than the Industrial Revolution," Draper said at Intelligence Squared US debate. "This affects the entire world and it's going to be affected in a faster and more prevalent way than you ever imagined."
Fiat is laughable
Draper's prediction is the price of Bitcoin will reach highs of a quarter of a million dollars in a couple of years, and when that happens, the idea of fiat currency will be laughable.
"In five years you are going to try to go buy coffee with fiat currency and they are going to laugh at you because you're not using crypto," the early internet investor said. "I believe that there will be a point at which you will no longer really want any of the fiat currency."
Draper has been true to his beliefs in so much as he invested in Bitcoin in 2014 at a Marshall's auction, picking up 30,000 BTC. At today's prices, that puts Drapers investment at over $268 mln.
Bulls are back
There are often big and bold voices on the price of Bitcoin when a Bull run emerges again, and, that seems to be the case now. Many Bitcoin commentators find their voice in times of green markets, but there are also some that stick to their convictions throughout.
The likes of Draper, and also Tom Lee, have been bullish in their predictions throughout even the downturn that plagued the beginning of the year.