A recent report published by Bloomberg states that Tether "has the billions it promised", indicating that USDT may be backed 1-to-1 by USD after all.
In the past, some sources claimed that USDT is not backed entirely by US dollars and this spurred allegations of misconduct and price manipulation (some voiced concern that BTC's rise to $20,000 was fueled by dishonest Tether trades). It is also believed that this controversy played a part in Bitcoin's 2018 bear market.
Bloomberg reported that "$2.2 billion was in Tether's account at Puerto Rico's Noble Bank Ltd. on January 31. That same day, 2.195 billion Tethers existed, according to data compiled by Coinmarketcap.com". However, this doesn't prove that Tether has been continuously backed by US dollars and doesn't solve the price manipulation allegation, which is still being investigated by the U.S. Justice Department.
Chart Analysis – BTC/USD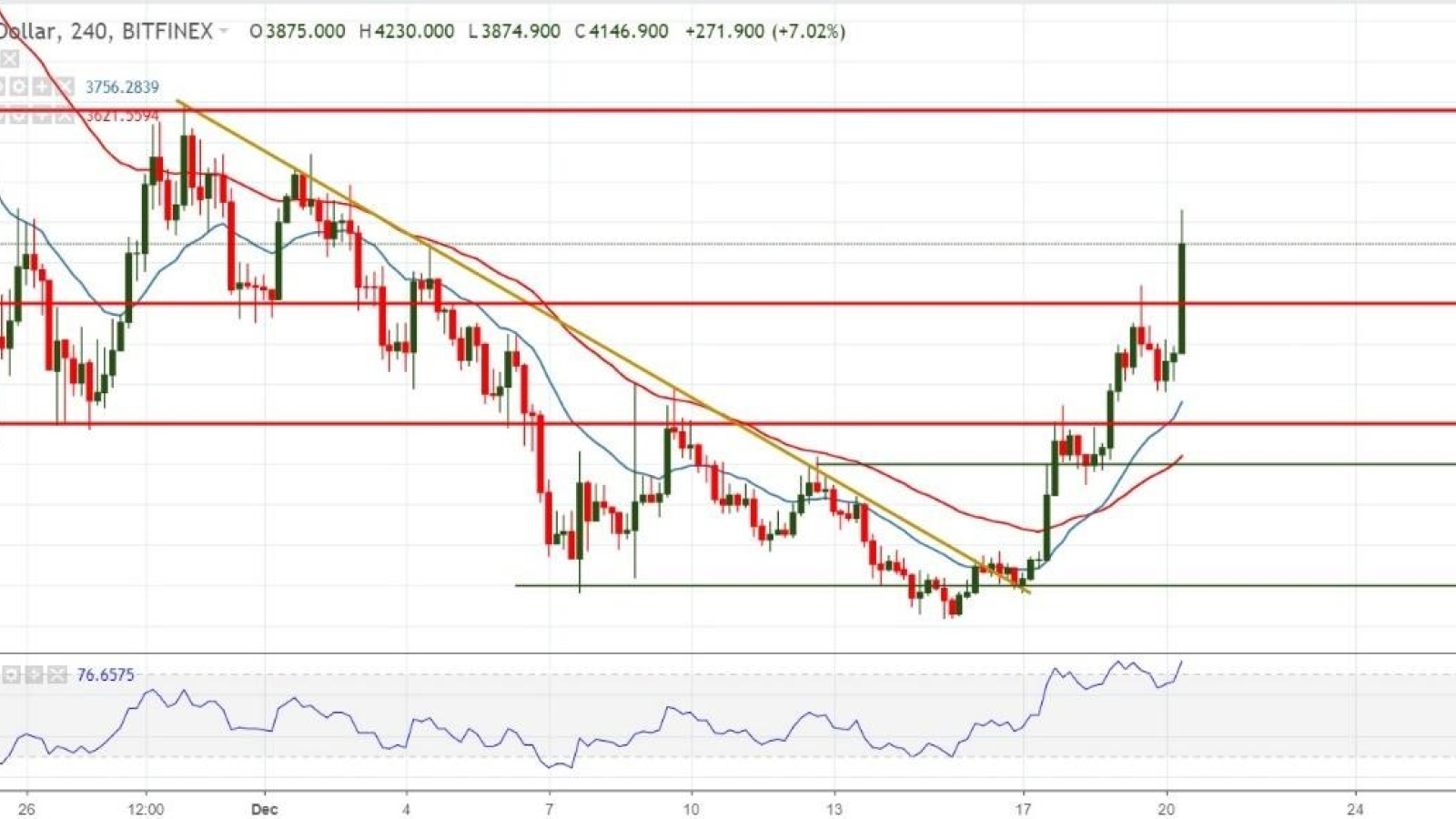 It seems there's no stopping the Bitcoin train as the digital currency continues higher, largely unfazed by Tether concerns or by overbought levels shown by technical indicators. It added almost 8% in the last 24 hours and more than 20% over the last 7 days, breaking the key level at $4,000 and trading at $4,160 on Bitfinex at the time of writing.
The short to medium term bias is clearly bullish and the recent break of 4000 shows that buying pressure is still high, with a potential to push BTC/USD into 4480 – 4500. That being said, the Relative Strength Index has broken above its 70 level for the third time in a short while, which is an indication that a bearish retracement will soon follow.
This potential correction can find support at 4000 (or at 4100 if it goes higher before retracing) but as long as this barrier still stands, we favor a climb into 4500 over the next few days.
Support zone: 4000
Resistance zone: 4480 - 4500
Most likely scenario: push into 4500 area (possible retracements until that target is reached)
Alternate scenario: move below 4000 and choppy price action