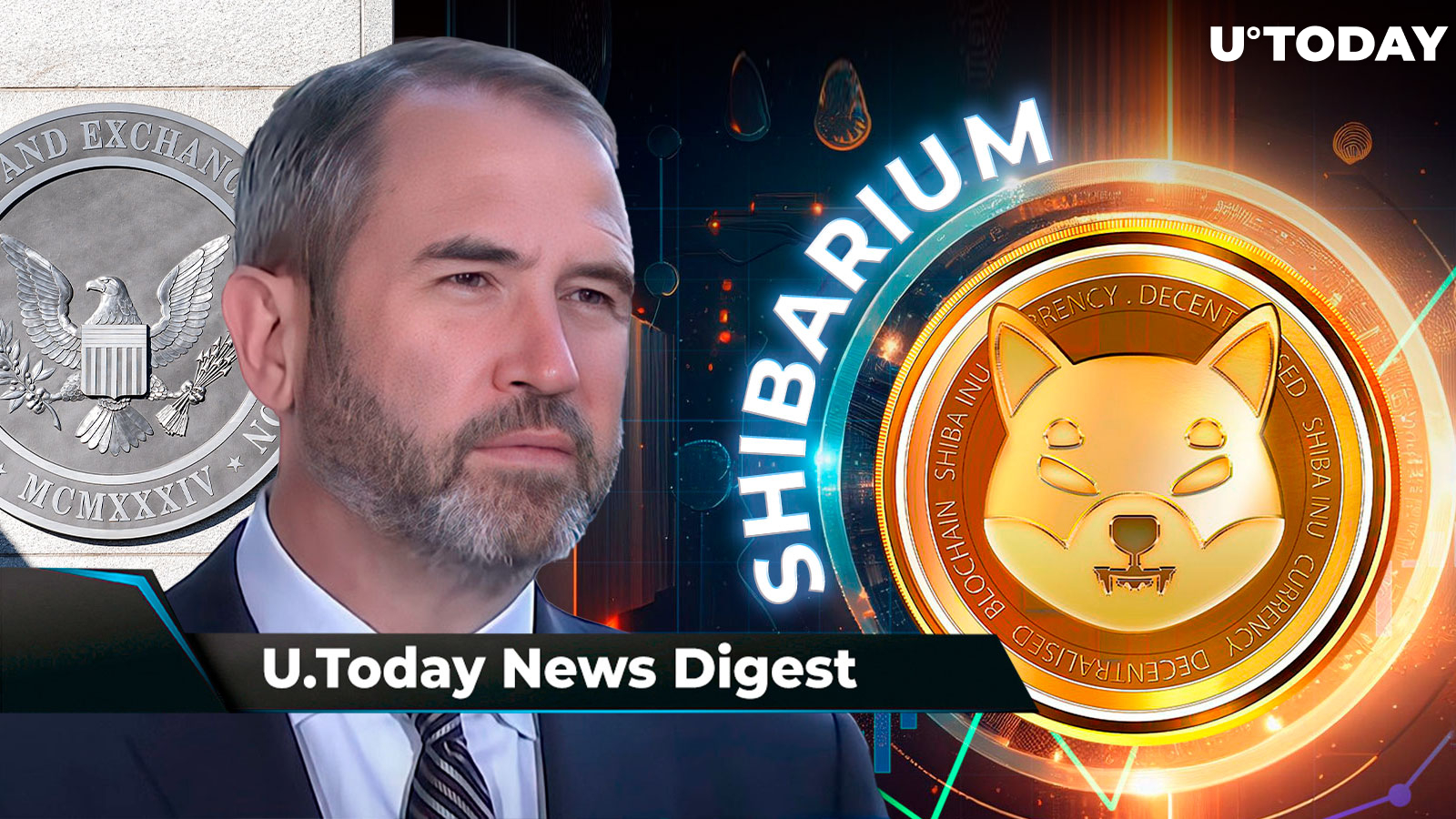 Cover image via www.youtube.com
U.Today presents the top three news stories over the past day. Take a closer look at the world of crypto!
Shibarium achieves new high as this important metric spikes
It seems like not a single day can pass by without Shibarium achieving another milestone. This time, the Layer-2 protocol has demonstrated an increase in its block producing mechanism. Per data provided by Shibariumscan, since the start of September, this metric has spiked above the 745,000 level. In comparison to the beginning of the month, when the overall block count was 500,000, this shows an almost twofold increase. Currently, each new block takes around five seconds to generate on Shibarium. As for Shibarium's other metrics, the total count of transactions has surpassed the three million level, standing at 3,002,924 at the moment of writing. The number of wallet addresses connected to Shibarium comprises 1,250,078.
Ripple CEO takes photo outside SEC building
Yesterday, Ripple CEO Brad Garlinghouse took to X platform to share a photograph of him and the company's general counsel Stuart Alderoty in front of the SEC headquarters. Garlinghouse accompanied the post with a joking comment, which reads "in case you're wondering…no, Chair Gensler did not invite us in." The photo was taken amid the ongoing tension between Ripple and the SEC; despite the fintech giant's recent victory in the lawsuit over the XRP status, the regulator has recently appealed for stricter classification of XRP transactions under securities law. On Tuesday, Alderoty also posted a picture of himself and Garlinghouse in front of the Supreme Court of the United States (SCOTUS), emphasizing the need for legislative clarity.
China to put billions into Bitcoin? Arthur Hayes shares epic new outlook
In a recent X thread, former BitMex CEO Arthur Hayes highlighted the possible capital flight from China, noting that the Chinese yuan (CNY) has depreciated almost 15% against the U.S. dollar (USD) year-to-date. To gauge potential capital flight, China researcher Andrew Collier from Orient Capital Research recommended that Hayes look at the gap between China's international net export earnings and its official foreign reserves. Per data, China's foreign reserves have increased by $32.4 billion this year, and international net exports by $553.25 billion, with $520.85 billion left unaccounted for. Hayes then speculated on where this capital might go, including China buying gold, paying down offshore USD debt held by its banks and corporations or affluent individuals moving their wealth abroad. The former BitMex CEO hinted that some of these funds could possibly be invested in cryptocurrency, particularly in Bitcoin, concluding his thread with "I hope some finds its way to Lord Satoshi and BTC."