With the broader digital currency ecosystem returning to its default bullish setting, the meme coin niche appears to be taking this resurgence more personally. The second largest meme coin by market capitalization, Shiba Inu (SHIB), has printed an unusual 9.89% with its price now pegged at $0.000009829.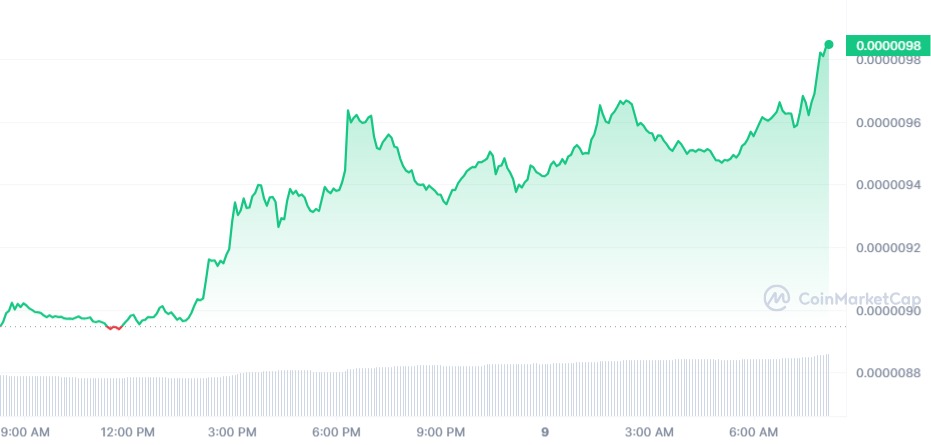 The SHIB growth is considered unusual in that the token has been on a steady bearish run for the better part of this year with the resurgence marking a shift from its long-sustained bearish sentiment. The growth is notably backed by various forms of on-chain positivity, including the volume of SHIB traded overnight, which has soared as high as 52.37% to more than $383.4 million.
The likely trigger behind the Shiba Inu growth trend is not far-fetched as bulls understand what is at stake with the upcoming launch of its Layer 2 protocol, Shibarium. The Shibarium mainnet launch is slated for the Blockchain Futurist Conference, which is scheduled to be held next weekend.
With Shibarium, a new era will be ushered in for Shiba Inu and every protocol within its ecosystem. With enhanced usability through the emergence of decentralized applications (dApps), there is a projection that there will be a huge demand for Shiba Inu, which will increase its broad influence within the meme coin ecosystem.
Is SHIB's growth here to stay?
Cryptocurrencies are typically marked by massive volatility that is hard to predict. While the current upsurge is encouraging, the chances that it might wane in the near term are quite high.
Shiba Inu has notably pivoted away from being just a speculative token since it unveiled its plans to launch Shibarium.
As its ecosystem matures, it is now prioritizing usability and relevance as a tool to help drive its token's growth. By doubling down on this target, the protocol's core developers are hoping the growth of SHIB and other tokens in the ecosystem can retain most of their accrued gains in the near future.