In the rapidly evolving world of cryptocurrencies, finding the right platform and tools is crucial for becoming a successful crypto trader. With the global crypto market soaring to an astounding $1.2 trillion in market capitalization, there has never been a more opportune time to join this exciting new frontier.
S-Trade helps newcomers unleash potential
Luckily, there are ways to make your entry into the crypto world easier. Welcome to S-Trade, a cutting-edge cryptocurrency exchange that empowers traders of all levels. In this article, we will explore how S-Trade can kickstart your trading journey and turn it into a profitable endeavor. Discover the distinct advantages of S-Trade's platform and the enticing incentives it offers to excel in the dynamic crypto market. Here is your step-by-step guide on how to turn trading into your full-time profession. Alongside this, we will introduce S-Trade, an innovative and reliable platform designed to empower traders on their journey to success.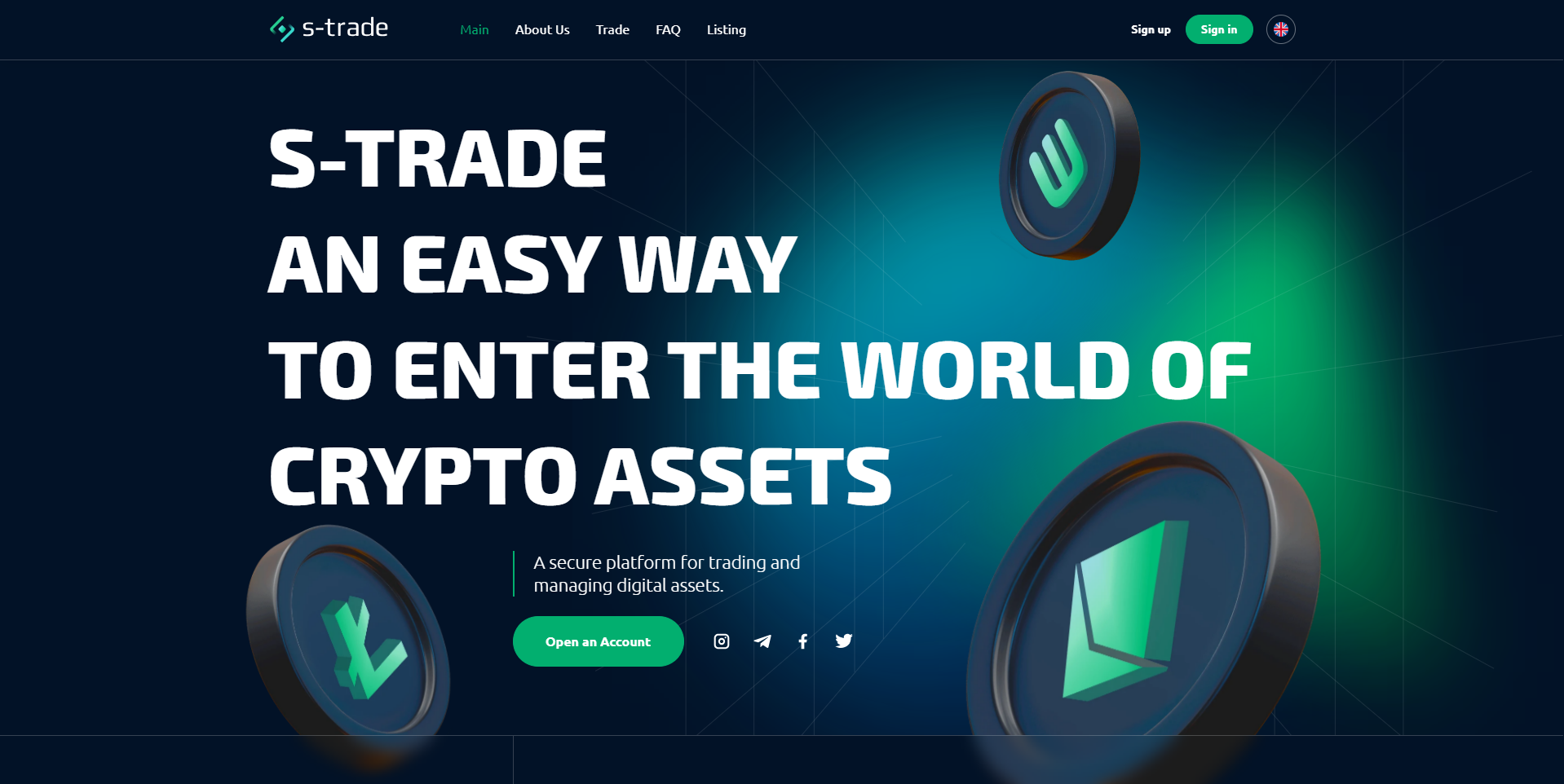 With the S-Trade platform, you can learn about crypto trading tools and choose your toolkit for trading and managing assets. As the interface of the exchange is very clear, you do not need to waste time educating yourself on the service's infrastructure and can start diving deep into market analytics and metrics. Transitioning from theory to practice, traders must develop and refine their trading strategies. This involves risk management, technical analysis and the utilization of advanced trading features provided by S-Trade, such as charting tools, indicators and order types. But when it comes to crypto, the phrase "Do Your Own Research" (DYOR) is often used, which is a fundamental principle that emphasizes the need for investors to conduct thorough research before making any financial commitments.
S-Trade invites crypto enthusiasts to try copy trading and AI-powered bots
S-Trade offers advanced tools that can enhance your trading experience and potentially improve your profitability. The service provides the option of using trading bots, which are automated software programs that execute trades based on predefined strategies and parameters. Trading bots can help you take advantage of market opportunities and execute trades with speed and precision.
With S-Trade's copy trading feature, you can automatically replicate the trades of successful traders. This allows you to learn from experienced traders' strategies and potentially earn profits by following their trading decisions. Copy trading can be an excellent option for beginners or those who want to leverage the expertise of seasoned traders.
S-Trade offers several distinct benefits that make it an attractive choice for crypto traders. Here are some of the key advantages of using S-Trade:
Wide range of cryptocurrencies: S-Trade provides access to a diverse selection of cryptocurrencies, allowing traders to explore various investment opportunities and diversify their portfolios. From major cryptocurrencies like Bitcoin and Ethereum to emerging altcoins, S-Trade offers a comprehensive range of options.
User-friendly interface: S-Trade is designed with a user-centric approach, featuring an intuitive and easy-to-navigate interface. Whether you are a beginner or an experienced trader, you can easily navigate the platform, access essential features and execute trades with efficiency.
Advanced trading tools: S-Trade offers a suite of advanced trading tools and features to enhance your trading experience. From comprehensive charting tools and real-time market data to a wide range of technical indicators, these tools help you analyze the market, identify trends and make informed trading decisions.
Robust security measures: S-Trade prioritizes the security of user funds and personal information. The platform implements advanced security protocols, including encryption and cold storage for assets, to safeguard your investments. With S-Trade, you can trade with confidence, knowing that your assets are well protected.
Overall, S-Trade combines a wide range of cryptocurrencies, a user-friendly interface, advanced trading tools, robust security measures, responsive customer support, educational resources and competitive fees. This makes S-Trade the perfect trading platform for crypto trading beginners.