Recently, we've mentioned that Bitcoin is to make a decision: bulls vs bears were struggling. Great news: bulls have started winning! BTC has overcome a $4,000 threshold again without problems and is heading forward. Does it signify the beginning of a bullish trend for good? Let's read expert opinions and Bitcoin price predictions from TradingView users. Their BTC price chart will help us better understand Bitcoin's behavior.
The strong bullish channel is starting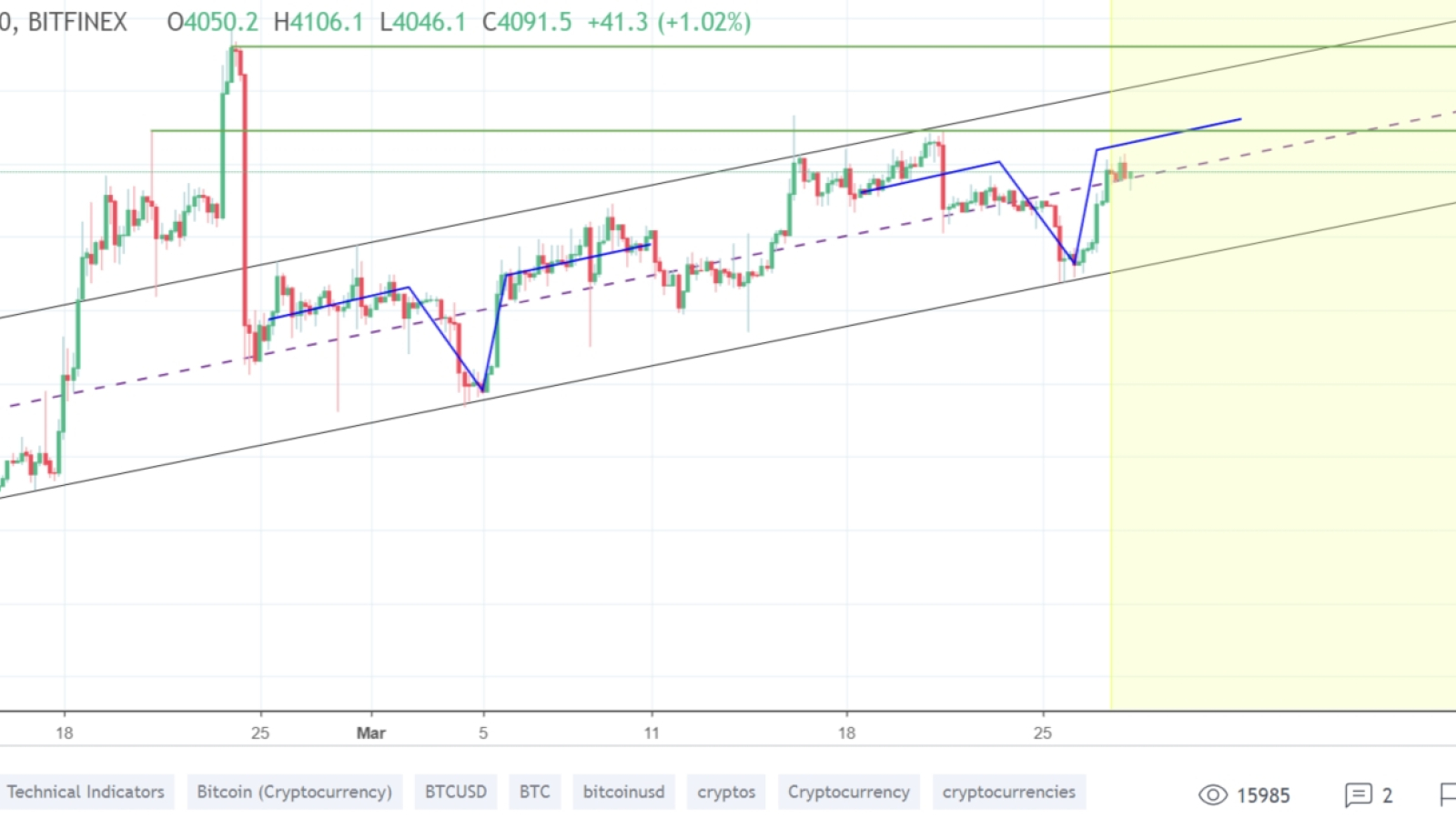 Bitcoin price chart from InvestingScope
We can see that BTC keeps trading within its 1-day Channel Up with RSI = 55.512, and MACD = 39.400, where every pullback depicts a buying opportunity. The price rebounded yesterday after a Higher Low inside the channel and since BTC doesn't trade for long on the lower tier (below the median), so we expect it to rise above $4,100 and settle to a trading action above the middle line.
It's possible for BTC to repeat a similar Inverse Head and Shoulders fractal (shown in blue). The short term target set is $4,146.50 and $4,260 in extension.
It's getting clear that a bullish trend is near, and such a breakout might have already started it.
Are bears hiding or have they stepped aside?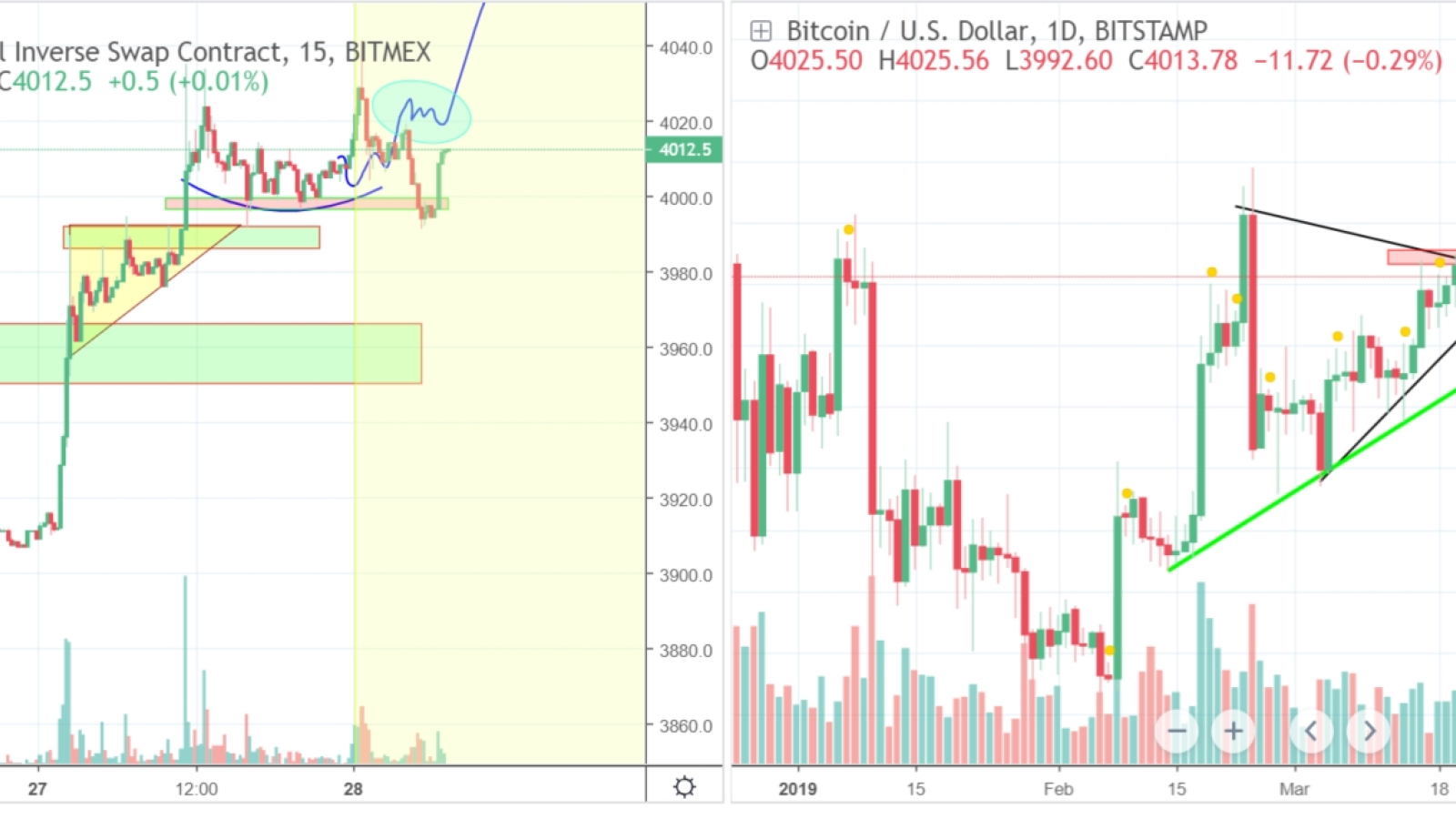 Bitcoin price chart from botje11
According to botje11, there was nothing extraordinary about Bitcoin overcoming the resistance level. However, normally it should have stopped around 4000, but instead of rejection, we saw a small triangle form which pushed the price up from 3990 to 4030. Normally, for a simple retest, it should have stayed below the 3960/4000. But sometimes it gets extended a little bit more. Theoretically, it is allowed to reach the previous high. In 2018 this happened a lot, seeing FOMO push the price up to the max, but past 8 months or so the bulls have been too weak. Thus, such a move can mean bulls have finally gathered strength.
However, the user still doesn't hurry to make any conclusions. It might be too early to celebrate. What makes botje11 a little bit skeptic?
OI dropped 25 mil on the way down from $3,970 to $3,880 and dropped another 25 mil with this move up. So would make more sense to think that some bears are giving up. Possible confirmation of this is, funding dropped to neutral after being in the negative for quite some time. Like a sentiment indicator, so it shows there are less bears now, but that can always change.
The altcoin market cap chart made a good jump up and is above the resistance of the bull flag now. This one is not allowed to drop back in again. Many altcoins are moving very stable at the highs, so no profit-taking pressure for now.
"For now, it seems to be an easy view up, as long as we stay above that curved blue line around 3995. To be honest, I am surprised to see it hang there this stable without any real pressure of the bears. The blue line on the left is something I have drawn like that on purpose. Because instead of seeing a small spike up and a Bart move down like last time, we need to see it get in that blue zone, seeing bears push like crazy but the bulls being stronger and THEN seeing the rally start. Why am I describing it like this, because this way is how we get volume. Bears need to lose at these levels, not that 30% of the bears lose here, we move up to 4090 and then the remaining 70% of the bears push the price down and create a Bart move. If the volume doesn't reach monthly highs, even a break of $4,200 will be very likely just temporary."
No trend change. Not yet.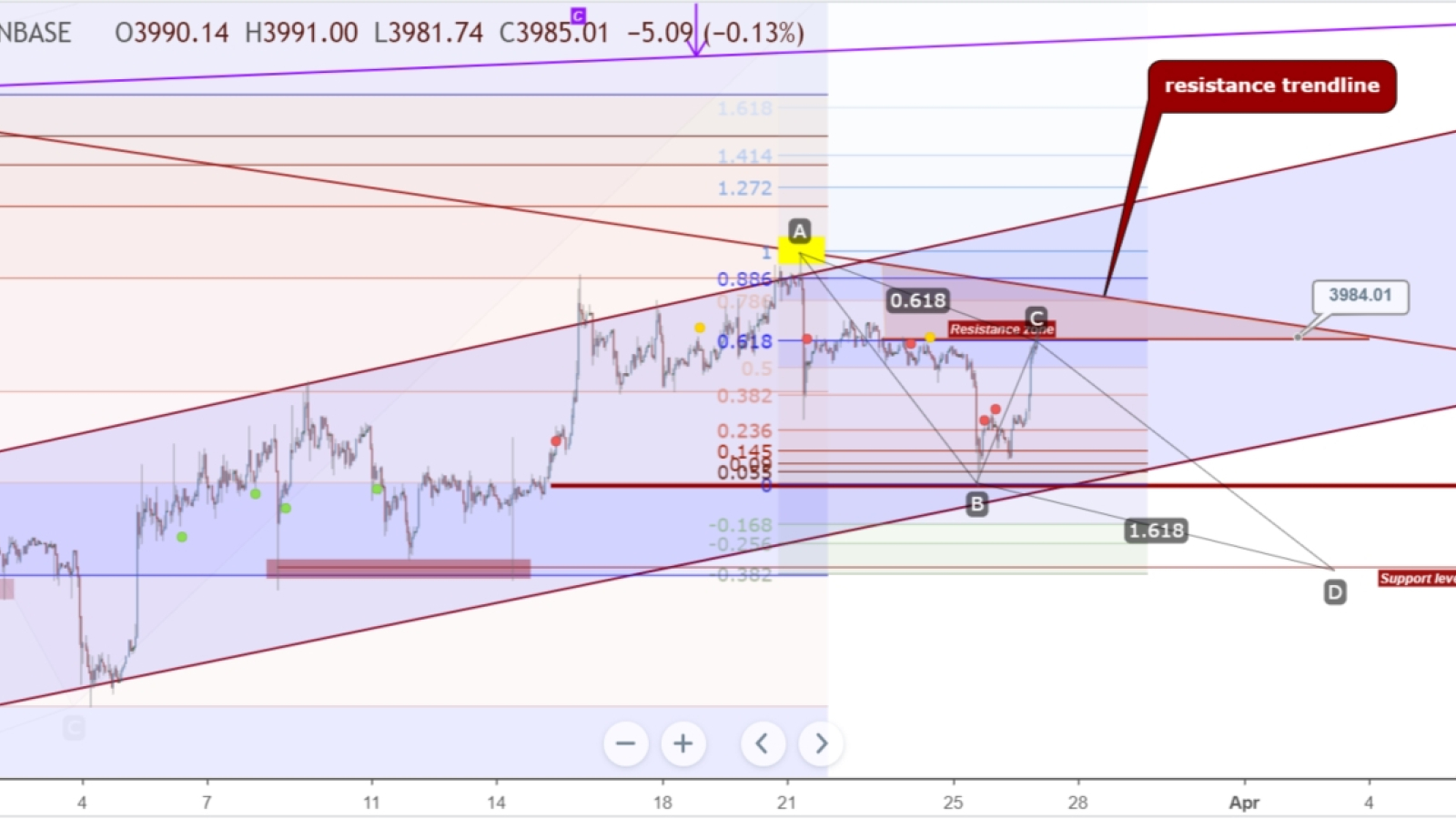 Bitcoin price chart from DianKemala
According to the previous analysis from DianKemala, traders waited for $3,946 to take short, but have observed strong bullish candle movement at that level.
But is there any trend change? DianKemala says not yet.
"Right now, Bitcoin still at resistance zone. This resistance came from resistance trendline (yellow box), and Fibonacci 618. Bullish will perform only if this resistance breaks up."
At the moment, DianKemala proposes to take short sell at $3,985 and aim for support+fibonacci 1.618 as her target is at $3,793 (stop-loss if resistance breaks up).
Bitcoin seems to have started its bullish way, though there are many 'ifs' and 'buts' complicating the forecast. This jump was a bit unexpected, so traders continue being skeptic and realistic.
BTC/USD price chart on TradingView
Disclaimer: The opinion expressed here is not investment advice – it is provided for informational purposes only. It does not necessarily reflect the opinion of U.Today. Every investment and all trading involves risk, so you should always perform your own research prior to making decisions. We do not recommend investing money you cannot afford to lose.