CryptoUnity, multi-product cryptocurrency ecosystem, is specially designed to make the start of the blockchain journey easier for a new generation of digital asset users.
Audited exchange for newbies: What is CryptoUnity?
First introduced in January 2021, CryptoUnity trading platform is among the most unusual projects of the new bullish cycle in crypto. It prioritizes newbie-friendliness and is, therefore, focused on an audience with various levels of expertise in trading and crypto.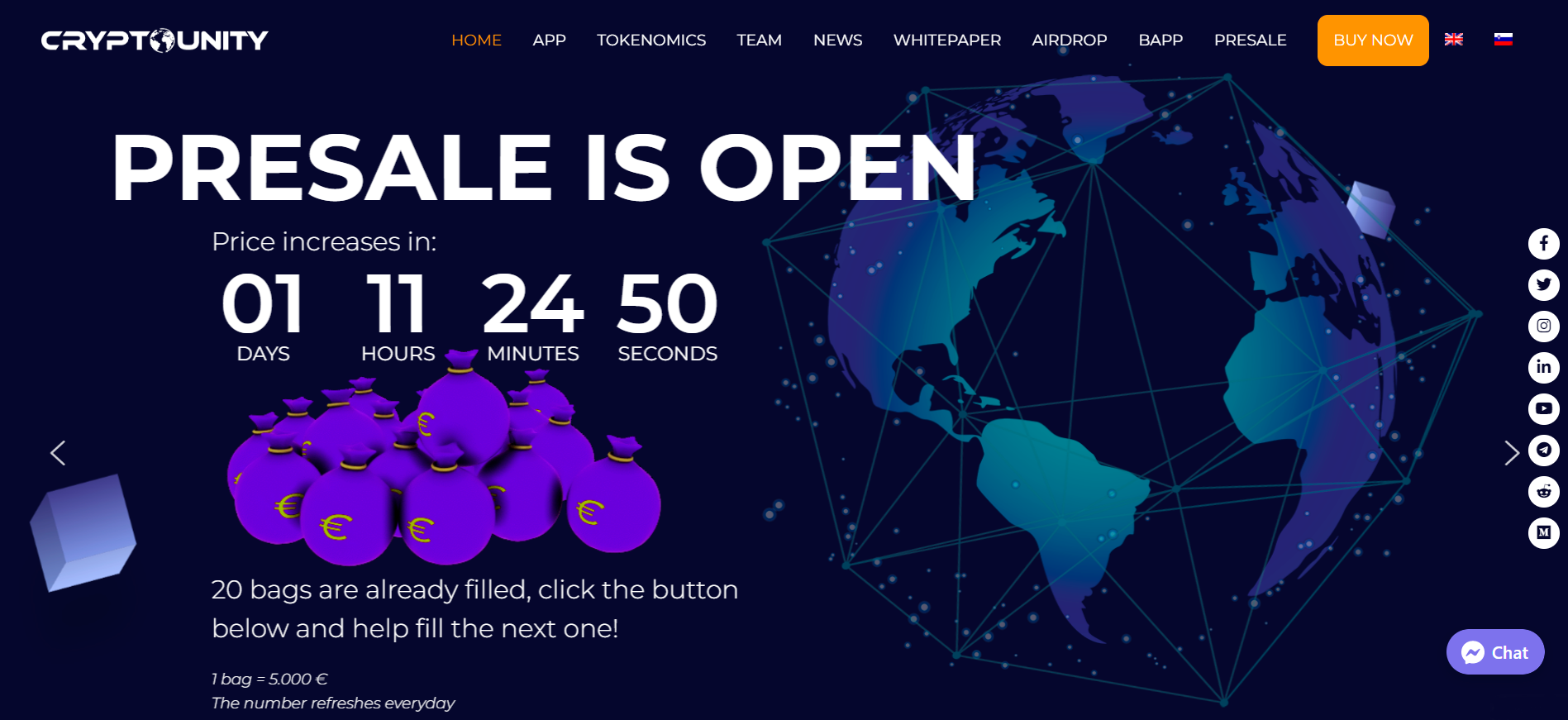 The platform is designed for safe and secure storage, transfer and exchange of Bitcoin (BTC), the U.S. Dollar Tether (USDT) and other mainstream altcoins.
Despite being at an early stage, the project has already scored third-party audits from reputable cybersecurity vendors in blockchain, QuillAudits and CertiK. Industry heavyweight CertiK also performed a KYC audit for CryptoUnity and labeled it with a golden badge. The Golden badge by CetriK is a symbol of unmatched battle-tested security and sustainability of the protocol: CryptoUnity customers can be sure of the safety of their funds and sensitive personal data.
From educational content to affiliate program
The team of CryptoUnity presented its developments on recent major events on blockchain and cryptocurrency, including the likes of TMRW Conference in Belgrade, the ENEFTI NFT conference in Ljubljana and the Blockchain Expo in Amsterdam and London.
While creating its interface, the team of CryptoUnity prioritized user-friendliness and intuitiveness. Every module of its menu and every instrument is equipped with educational messages. As such, newcomers to crypto can advance their understanding of market processes. CryptoUnity engineers added newbie-level articles on trading, the basics of safety in crypto, private key management and so on.
Also, the team launched a general-purpose affiliate program for crypto enthusiasts. Every influencer and social media user can sign up for the program, get the affiliate link and enjoy the benefits of all CUT token purchases authorized by his/her referrals. Unlike the majority of its competitors, the platform allows affiliate program participants to choose the currency of payouts. As of February 2023, rewards in Ethereum (ETH), Binance Coin (BNB), Binance USD (BUSD) and CryptoUnityToken (CUT) can be requested.
CryptoUnity Token (CUT) global presale launches on Feb. 18
CryptoUnity Token, or CUT, is a backbone element of CryptoUnity's tokenomics. It serves as a core utility token of the platform and underpins all of its functionalities. All holders of CUT enjoy lower trading fees, access to limited education programs, holder rewards, airdrops and giveaway advantages.
It's happening!$CUT #Cryptounity pic.twitter.com/jiNlqtLYQS

— CryptoUnity (@CryptoUnityCUT) February 16, 2023
Before being deployed to BNB Smart Chain (BSC) in December 2022, CUT had already undergone a private sale, a presale in Slovenia, a presale for team representatives, a presale in the Balkans, The presale of CUT started on Feb. 18, 2023 at 1:00 pm (UTC+1); every crypto enthusiast from all over the globe is invited to take part.
As per the protocol's whitepaper, in total, one billion CUT tokens will be minted. Vesting rules are applied to assets distributed between team members, investors, advisors and early contributors in order to protect retail customers from selling pressure. Thirty-eight percent of CUT tokens are allocated for a CUT global presale.
Investors can get exposure to the CUT tokensale campaign on 'Worldwide Presale' official webpage.