Bitcoin is being steady and bullish and seems like nothing can stand on its way to $10K target. Will it establish the new 2019 high in June? Let's observe its perspectives and possibilities. Read Bitcoin price forecasts and analyses from TradingView users and analyze the current trading opportunities.
Last call before $10K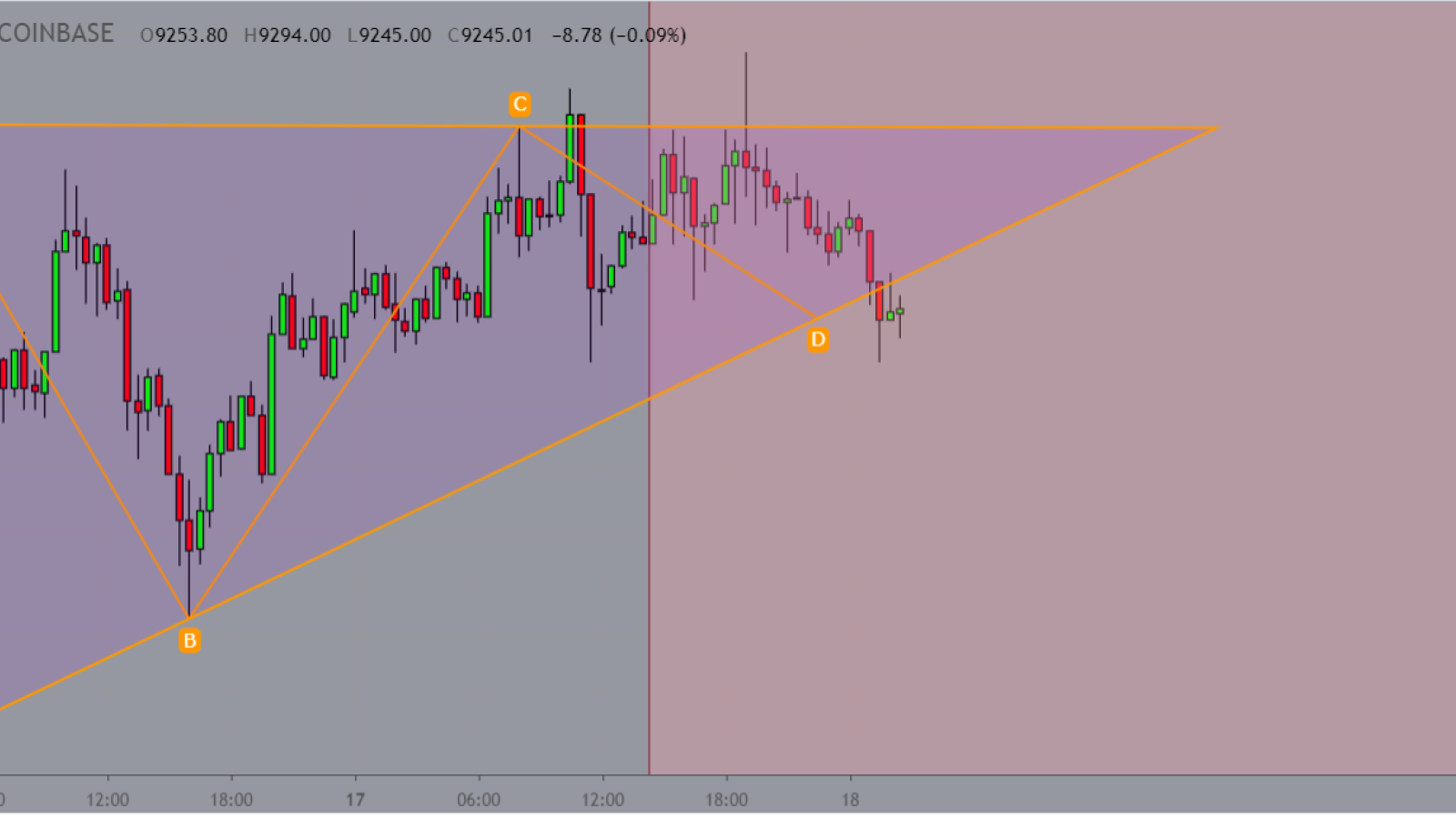 On this price chart, we can see the triangle. If it gets is valid there should be one more leg down to the bottom of the triangle (Point D) and then prices should climb back out of the top.
Is this the setup for $10K plus? Could be. Problem is, we don't know where the bottom of the triangle will hit. We can only guess.
Traders might try waiting for the break out of the top with a stop back inside the triangle to limit their risk. Or, for the more aggressive variant, they might go long at what they believe to be the bottom of the triangle and put a stop below the triangle.
Of course, Bitcoin seems to love eating up stops so it's a tricky game. Better watch how it's going forward.
Is this the 'Last Call' before Bitcoin shoots for $10K? Or are we due for more pullback? Anything is possible in crypto-land.
BTC can go both ways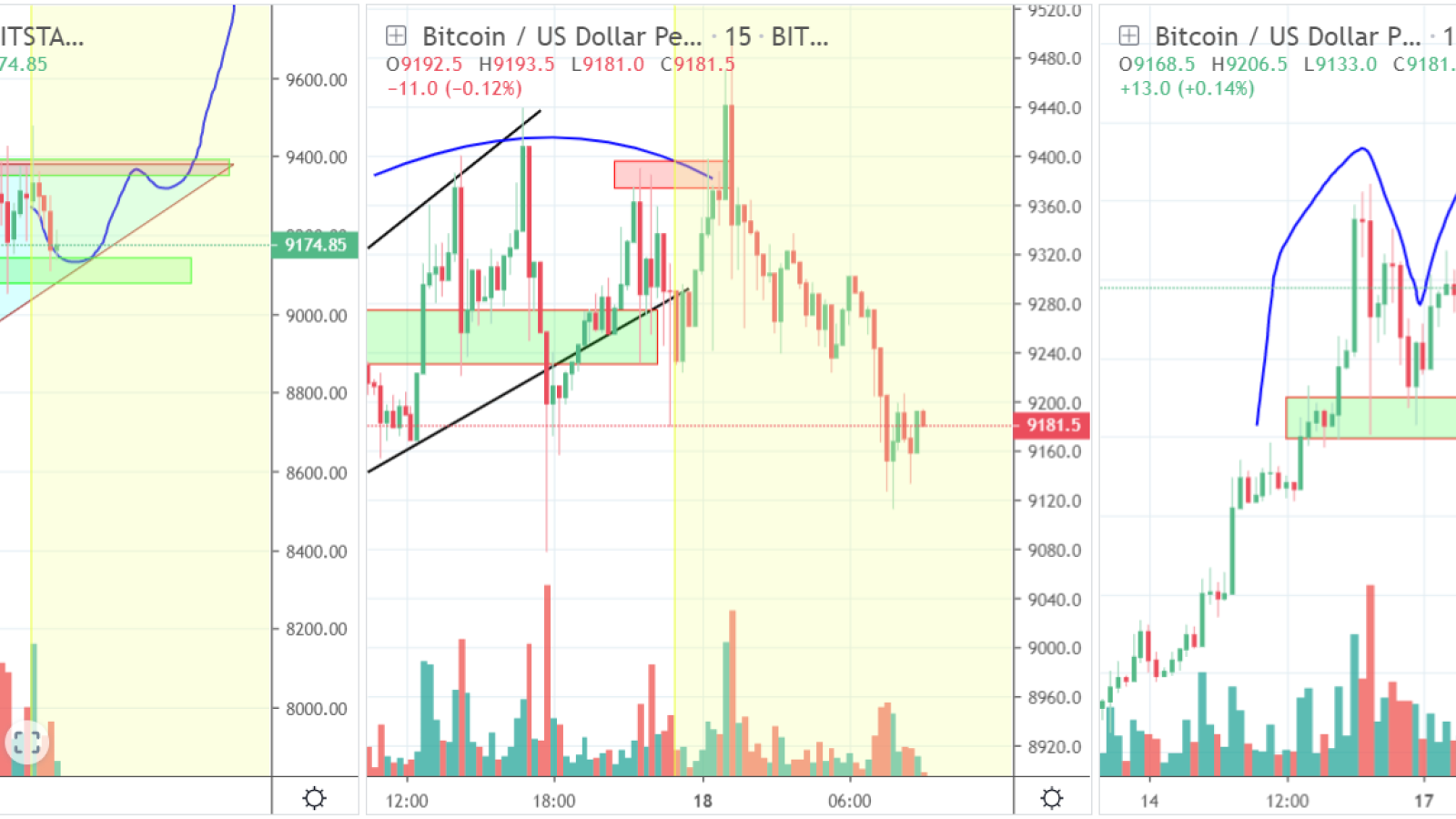 Seems like there's a real fight going on now between $9,250 and $9,400. Some games being played by a few whales, but it's starting to look like a real fight between them, so not working together.
Past 2 hours don't make any sense otherwise. So it feels like a very big move is about to happen.
The triangle is still in play, where it normally should test the support again and then see the bulls buy it up one more time. If the $9,250 breaks the triangle support will probably be tested.
If that one fails, we could see a drop to the double top neckline around $8,800-8,900. If that happens with high volume, it will be very likely to see another drop to $8,200/8,400.
That channel in the middle seems to be in play at the moment. It's also a sign that a real fight is probably going on here.
Bitcoin still holds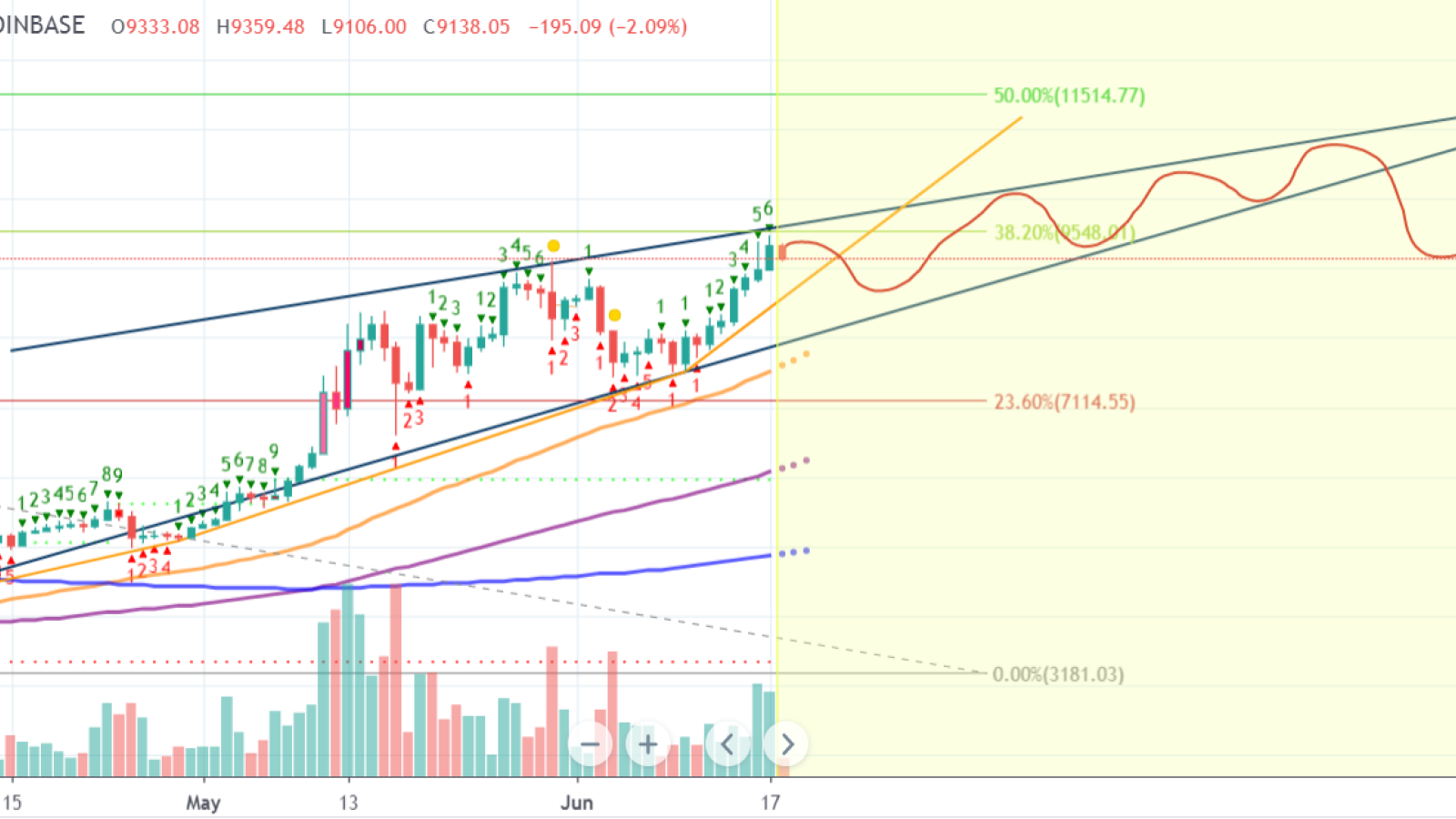 Recently, BTC got rejected at $9,400, but since the resistance level of the $9,000 was overcome, this target should be sooner or later hit. 38% Fibonacci level should be significantly weaker as it is the second time it would break it.
Two weeks ago and the previous week correction was just a parenthesis since it closed pretty close to the previous week, in fact even higher at $8,942.
The rejection till now isn't that strong - just 300$, and already took back a good percentage of the pullback.
If we observe BTC price movement in the long term time frame of the last few months we can say that it moves inside the ascending triangle.
The pick of the triangle is pointing $11,740, also the price is still a little before half the total length of the triangle so it still has enough space to move inside the triangle until it reaches between 60%-80% of its total length.
BTC seems to have steam left inside but a retracement is in the near future and it is healthy for the BTC price to occur, retest previous support levels and gain more strength for further higher movement.
To sum up, if Bitcoin keeps moving inside this triangle it doesn't seem possible to reach $11,500 it will break earlier if there is any possibility to go higher and test $11,500.
It must pick up the pace and make some very strong green candles to tilt the pick of the triangle and put that price between 60%-80% of the total length of the new triangle.
Final thoughts
All in all, technical indicators seem to suggest we will be a retracing\consolidating pattern of some sort and retest the main support. MACD and RSI show the same thing. After that, we can resume the bull trend to the next resistance around $10K. It all might happen in June.
Bitcoin price charts by TradingView