Technical analysis guru Ali Martinez has shared an update on his Bitcoin price prediction, indicating that the world's leading digital currency may be gearing up for a significant upward movement. In a recent tweet, Martinez expressed confidence in Bitcoin's potential to reach not just one but two key price targets in the near future.
#Bitcoin is working on that buy signal presented by the TD Sequential we spotted the other day. I believe $BTC first target is $30,600 and the potential second target is $31,300. But I will keep an eye and let you know if this changes. https://t.co/dqq8RGStUO pic.twitter.com/Lw864gxUdE

— Ali (@ali_charts) July 20, 2023
The focal point of Martinez's analysis revolves around the TD Sequential, a widely followed technical indicator that helps identify potential price trends on the crypto market. Just a day ago, the analyst alerted his followers to a critical buy signal on the BTC 12H chart, coinciding with the formation of a bullish reversal doji candlestick pattern. The condition for this bullish signal to gain strength was that Bitcoin must maintain a price level above $29,800.
Bitcoin falls amid S&P 500 bearish reversal
As of the time of writing, Bitcoin's price hovers around $29,830, experiencing a marginal decline of 1.21% since the opening of the U.S. stock market trading session. Despite this minor pullback, the analyst's prediction indicates that the cryptocurrency may be on the brink of a considerable rally.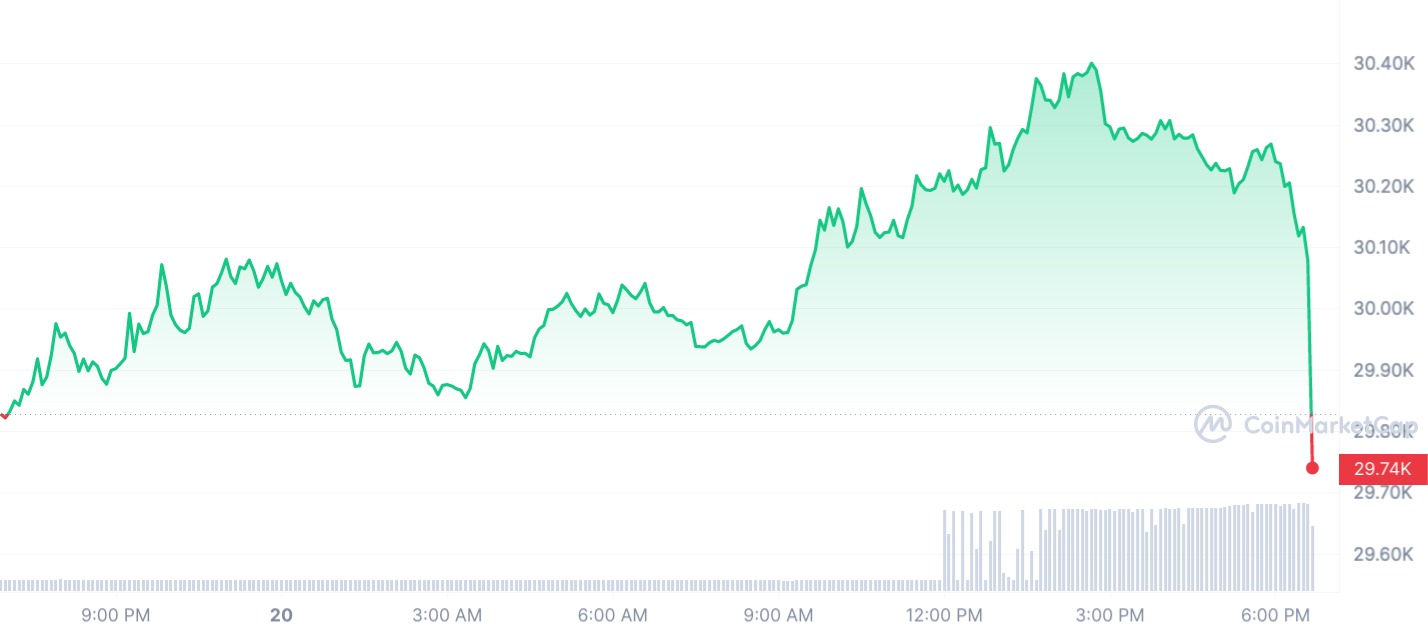 According to Martinez's recent tweet, the initial price target for Bitcoin lies at $30,600, suggesting upward potential of around 2.6% from its current price. However, he does not stop there. Martinez goes on to mention a possible second target of $31,300, which would represent a more substantial gain of nearly 5%.