The pseudonymous owner of the Bitcoin.org website has published a blog post saying that, without consulting him, Bitcoin Core developers have removed the Bitcoin whitepaper from the website despite the objections he sent to Craig Wright's (CSW) lawyers earlier.
Self-proclaimed Satoshi, CSW, wins this battle
On Jan. 20, the lawyer of the self-proclaimed Satoshi Nakamoto, Craig Wright, sent copyright allegations to the Bitcoin.org and Bitcoincore.org sites owned by someone known as Cobra, demanding that the Bitcoin whitepaper written and released by Satoshi on Oct. 31, 2008, be taken down.
The lawyers also claimed that Craig Wright owns Bitcoin.org domain.
Cobra refused to take down the whitepaper, "Bitcoin: A Peer-to-Peer Electronic Cash System," from Bitcoin.org.
Bitcoin Core devs yield to CSW's demands
Yet, Cobra has written that, without consulting him, some Bitcoin Core devs have yielded to the allegations of Wright's lawyers and taken down the BTC whitepaper from their website.
They have modified the Bitcoin Core site to remove all the references to the document and have deleted that local PDF copy of it.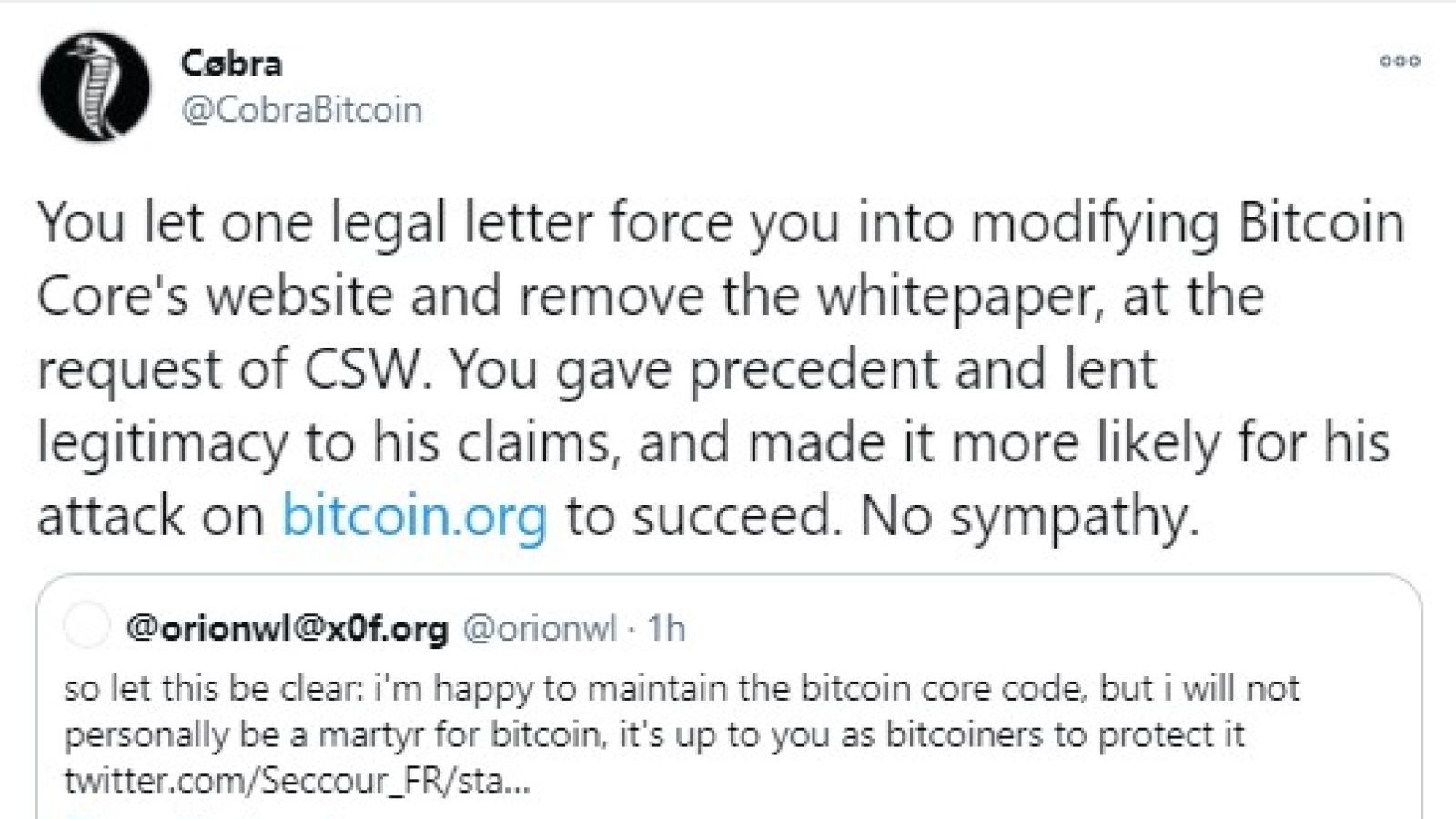 Cobra wrote that the BTC Core project devs have surrendered to Bitcoin's foes, and this is likely to prompt false new claims emerging from Craig Wright in the future.
Wladimir van der Laan removes the BTC whitepaper
The Bitcoin Core dev who was criticized by Cobra is none other than Wladimir J. van der Laan—the lead maintainer of the Bitcoin repository on GitHub.
After the BTC lead developer, Gavin Andresen, stepped down from maintaining control of the Bitcoin Core GitHub repository, Laan took over.