Jacob Canfield, trading analyst and founder of SignalProfits analytical service, allayed fears about the unprofitability of Bitcoin (BTC) mining below $8,000. According to him, the crypto king has other shoes to fall.
Miners, you are welcome in Venezuela, Kuwait, and Uzbekistan
Yesterday, analysts from the well-known Bitcoin (BTC) mining pool, F2Pool, published their calculations of the break-even price for Bitcoin (BTC) mining with different ASICs. According to them, with the popular Antminer S9, mining is profitable when the orange coin trades above $7,518 while consuming electricity at $0.05/kWh.
Jacob Canfield highlighted the last words of this prediction. He listed five countries with very cheap electricity and called them the 'top 5 places to mine Bitcoin':
As the price of #bitcoin drops, the efficiency of the markets will take over

Here are the Top 5 Cheapest places to mine Bitcoin

1. Venezuela—$531
2. Trinidad and Tobago—$1,190
3. Uzbekistan—$1,788
4. Ukraine—$1,852
5. Kuwait—$1,983

Many can mine above $4,000 and be profitable.

— Jacob Canfield (@JacobCanfield) March 10, 2020
As for the less exotic options, Mr. Canfield is sure that the critical level is $4,000 for the price of Bitcoin (BTC). If it trades above that, mining operations are profitable for 'many' entrepreneurs.
Difficulty rises, break-even price follows
By the way, with the last mining difficulty adjustment, this indicator surged almost 7% yesterday. With this new input, the owners of Antminer S9 can make profits off their occupation only when the Bitcoin (BTC) price is above $8,037. Also, this adjustment didn't go unnoticed for the operators of Canaan AvalonMiner 821 as they began bearing losses.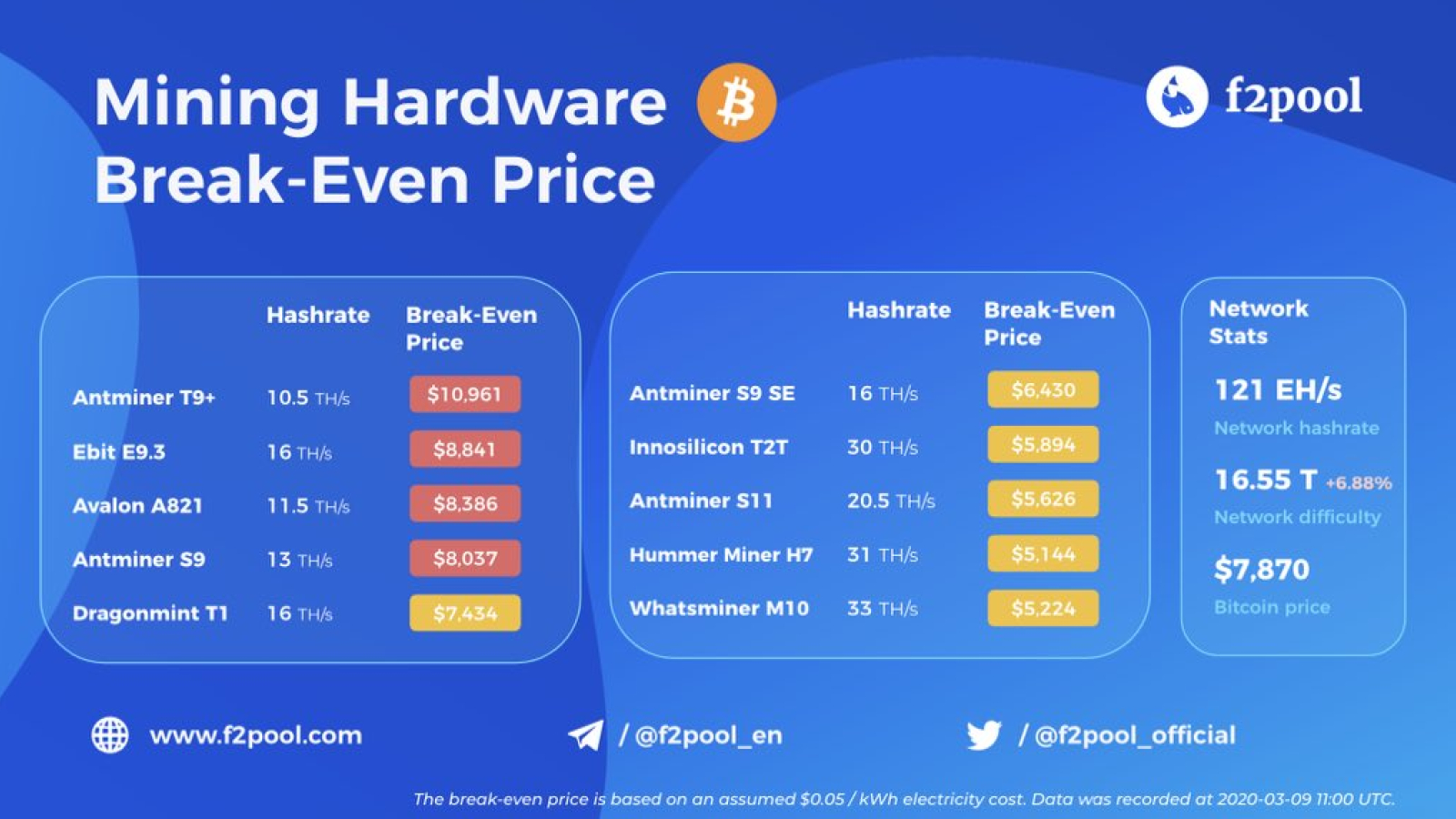 This adjustment led to a new all-time high of this indicator. It increased by roughly 7%, from 15.48 TH to 16.55 TH while the previous peak was 1 TH lower.