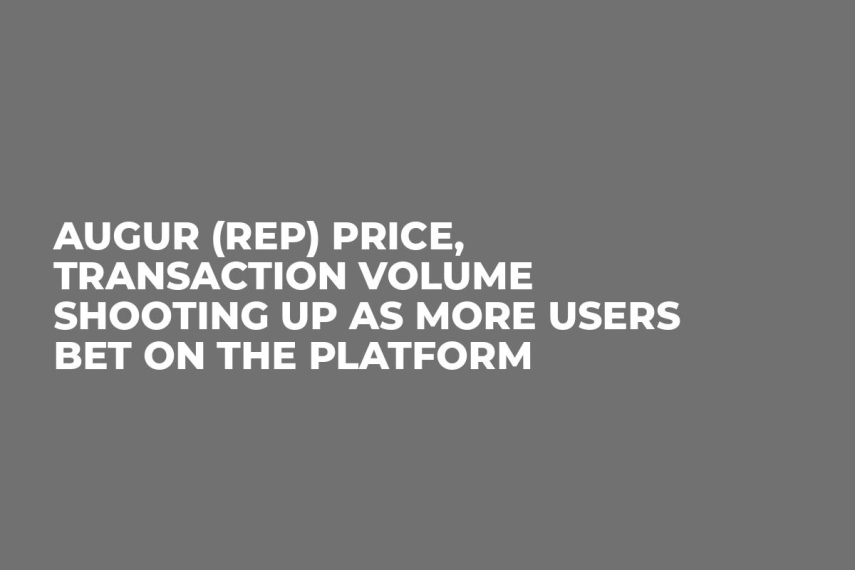 Cover image via U.Today
The Augur (REP) betting platform remains promising. The REP quotes are going upwards, gaining over 25 percent just overnight, now trading at $33.12 at the moment of writing this. The rise in the Augur price seems to be due to a boost in trading volumes and as trading of the REP coin against Bitcoin on Binance keeps going big and fast.
Market situation
Nevertheless, the largest trading volumes of REP are taking place on the Korean crypto exchange Upbit against the local Won currency.
The betting platform has been launched only recently, still the coin's price is 70 percent lower than its all-time high of $123 in January 2018.
Currently, REP is trading at about 0.0005 BTC and some investors are hoping the coin starts a bullish trend soon. During April and May 2018 the coin was worth $50 and since now BTC is gradually going up, some analysts see these price points not too difficult to recapture.
Recent activity
New users have been joining Augur platform lately, bringing more activity to its various betting spheres. 10 days after the mainnet launch betting volumes got over $1.1 mln.
Last week, the platform paid out the first amount of $20,000 to the first users.
The recently launched Augur app has also increased its activity. Despite the fact that it has only 100 registered users, this application shows high transaction volumes and bets on it exceed 6,000 ETH on a weekly basis.
As the app user base increases, the Augur team intends to update it and fix a few bugs.
Prospects
This project is considered to be one with the most potential to capitalize on predictions markets. First, it made some good profits for the users betting on the Football World Cup Championship 2018 and now the biggest bet on Augur is if Bitcoin will get over $10,000 once again.
Some experts, though, believe that due to the area that this platform is working in, it may face difficulties in the sphere of regulations of gambling and betting laws.