Although Bitcoin became known around the world a couple of years ago, there's a rich history behind this cryptocurrency. Let's track the long way it traveled, and analyze what may happen to Bitcoin next.
The early years of Bitcoin
As we know, great inventions are created to solve great problems, and digital money isn't an exception. There was one major event that triggered the course of things and let people realize there's a dire need for drastic changes.
In October 2008, the Wall Street Journal contained the following title on its front page: "Crisis on Wall Street as Lehman Totters, Merrill Is Sold, AIG Seeks to Raise Cash". The bankruptcy of the Lehman Brothers bank started the chain reaction that caused government bailouts of the banks. The situation was reminiscent of the Great Depression of 1929.
It should be noted that there were some attempts to create some store value and make it independent from intermediaries or some central counterparty.
In fact, Bitcoin is not the first phenomenon of its kid. It has precursors called ECash, HashCash, B-Money, BitGold, Anonymous Electronic Cash.
However, all previous experiments failed.
On October 31st, 2008, the mysterious Satoshi Nakamoto sent an email with an encryption site claiming to have invented electronic money that would establish a monetary system without the need of intermediaries (government, banks, or any other financial institution). The attached white paper was titled "Bitcoin: A Peer-to-Peer Electronic Cash System".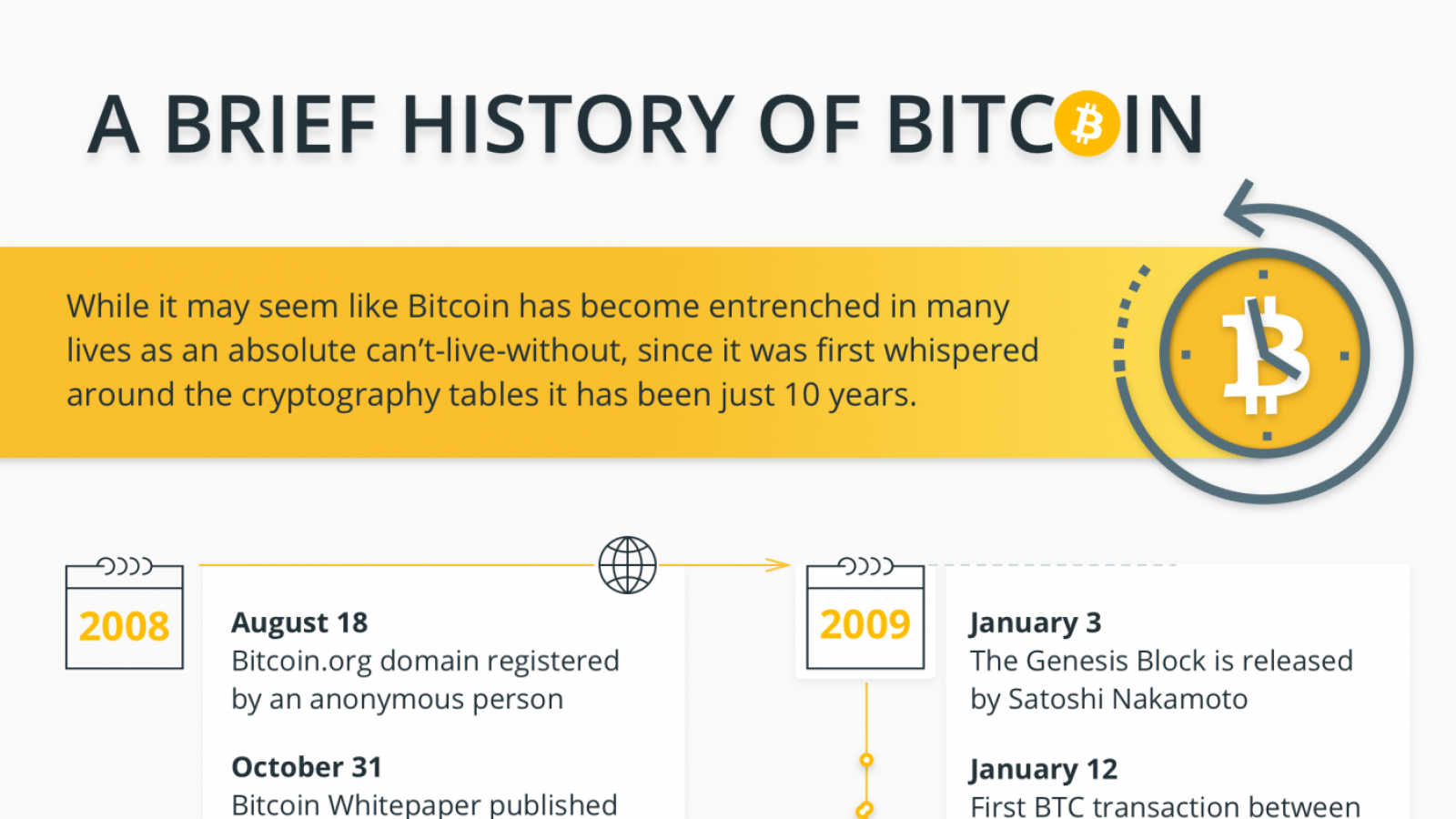 Introduction: Slowly but steadily
On January 3rd, 2009, Bitcoin's source code was released and the first block of 50 bitcoins was mined. The same day, the cover of The Times newspaper said, "Chancellor on Brink of the Second Bailout for Banks" – the phrase was evidently published to criticize the current financial system that was close to collapse.
1.5 years passed, and on August 17th, 2010 Mt.Gox appeared. It was the first exchange where Bitcoin could be traded for fiat currency. On the first day of trading, its price was $0.07. After that, the Bitcoin price started riding a never-ending rollercoaster.
10 February 2011 - BTC reached parity with the US dollar.

2 April 2013 - Bitcoin for the first time exceeds $100.

28 November 2013 - Bitcoin for the first time exceeds $1,000.
In the period between 2013-2014, a few events caused Bitcoin to fall in price.
For example, the founder of Silk Road (the leading online drug and arms market that used Bitcoin payments), Ross William Ulbricht, was arrested. Bitcoin started being connected with illicit goods and was called a "drug currency". Since the majority of transactions were organized in that marketplace, the currency nosedived.
In December 2013, the Chinese central bank published a warning for financial institutions and businesses that any Bitcoin trade would be considered illegal. At that moment, 80% of transactions were performed within China, so this event was a major hit for the cryptocurrency. To top it off, in January 2014, Alibaba canceled BTC payments on its eCommerce portal. Thus, Bitcoin lost its main world market.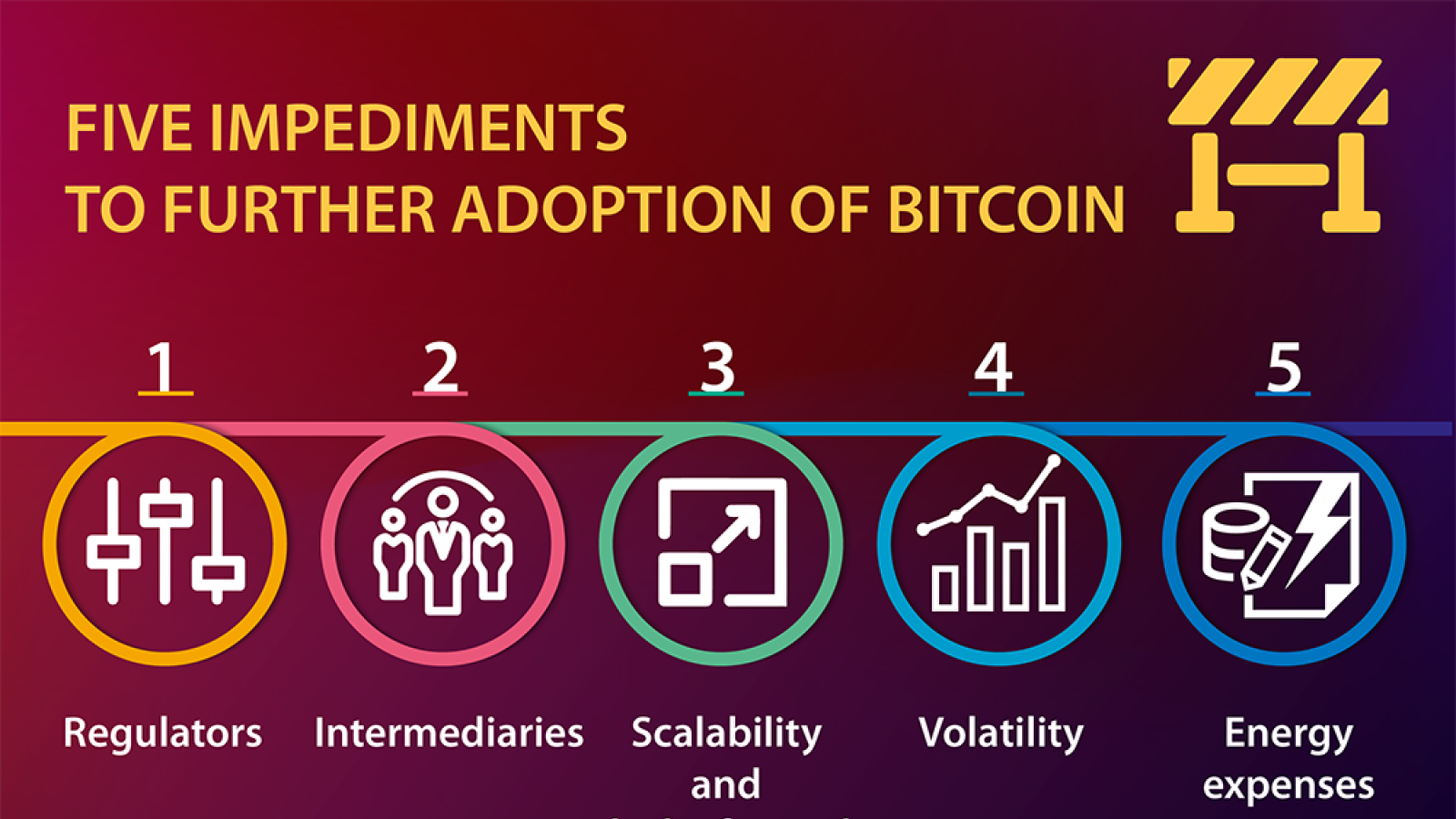 The chain of unhappy events for the cryptocurrency didn't end, though. On February 28, 2014, Mt.Gox, the largest Bitcoin exchange by that time, declared bankruptcy after a serious hacker attack. It made the company lose 750,000 customers' Bitcoins plus 100,000 proprietary coins. The website had already dealt with hacker attacks before, but this one was too disruptive. Confidence in cryptocurrency and Bitcoin fell, and its price dropped by 80%, getting back to the previous year's rate.
New heights – new hopes
Starting from 2015, large companies and institutional investors started expressing their interest in the technology behind Bitcoin, and that made it exceed the threshold of $1,000 per unit again by the end of 2016.
2017 marked a turning point in Bitcoin's history. The world witnessed a wide adoption of cryptocurrency. Here's a short breakdown of important events:
In January 2017, the number of Japanese eCommerce stores accepting Bitcoin increases by 4.6 times over the last year.

Bitcoin starts being widely used on the B2B supply chain.

Japan and Russia use Bitcoin as a payment method.

Norway's largest online bank, Skandiabanken, introduces Bitcoin accounts.

In March 2017, the number of GitHub projects connected with Bitcoin passed 10,000.

Exchange trading volumes continued growing. For example, from January to May 2017, Poloniex had an increase of over 600% active online traders, and the volume of processed transactions increased by 640%.

In August 2017, Bitcoin split into 2 derivative digital currencies – the Bitcoin (BTC) chain with 1 MB block size limit and the Bitcoin Cash (BCH) chain with 8 MB block size limit. This split was called the "Bitcoin Cash hard fork".
In October 2017, Bitcoin reached the price of $5,000 and then $6,000. Together with the hype in the media, the fear of some governments also increased: authorities were concerned that Bitcoin can be used in illegal activities.
On December 17th, 2017, Bitcoin reached its all-time high of $19,783. How did it happen? The attention of media, birth of new cryptocurrencies, ICOs and crypto projects, and numerous investment options altogether contributed to all this hype. However, it didn't last long – the price failed as quickly as it rose.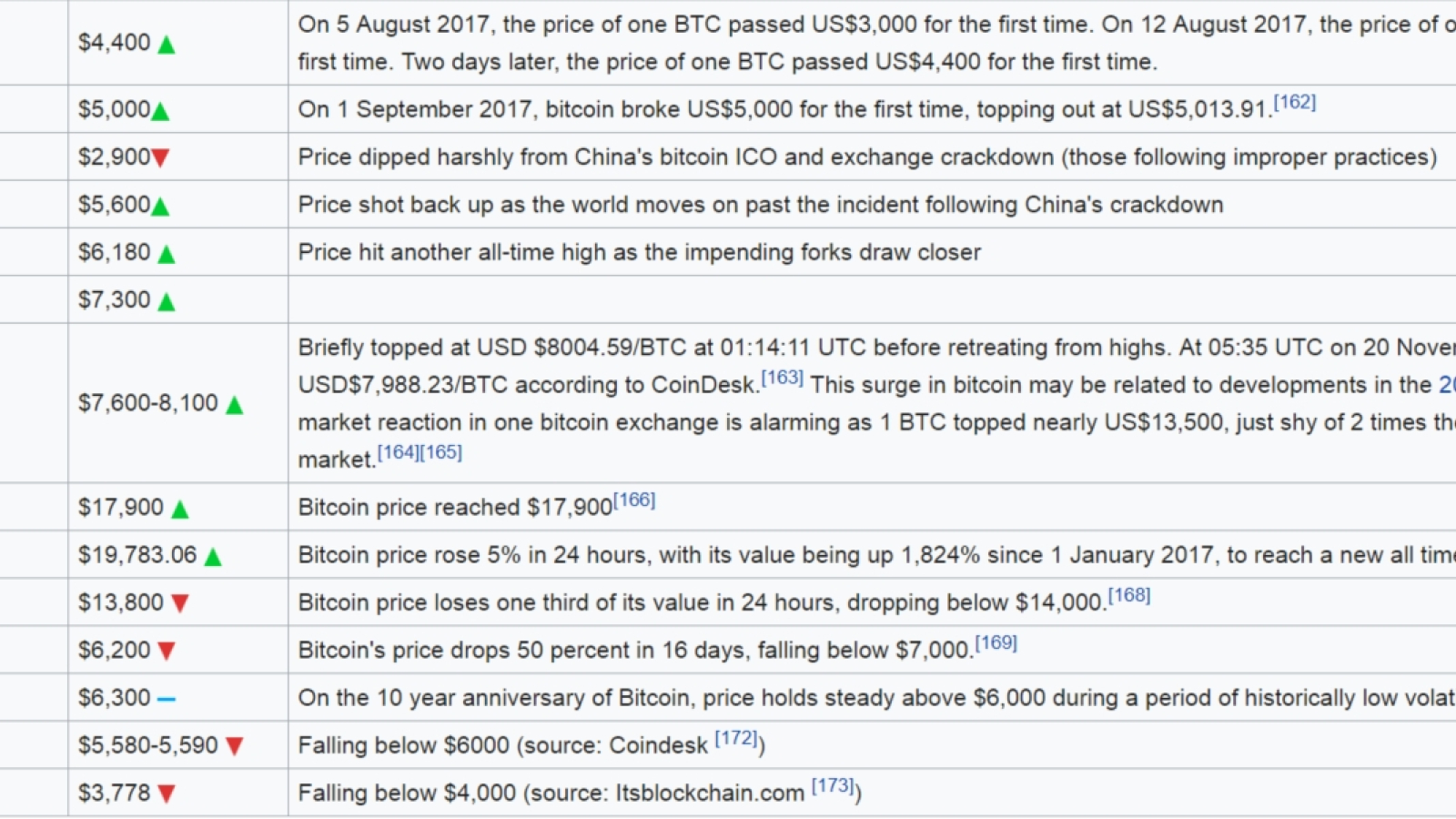 2018 – Bitcoin struggles with hindrances
2018 wasn't an easy year for Bitcoin. While some governments are trying to implement Bitcoin payments and contribute to its introduction, others only see it as a threat to the well-established traditional economy and law enforcement. For example, on January 22, 2018, South Korea released a regulation that requires all the Bitcoin traders to reveal their identity. Besides, anonymous BTC trading was banned.
On January 24, 2018, the online payment firm Stripe decided to stop supporting Bitcoin payments by April 2018 on the pretext of rising fees and long transaction times.
Considering how many worthy altcoins and blockchains are around, Bitcoin started losing its technical superiority. Although it's still the number one cryptocurrency with a $65 bln market cap, rivals don't sleep: Ripple and Ethereum are in hot pursuit.
Is mining still possible?
Some two-three years ago, Bitcoin mining was available for a regular laptop user. But now, the difficulty of mathematical computations is so high that it's impossible to get any substantial profit even with a good mining rig.
Bitcoin is rather mined in huge farms that consist of hundreds of ASICs and consume an enormous amount of energy.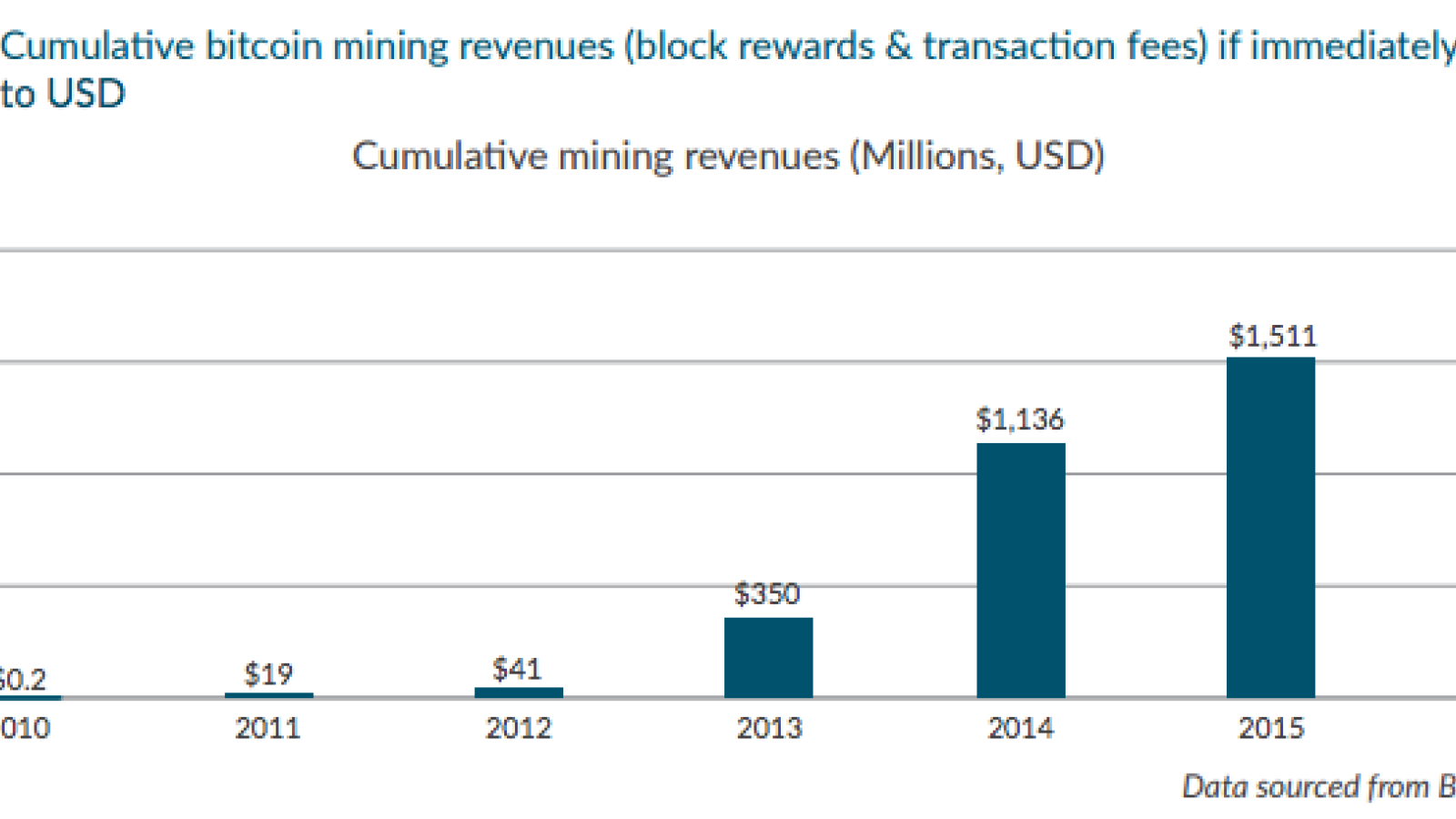 What will happen when 21 mln Bitcoins are mined?
As we know, the Bitcoin supply is limited to 21 mln units. 17 mln Bitcoins have already been mined. The rest 4 mln coins are expected to be mined by 2029. Global supply of Bitcoin will reach its limit unless the protocol is changed. According to Bitcoin supporters, it may cause several outcomes.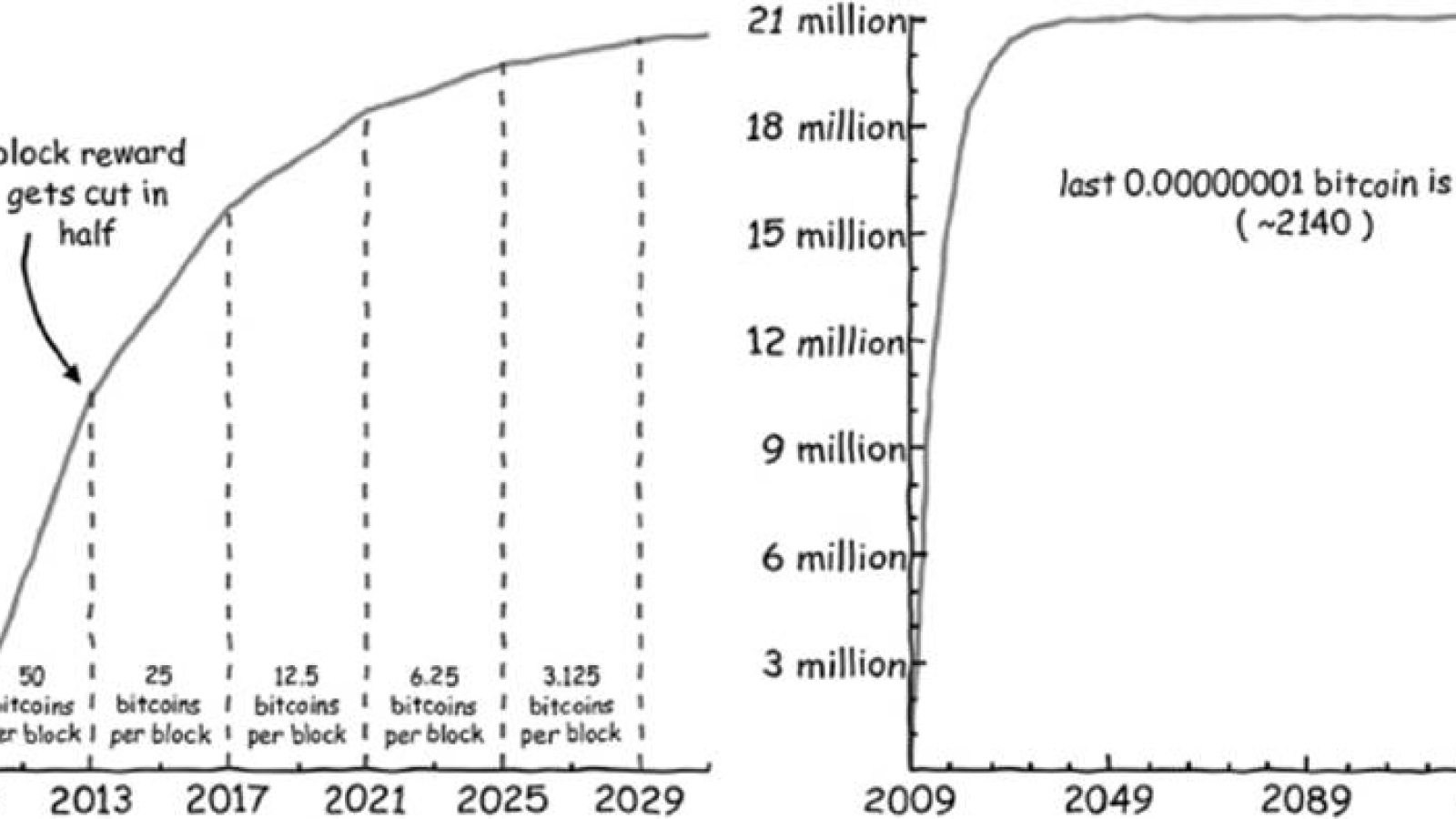 First and foremost, Bitcoin miners will be affected. They won't be rewarded anymore, but, theoretically, may need to rely on transaction fees for operation maintaining. However, according to Bitcoin.com, miners will find the process unaffordable. As a result, the number of miners will reduce, and the Bitcoin network will become more centralized.
The transaction fees alone won't be enough for Bitcoin miners to be financially sound once the mining process is finished. On the other hand, some experts are sure that transaction fees and mining expenses will even out down the road.
People put their hopes in mining technologies: mining chips are expected to become smaller and way more efficient. That will reduce the efforts and electricity expenses for miners and boost the ROI of their investments. Besides, if transaction fees increase, it might help miners to keep afloat.
What about the future price of Bitcoin?
While blockchain experts predicted that Bitcoin would reach its bottom of $3,600 in November-December 2018, it has recently been worth about $3,200. As of today, the cryptocurrency costs $3,763, but no one can guarantee that fluctuations have ended.
Bitcoin has been through significant hikes in recent months. But what is clear is that its limited supply will make its price increase. Those who hold exclusive coins may enjoy an enormous profit in a few years.
According to experts' estimates, there are stockpiles of inactive coins that are spread around the world. Probably, the largest supply belongs to Satoshi Nakamoto. It can be about 1 mln Bitcoins and is intentionally saved for the time when the global supply faces a wild level of demand.
The future price of Bitcoin largely depends on the interest of large institutions. If they prefer Bitcoin to other cryptocurrencies and blockchains, we can expect the price to grow by 100-200% from the current state.
Expert opinions
Here are a few Bitcoin predictions for 2019.
Joel Kruger, currency strategist at LMAX Exchange:
Our 2019 outlook for Bitcoin is far more constructive than what we had been projecting for 2018. As 2017 came to a close, we had warned Bitcoin had rocketed 'past the point of rational appreciation' and highlighted massive downside risk in a bubbling market with far too many holes (regulation, development, hard forks).

Bitcoin in 2019 could see a continuation of weakness in the first half of the year before the market finally stabilizes and starts to make its way back up in anticipation of what should be an impressive second wave for crypto assets.

We'll look for Bitcoin to round out 2019 trading back in the $5,000 to $8,000 region, after recovering from lows that may have extended below $2000 between now and the end of H1 2019.
Kevin Murcko, CEO of CoinMetro:
Despite Bitcoin's fairly limited use cases, and even though its technology may be less sophisticated when compared to some other projects, it will likely continue to remain the market leader in 2019. Bitcoin still has the reputation and the liquidity that make it preferable to other cryptos.

It's important to remember that the crash we saw with Bitcoin this year doesn't indicate lack of long-term value. The bubble may have burst in 2018, but there's still enormous substance and potential in the crypto market at large.

The cryptos that survive this crash will continue to gain strength next year, and in the years to come. Like Amazon and eBay, out of a collection of cryptos that fail, a small but significant minority will succeed.
Mitch Blakeway, Head of Trading at Quantatex:
We expect a high degree of volatility in the very near future.

A high level of Bitcoins has recently been moved from cold storage to hot storage by significant influencers in the cryptocurrency market. What this means is that investors who have the ability to move the market are gearing up to trade. This could mean moves greater than 10% in either direction.

There are notable levels of support and resistance with support around the $2,850 level for Bitcoin and resistance around $4,000, therefore, a break either below $2,850 or above $4,000 could lead to momentum in that direction.

We believe that Bitcoin will eventually shrug off the recent weakness during 2019 and expect the price to retest record highs of $20,000 by December 2019. This is justified on a number of fronts.
Bottom Line
In recent years, Bitcoin has been through ups and downs, but despite numerous claims that it's a bubble, the cryptocurrency doesn't seem to be close to its end. Just like many other cryptocurrencies, it is gradually becoming more stable, and there's a long interesting way ahead.