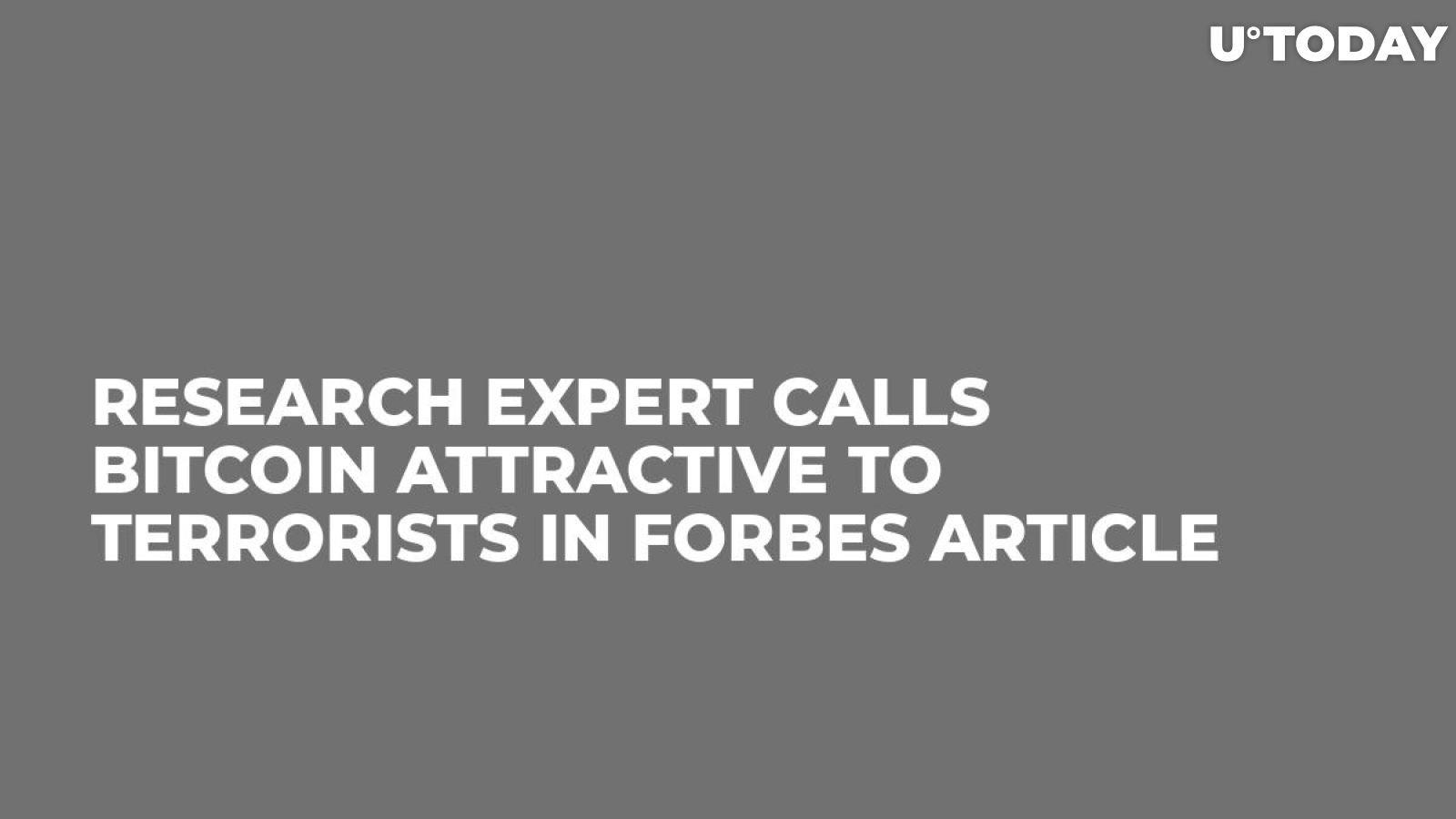 Cover image via U.Today
In a recent Forbes publication, the Head of the Centre on Radicalization and Terrorism (CRT) at the Henry Jackson Society, Nikita Malik, recently explored the question of whether Bitcoin is a reliable payment system for terrorists.
Why attractive?
In Malik's opinion, Bitcoin and its anonymity should be studied to understand why it's often used in the criminal world.
According to the Europol report for 2015, the first and most famous digital currency was featured in more than 40% of high-profile investigations related to money transactions between criminals in the European Union.
All information about Bitcoin and altcoin transactions are recorded in a distributed registry called blockchain. This information isn't tied to specific names, addresses, phone numbers, emails, pics, geodata, or any other information that can be used to identify the person. This makes it very difficult for law enforcement and intelligence agencies to identify specific illegal financial transactions.
Exactly this financial security often makes digital currencies attractive to terrorists and criminals. The network doesn't allow to recall any confirmed Bitcoin transaction if the recipient doesn't send the money back. This prevents double fees and serves as a guarantee that the money will not be duplicated on the net.
Thanks to a network of anonymous miners, each such blockchain transaction becomes unique. In the case of the duplication, the network will automatically reject the transaction as fake and failed.
This benefits the people who conduct illegal operations. For example, those who are paid for illegal goods and prohibited services on the Darknet, which may otherwise be open to the authorities, or competing criminal organizations.
How is it used?
Malik says there are many examples of the illegal use of Bitcoins by terrorists.
In 2015, Maryland resident Mohamed Elshinawy received about $8,700 via Western Union and PayPal. He planned to use these funds to finance ISIS terrorist operations. In August 2015, Elshinawy was convicted
The same year, a fundraiser who identified himself as Abu Mustafa claimed that the Darknet should be used to raise funds in Bitcoin to confront US authorities. He managed to collect about 5 bitcoins (worth about $1000 that time) before his account was closed.
Similarly, in June 2015, United States authorities convicted 17-year-old Shukri Amin from Virginia for using social networks to raise Bitcoin funds as financial support to terrorist organizations in the Middle East.
In 2017, a New York citizen received $62,000 in BTC, which she allegedly used for the same purposes. She used false data to obtain loans and several credit cards, which she then transferred to BTC before sending money to fake bank accounts in Asia.
The success of offline-online networks to raise funds in support of terrorist organizations has not yet been fully studied. However, numerous examples of the use of cryptocurrencies demonstrate the awareness of criminals in the latest technologies, notes Malik.
Nikita Malik is an expert in countering hate violence, terrorism, and extremism. Malike's texts are regularly featured in the media, in the House of Commons, EU Parliament, the US State Department, and other international organizations around the globe.