As Justin Sun stated many times before, Tron plans to decentralize the Internet, allowing content producers avoid centralized giants, like YouTube and Google, in order to monetize their work. Companies that build their apps on Tron share these ideas. The new Tron-powered BOOK project intends to help fiction and nonfiction authors monetize their work, avoiding Amazon and similar companies.
Book market of the future
In the near future, the BOOK project intends to launch a testnet titled Dummy Book Network. It is going to be powered by a WRT token. The trials on the net will allow the dev team to improve the network and eliminate any bugs that may emerge in the process.
#Tron's BOOK project (WRT) to launch its Dummy Book Network https://t.co/PRCnhxZHPz @mishalederman @TronNews_ @Tronfoundation @DavidJDAprile

— Tron Weekly Journal (@TronWeekly) January 12, 2019
In the future, the implementation of this operational scheme will allow authors to do without websites, like Amazon, that charge huge fees, and keep all their royalties. Authors will be able to set up the price for their books that they believe is fair. The price will depend on books content.
At the same time, book buyers will be able to purchase books in a faster and easier manner. Besides, it will enable them to earn WRT tokens for leaving reviews for the books they have bought and read.
The project is going to work on a Proof-of-Work consensus mechanism with a SHA-256 algorithm.
How it works
The major token (exchange-traded one) for making purchases will be WRT. However, readers will also be able to buy books with crypto such as BTC, TRX, ETH, ADA, XRP, etc. As per the bold plan, authors will receive 100 percent of the books price.
All users of the Book network will have accounts – authors and customers. The accounts will be protected by a 2-factor authentication.
The mechanism is to work in the following way – a reader chooses a book. Then he/she buys WRT tokens on an exchange and sends them to an author's wallet directly. After the author receives an email as a proof of purchase, he sends the book to the buyer. Apart from the book, the buyer gets 100 points for the purchase, which is equal to 0.001 WRT, thus earning extra tokens for future purchases on the network.
First, customers will be offered either a PDF format or an E-Book. Later, as the network becomes popular, audio books will also be for sale there.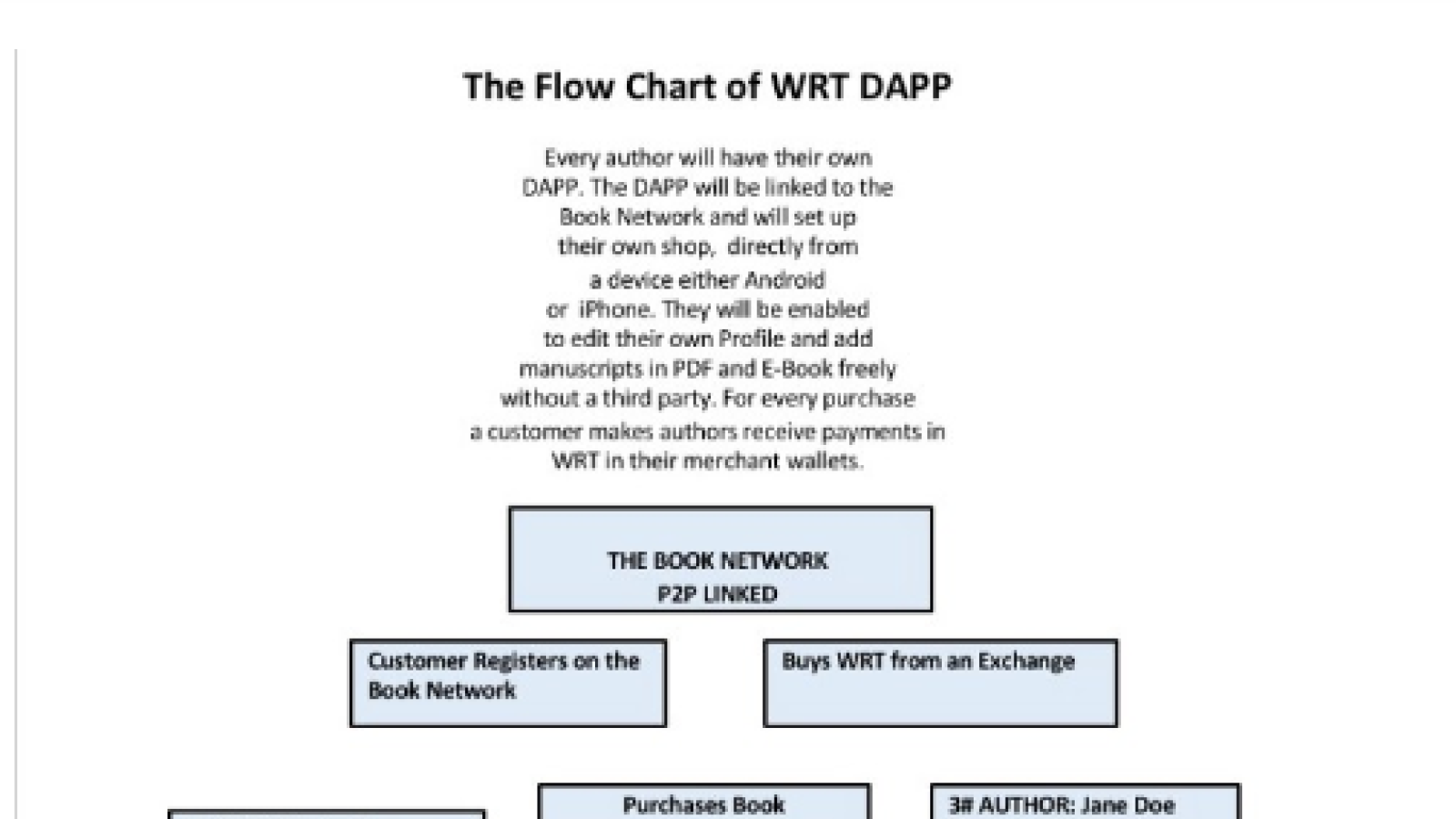 The WRT dApp
The WRT dApp will be similar to Google Books in many ways, except it will be decentralized. The app will allow authors check their sales on the network and safely withdraw their royalties in WRT coins.