Relatively new meme coin BabyFloki is leading the meme coin charge today with 100% growth, as its price topped a new daily high of $0.000000002497. By its current growth, BabyFloki is now up by more than 818% over the past seven-day period.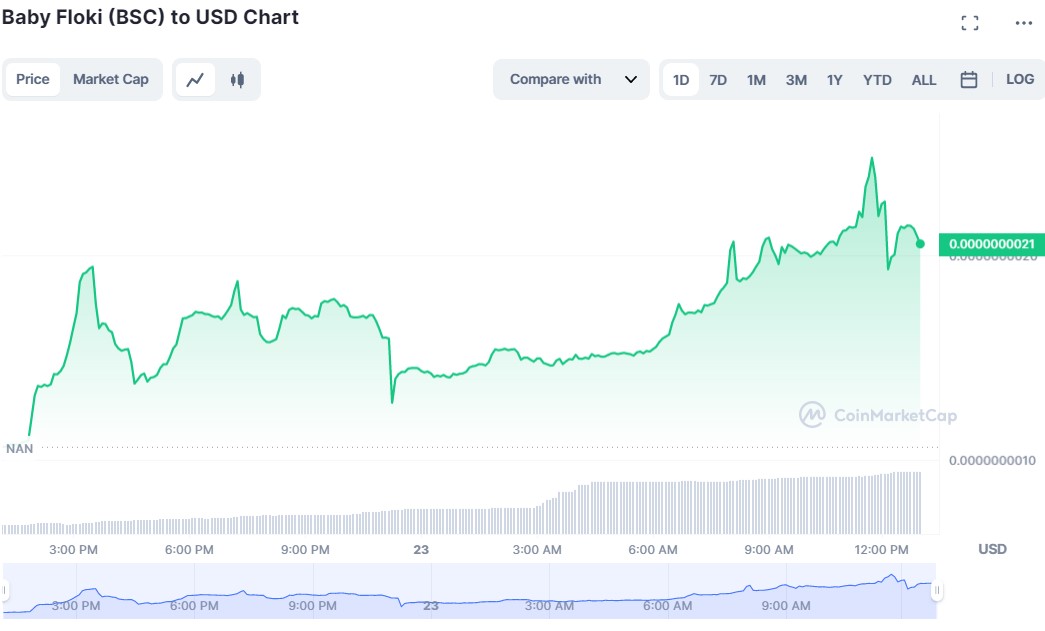 Meme coin rallies are now a very common occurrence in the digital currency ecosystem. While there are tens of new meme coins that are introduced into the ecosystem daily, very few find their way into the hearts of their immediate community. For those who manage to do so, the sustainability of their growth is often questioned.
There is no visible trigger that has stirred the latest rally in BabyFloki as its official Twitter account has no major protocol achievement or milestone. However, BabyFloki has been able to maintain a vibrant community engagement through a series of targeted Ask Me Anything Events, sponsored press releases on mainstream media and engaging contests, among others.
While these are crucial to maintaining its thrill as a fun-based digital token, they are nowhere near what could lend sustainability to contend with established rivals like Dogecoin (DOGE), Shiba Inu (SHIB) and Floki.
Is there an imminent reversal?
It remains a natural trend for the BabyFloki token to take some form of correction moving forward, riding on the core underlying principles of price appreciation and losses. With the massive gain accrued, one major trend to watch is that early accumulators of the meme coin are likely to dump the token in order to take off some profit.
This profit-taking move accounts for why Solana-based meme coin Bonk has remained suppressed to date. Bonk emerged as the top gainer for the first few weeks of the year, but an irregular token burn event has made it lose its hype as a potential Shiba Inu killer.
A similar fate may befall BabyFloki in the long term if the team refuses to embark on real-world utility.