The lead developer of Shiba Inu has disabled an option to send messages on his "All Things Shibarium" channel on Telegram until further notice.
It happened after the SHIB community began demanding the revelation of an approximate date for the Shibarium release or to announce if the rollout is to be postponed.
"I'll reopen after the documents are out"
Kusama wrote that he is taking a pause for the Shibarium channel and will reopen it after the Shibarium documents are released and the community gains access to them. He added that until that happens, only official statements will be published there.
He also wrote, addressing the admins of the channel: "Now we know how crazy this will be once we reopen."
He thanked "those with patience," saying to "those without" it that the Shiba Inu team has already seen plenty of this stuff as the meme coin made its way to the top 15 list on CoinMarketCap.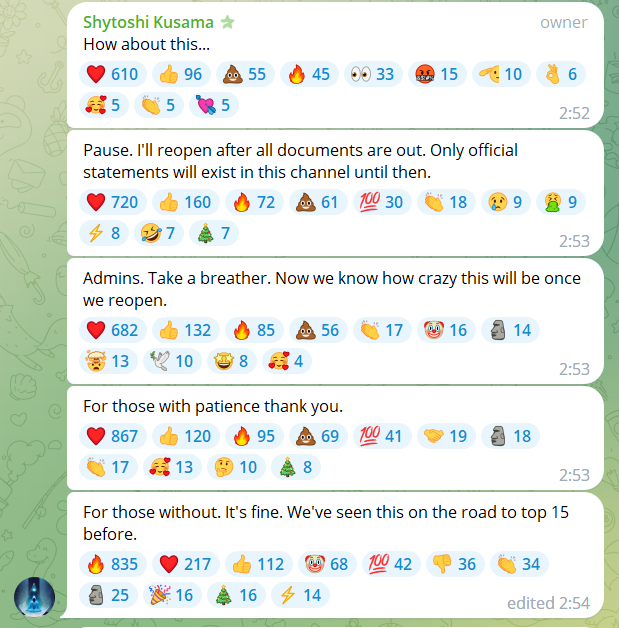 Here's what prevents fast Shibarium launch
Earlier today, while the Telegram chat was still open, the pseudonymous Shytoshi Kusama accused the SHIB community of a "lack of empathy" toward his efforts to release the Layer-2 solution for SHIB as soon as possible.
Users on Telegram kept asking Shytoshi questions about at least an approximate date of release, or if it is going to be delayed, and if it is, then until when. With no exact replies, they began poking fun at him, joking that it may happen next year, or in "yestermay."
Apparently, this drove Shytoshi to disable messages with exceptions for only official statements from the SHIB developer team.