Shytoshi Kusama, the lead developer of the Shiba Inu token, is currently busy preparing the release of the Layer-2 solution for the SHIB network.
In his Telegram group "All Things Shibarium," he pointed out one of the main issues that is hindering the launch, despite his efforts to release as fast as possible.
In the meantime, the community, it seems, has begun to doubt that the rollout will take place this year.
SHIB army keeps distracting Shytoshi – "lack of empathy"
During a discussion, while responding to multiple messages, in which users are asking about an exact date of launch or complaining about the lack of it, Shythoshi stated that he is basically tired of being bothered about it by the SHIB army and facing a lack of empathy.
He wrote: "I'm pushing fast as possible and such lack of empathy is the problem in the first place."
When asked if the launch would be delayed once again (some even mentioned 2024 as the launch year now), Kusama stated that since he did not set an exact date for the launch in the first place, it cannot be delayed.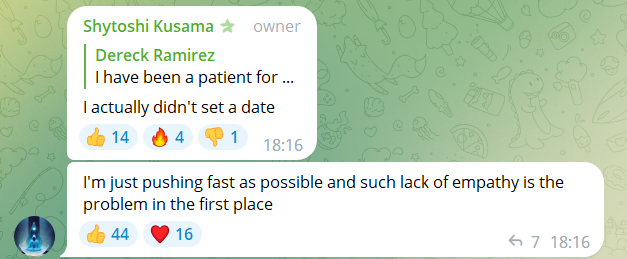 Promising to move fast with launch
As the discussion continued, SHIB fans kept asking for at least a hint about when Shibarium may be rolled out. May 2023 was also mentioned in those questions, in accordance with the message posted by Kusama earlier this week, in which he said that "things come way before May."
Kusama responded to that sarcastically, saying that they may keep thinking that the release will continue at a slow pace, apparently intending to do it faster than they are expecting now.

Earlier this week, Kusama wrote on Telegram that Shibarium is ready, and the next step is to roll out the beta to the community. However, first, he wants the community to let the top developer, Kaal, mourn the recent death of his father.
Meanwhile, Kusama has started publishing articles on Medium, which are introducing the Layer-2 protocol to the Shiba Inu community around the world.
The first post, an invitation to Shibarium has already come out.
Some projects are backing off from Shibarium
As covered by U.Today, Kusama earlier said that some of the builders who had got in touch with him a while ago, saying they want to build on Shibarium, have gotten out of touch with him. That was about 50 projects in all.
He said that they stopped getting in touch after he laid out the basic values of Shibarium, which are "Burn, Protect, Help, Grow."