Shiba Inu (SHIB) has joined the ongoing market rally, having surged by 3.28% over the past 24 hours. With the second largest meme coin by market capitalization now changing hands at a spot price of $0.000007412, it has effectively pared off all forms of losses over the past week as it has gained more than 9% within that time span.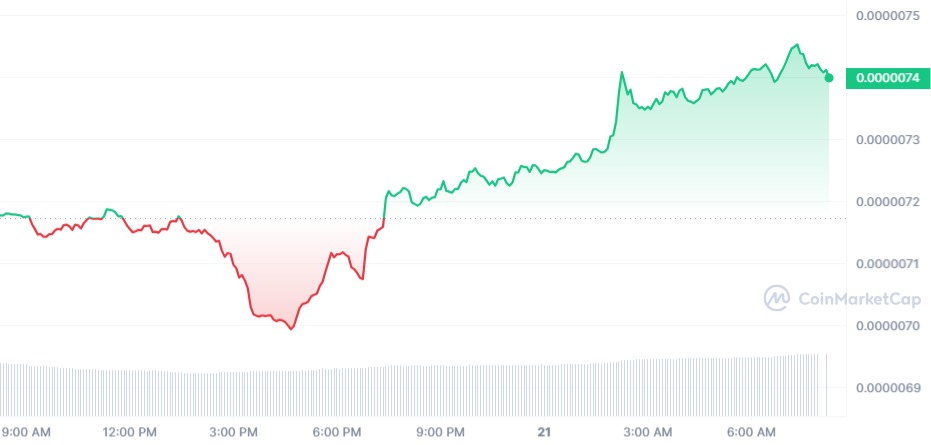 Shiba Inu remains one of the key altcoins adding some luster to the market. Beyond being a meme coin, Shiba Inu maintains one of the most vibrant developer communities, working on an active product to bring more value to its ecosystem. The Shibarium protocol, which is still under intense development, is a clear example of the channels through which the protocol is striving to make a difference.
The ongoing price surge has at least two undertones, including the ongoing market sentiment and the burn rate effect.
With the deep correlation that most altcoins, including SHIB, maintain to Bitcoin (BTC), rising in tandem with the big coin becomes inevitable. Additionally, Shiba Inu has been printing good figures as concerns its burn rate, a deflationary feature that has the tendency to fuel price growth.
Sustainable uptrend for SHIB?
Despite its relatively huge market capitalization of $4.36 billion, Shiba Inu is still known for its intense volatility. While known as a high growth meme coin, the digital currency has not been exceptionally impressive since the start of the year as more competitors have made their way into the ecosystem.
The likelihood that there may be a bearish rebound in the short term is high, however, the emergence of Shibarium on the mainnet will definitely reboot sentiment, drive new utility and increase the inherent value of the SHIB token in the long term. As such, SHIB's current growth may not be sustainable, but in the long term, it remains a promising altcoin to watch.