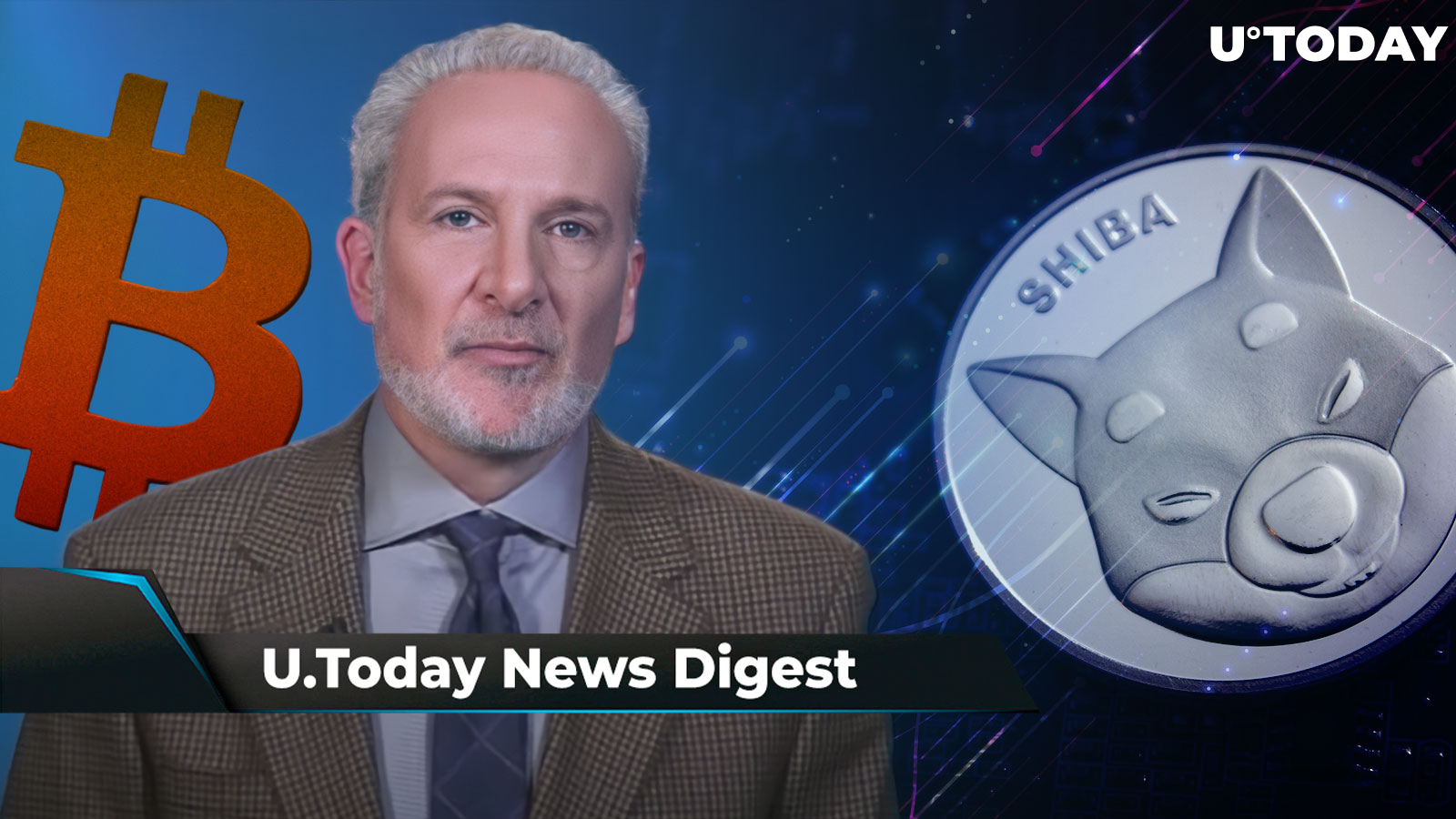 Cover image via stock.adobe.com
U.Today presents the top four new stories over the past day.
SHIB Army strikes back at former big SHIB burner that slammed Shiba Inu as pyramid scheme
Bigger Entertainment CEO Steven Cooper has come under fire from the SHIB community for his recent series of tweets. In these tweets, Cooper slammed the meme token, basically calling it a pyramid scheme. Besides, he pointed out some incidents that happened "behind the scenes," including the falling out between SHIB lead dev Shytoshi Kusama and SHIB Defense Team co-lead Trophias. The Bigger Entertainment CEO also added that the SHIB dev team almost destroyed his and other companies that tried to help burn the meme tokens. These posts did not sit well with the SHIB army. Twitter user "Shibarmy Canada" (@Dezaxe) urged Cooper to stop "playing the victim," accusing him of not paying the artists who worked with his company and using the Shib army to fund his trip around the world.
Peter Schiff comments on his bad Bitcoin advice and speaks about $100,000 for BTC
After Peter Schiff's recommendation to sell Bitcoin did not age well due to the largest crypto's recent rally, the well-known crypto critic has taken to Twitter to comment on the situation. In his recent tweet, he stated that there is something worse than advising people to sell their BTC ahead of its 30% growth. According to Schiff, "owning Bitcoin, watching it rally 30% in one week, not selling any, then watching the entire rally reverse" and crash to levels even lower is a much more dramatic possibility. Meanwhile, the economist has softened his stance on BTC reaching $100,000; previously, he argued that this was impossible, whereas now he says that such an outcome is "unlikely."
Shiba Inu (SHIB) accepted as payment for Swiss luxury watches at this online shop
The SHIB community celebrates yet another act of adoption: Jomashop, a popular online shop that sells iconic brands of luxury and fashion items, now accepts SHIB as a means of payment. This is made possible via Jomashop's partnership with crypto payment processor BitPay. From now on, SHIB holders, as well as holders of other cryptocurrencies supported by BitPay, are able to buy the watches of Swiss luxury watch brand Tissot, coveted watchmaker brand Seiko and the Alpina brand from a watchmaking manufacturer based in Geneva, Switzerland.
"Big Short" hero Michael Burry shares important warning about markets
Michael Burry, an investor who gained popularity after the release of the "Big Short" movie, has recently shared an important chart that is worth looking at before investors bet on a full market recovery. The S&P500 chart demonstrates the dynamic that markets witnessed almost 20 years ago. During the dot-com bubble, there were at least two attempts by the market to break out, which ended up being unsuccessful. Given how closely connected the traditional and digital assets markets are, the exact scenario might become a reality in the near future as both crypto and traditional assets are slowly reaching local resistance levels.