Shibburn crypto tracking service spreads the word that during the period of the last 24 hours, the Shiba Inu army has managed to reduce the circulating supply of SHIB by another 28 million meme coins.
Since the launch of the Shibarium testnet at the start of last month, the weekly number of destroyed SHIB has shown a significant rise. Still on daily burns, the SHIB burn rate often keeps dropping well below zero.
Almost 30 million SHIB gone, burn rate declines
Overall, a not-critical amount of Shiba Inu has been burned – 28,217,505 coins. It has dumped the burn rate by 75.55% into the red zone. Two days ago, it was up by nearly 2 million percent as a staggering 1.1 billion SHIB was removed from circulation. This was the amount of SHIB burned over the whole past week.
Now, as Puppynet (the testnet of Shibarium) is up and running, 70% of the base transaction fee paid in BONE is getting converted into Shiba Inu and sent to dead-end addresses, i.e., burned. This has accelerated burns overall significantly, compared to the fall of last year and the winter of 2023. The latter began with high figures too, though.
Overall, the current burn mechanism of SHIB is not showing impressive results as, despite the surge in burns over the past month, there are still 573,910,454,889,067 Shiba Inu circulating out there on the market. In total, around half of the total circulating supply has been locked in unspendable wallets already, but it has not affected the price of the popular meme cryptocurrency.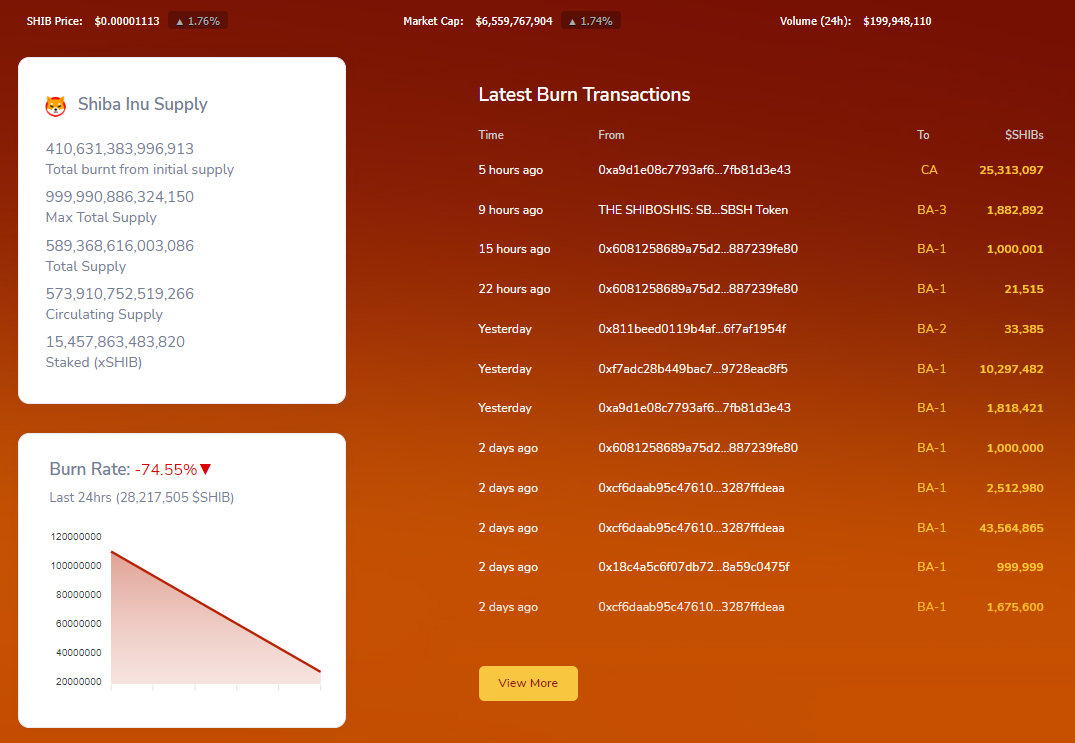 SHIB market performance
Since Friday last week, the second most popular dog-themed crypto, SHIB, has been trading in the range of $0.00001100, going slightly up and down, until it marked a 2.74% rise in the past 24 hours.
Overall, the SHIB price saw a major uplift last week as the coin followed DOGE, the favorite crypto of Elon Musk. At the start of last week, the Twitter boss briefly changed the logo of the social media from the blue bird to the picture of Dogecoin.
The price of the original meme coin jumped more than 30% immediately, giving the largest DOGE wallets the opportunity to start selling their bags for profits. As reported by U.Today, two of the five biggest Dogecoin whales dumped over 1.4 billion meme tokens, earning around $130 million on those sales. After the logo was changed back, the price dropped 7%.
The Shiba Inu price followed DOGE in its rise last week, going up by 8.37% and hitting the $0.00001152 mark. After the reversal change of the Twitter logo, Shiba Inu went back down 5.5%.
At press time, it is trading at the $0.00001110 level on the Binance exchange.