KuCoin Pool has announced the introduction of Mining Savings, a customized fixed-income product tailored to the needs of miners. As mining difficulty increases and the amount of BTC mined declines, Mining Savings is positioned as a potential solution for those in the mining community seeking to better manage their assets. The new offering aims to provide an annual percentage rate of up to 3% to miners, with the actual interest rate available on the official website.
KuCoin Pool is a leading mining pool that supports various cryptocurrencies, providing users with stable, secure mining services and a user-friendly interface to deliver the best possible mining experience. The launch of this program is expected to attract more Bitcoin miners and blockchain infrastructure providers to join the KuCoin Pool community, further expanding the range of user options available.
Additionally, on March 30th, KuCoin announced the introduction of a cloud mining partner recruitment program in collaboration with KuCoin Pool. This initiative seeks to attract the brightest and most ambitious individuals in the Bitcoin mining sector to join KuCoin's exclusive club and make a significant impact in the cryptocurrency mining landscape.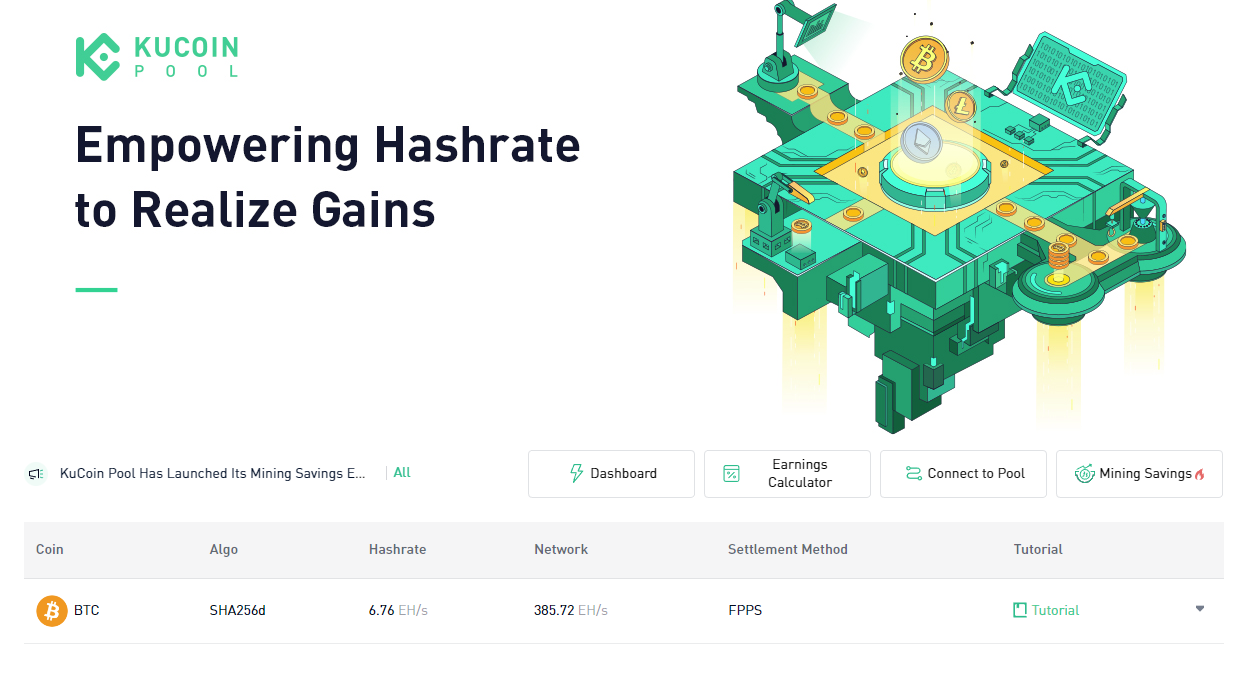 In a bid to cater to the diverse requirements of users, Mining Savings offers investment terms of 30, 60, 90 and 180 days. The program is exclusive to users with a UID account's BTC real-time hashrate of at least 10PH/s and a minimum investment amount of 5 BTC. KuCoin Pool is dedicated to delivering innovative solutions to the mining community, assisting them in achieving their financial goals.
To celebrate the Mining Savings launch, KuCoin Pool has organized two promotional events. The first one, Rate-Up Coupons, allows users who successfully subscribe to Mining Savings products between May 8, 2023, and May 15, 2023 (UTC), to receive KuCoin Pool rate-up coupons. These coupons will be automatically activated with the products upon successful user subscriptions, and different rate-up coupons will be issued based on investment terms.
The second event is a Mining Savings Quiz: Users can join the official KuCoin Pool Telegram community from May 8, 2023, to May 14, 2023 (UTC), and participate in a quiz. 20 quiz participants will be randomly selected to win a share of $200.
Additionally, KuCoin Pool is seeking to partner with Bitcoin miners who possess a hashrate of over 200 PH/s, a comprehensive mining farm monitoring system, and a professional O&M team. By joining KuCoin Pool's exclusive club, miners will gain access to the elite cloud mining partner program, KuCoin's ecosystem services and VIP benefits.