HitBTC is a cryptocurrency exchange that is considered to be one of the old-timers in the industry. The Hong Kong-based digital asset trading platform started operating in 2013. As of now, this widely popular C2C exchange HitBTC features more than 400 coins (that includes the top 10 cryptocurrencies on CoinMarketCap).

With that being said, it is crucially important to determine whether the eighth biggest exchange is safe since it has been subjected to a couple of controversies that are connected to its regulatory status, alleged corruption and unexpected account suspensions.
HitBTC Features
To give a quick rundown of what to expect from the exchange, let's briefly consider some of its main advantages:
The ability to trade with any deposit, which gives an edge to inexperienced traders.

A myriad of cryptocurrencies (from Bitcoin and major altcoins that are constantly on everyone's lips to small coins from the bottom of the barrel).

Minuscule fees (only 0.1 percent for 'takers')

The beginner-friendly interface coupled with many features that are specifically designed for inexperienced users who are only making baby steps in the world of crypto.

Strict verification process. Users have to provide their personal information (there are three types of accounts).

Meanwhile, the exchange also has numerous disadvantages such as slow withdrawals, numerous issues with customer support and even security concerns (HitBTC suffered from a major hack back in 2016). Later, we will jump right into these many details.
HitBTC Signup
These are simple sign-up steps that unregistered users have to follow:

1) Go to the sign-up page in order to open a new registration form (they only require your email and password).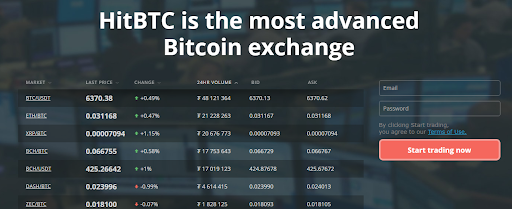 2) Once you've pressed the big red "Register" button, a confirmation letter will be automatically sent to your email address.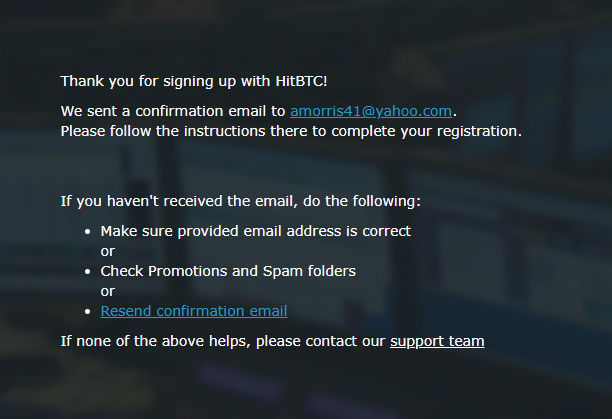 That's it! As you can see, the registration process on this platform is conducted in a very smooth way with minimum efforts from the user. All it takes is to come up with a strong password and enter your email address. However, do not forget to enable additional traditional security features such as two-factor authentication (2FA).