HitBTC is a cryptocurrency exchange that is considered to be one of the old-timers in the industry. The Hong Kong-based digital asset trading platform started operating in 2013. As of now, this widely popular C2C exchange HitBTC features more than 400 coins (that includes the top 10 cryptocurrencies on CoinMarketCap).

With that being said, it is crucially important to determine whether the eighth biggest exchange is safe since it has been subjected to a couple of controversies that are connected to its regulatory status, alleged corruption and unexpected account suspensions.
HitBTC Features
To give a quick rundown of what to expect from the exchange, let's briefly consider some of its main advantages:
The ability to trade with any deposit, which gives an edge to inexperienced traders.

A myriad of cryptocurrencies (from Bitcoin and major altcoins that are constantly on everyone's lips to small coins from the bottom of the barrel).

Minuscule fees (only 0.1 percent for 'takers')

The beginner-friendly interface coupled with many features that are specifically designed for inexperienced users who are only making baby steps in the world of crypto.

Strict verification process. Users have to provide their personal information (there are three types of accounts).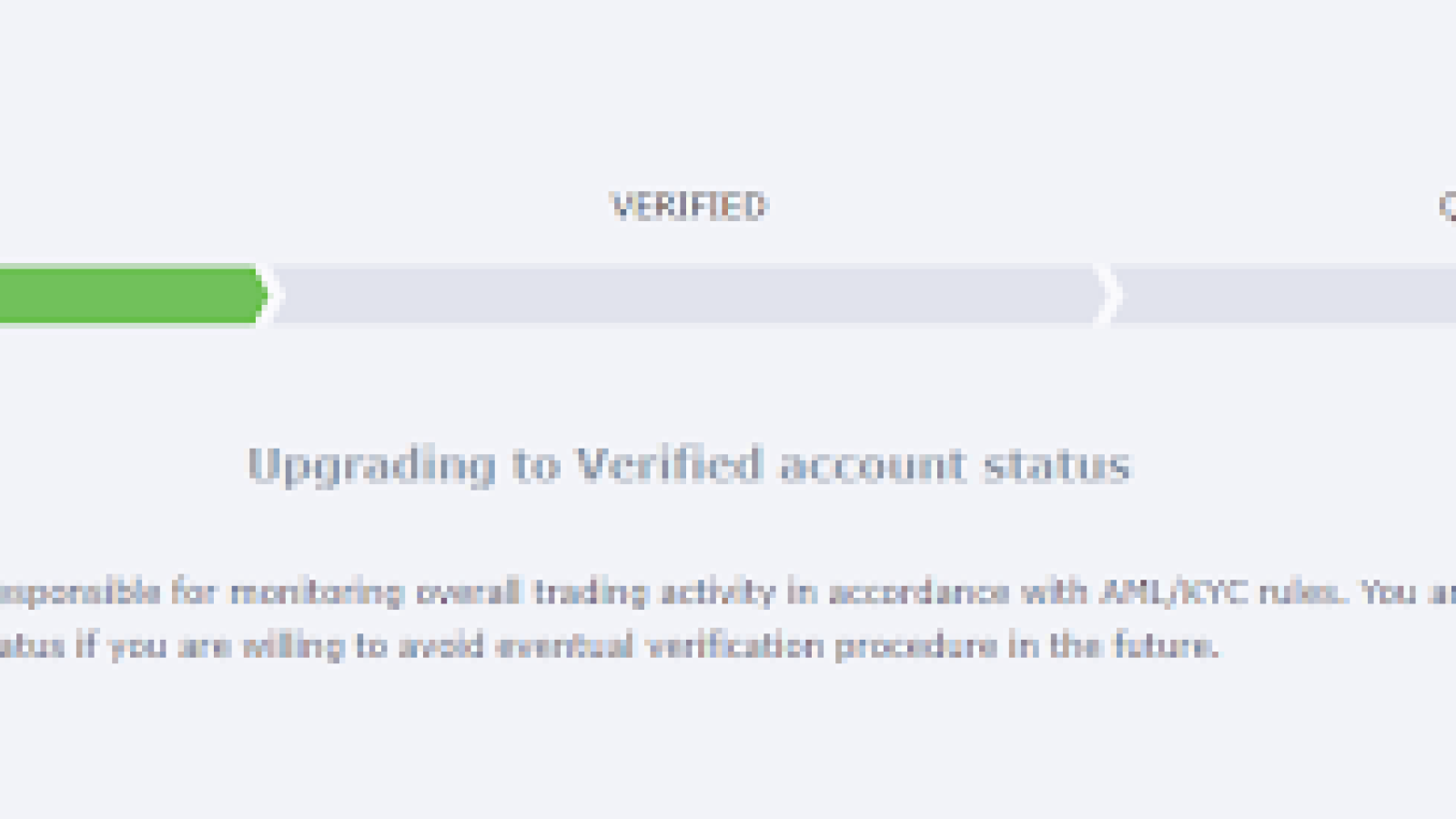 Meanwhile, the exchange also has numerous disadvantages such as slow withdrawals, numerous issues with customer support and even security concerns (HitBTC suffered from a major hack back in 2016). Later, we will jump right into these many details.STOP_BOT
HitBTC Signup
These are simple sign-up steps that unregistered users have to follow:

1) Go to the sign-up page in order to open a new registration form (they only require your email and password).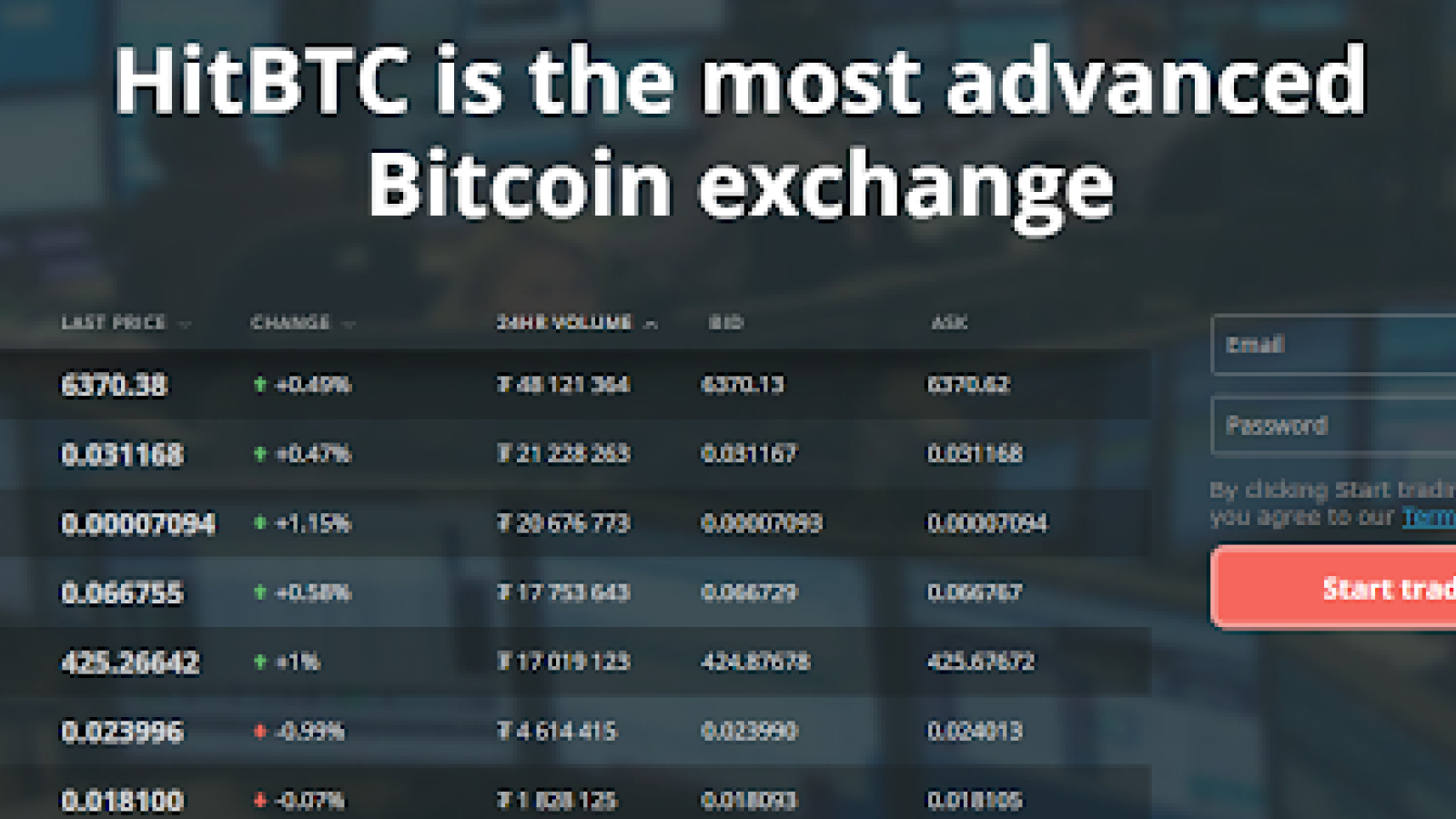 2) Once you've pressed the big red "Register" button, a confirmation letter will be automatically sent to your email address.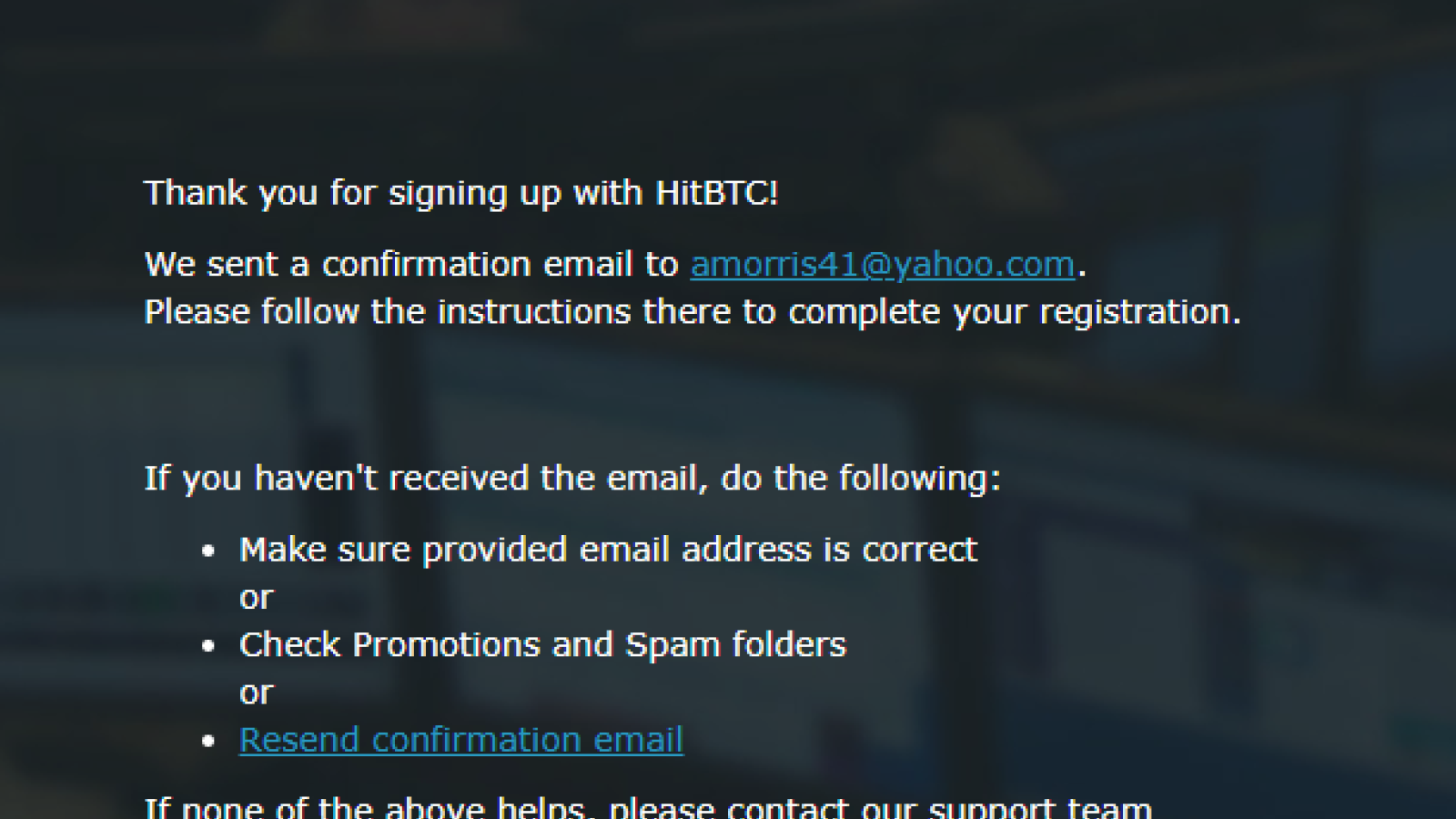 That's it! As you can see, the registration process on this platform is conducted in a very smooth way with minimum efforts from the user. All it takes is to come up with a strong password and enter your email address. However, do not forget to enable additional traditional security features such as two-factor authentication (2FA).
Ease of Use
HitBTC has an intuitive beginner-friendly interface that will come in handy for those users who do not have an experience of trading cryptocurrencies. At the same time, HitBTC represents a robust platform that perfectly suits for high-skilled traders as well.
HitBTC Trading Tools
We continue covering HitBTC features by reviewing its major trading tools. It is important to mention that HitBTC is designed for both experienced traders and those who only start dipping their toes in crypto.

The beginner-friendly set of tools is displayed on the home page of HitBTC. First of all, let's have a look at the chart that features a wide range of data that helps traders get the idea of what exactly is happening with the cryptocurrency of their choice. Traditionally, the candlestick chart displays most recent price swings with users being able to pinpoint a specific span of time that they want to analyze price-wise. In order to get a real-time update on most recent market proposals, one has to open the HitBTC exchange's order book.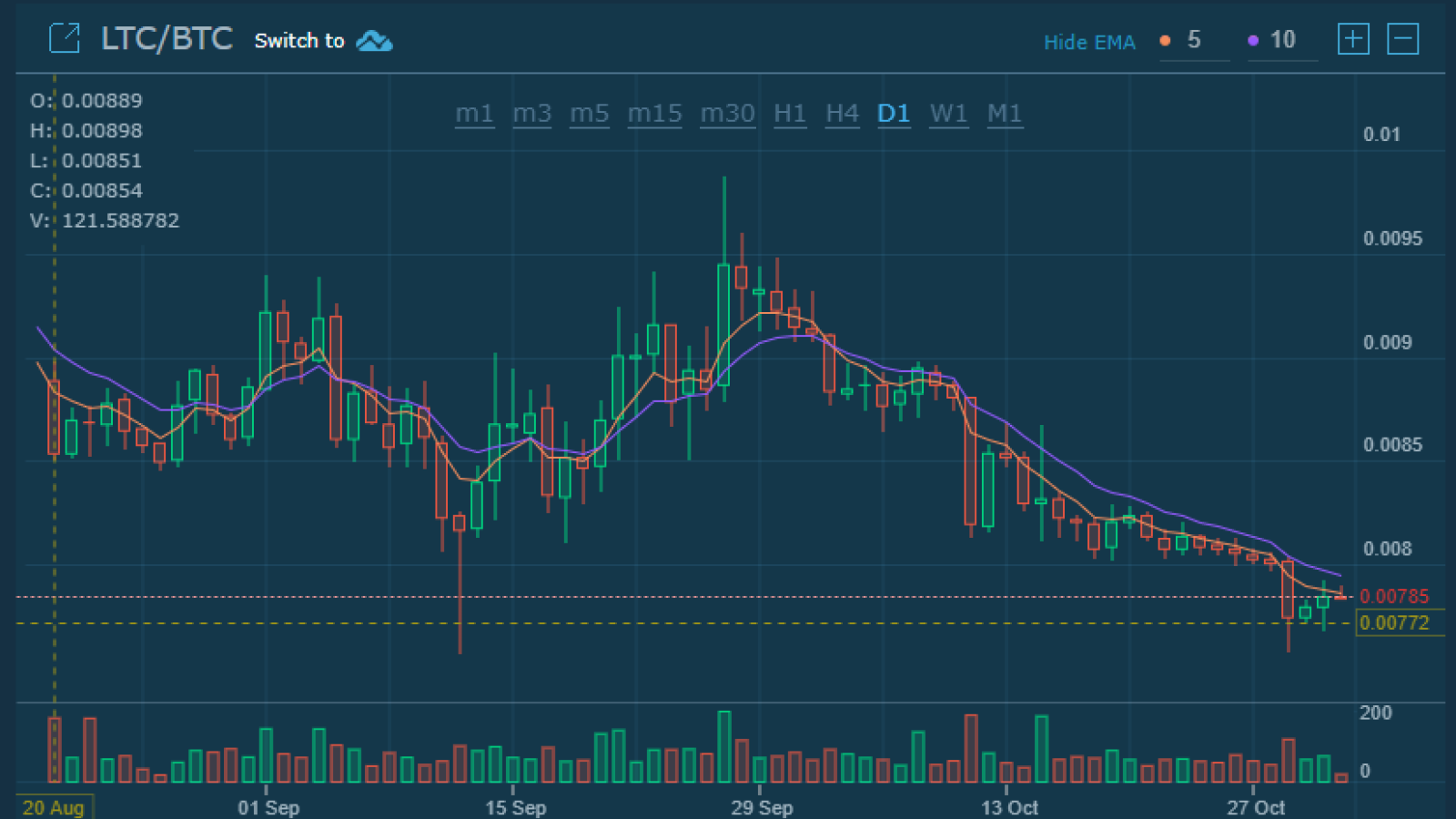 As mentioned above, there is a myriad of coins on HitBTC, which essentially means that users are able to form plenty of trading pairs with any of three base coins. Once you choose the base cryptocurrency, you will be able to see the extensive list of all available tokens along with their current prices. In order to get access to any market with ease, it is advisable for the users to bookmark a certain trading pair (simply click the "Favorite" button).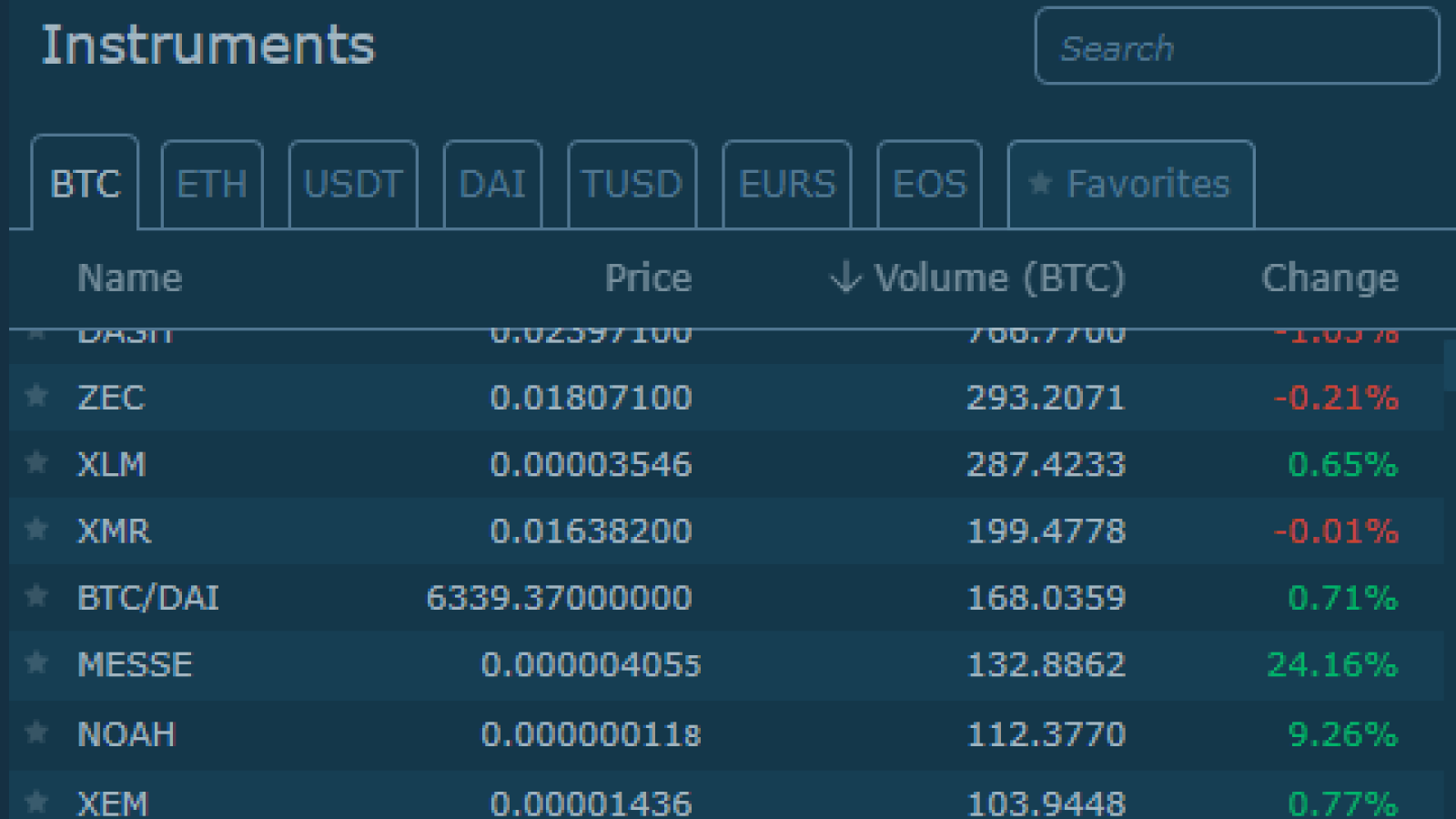 There is also a convenient option of keeping tracks of all market at once on HitBTC. While it does sound overwhelming, it's a perfect tool to get a clearer picture of the current market sentiment - by monitoring most recent price fluctuations, HitBTC traders will know exactly what eggs you have to put in your crypto basket.

The trading platform includes all the necessary data related to the currency's price and its trading volumes. For more in-depth analysis, the users are able to navigate through different tabs.
Deposits and Withdrawals
How to Deposit Money to HitBTC?
Unlike Coinbase, HitBTC is a C2C exchange. Subsequently, trading in traditional currencies is not allowed on the HitBTC exchange, according to the information presented on their official site.

Still, there is an option that allows HitBTC users to buy Bitcoin with their local currency using a debit/credit card. This option is powered by exchange's partner Changelly.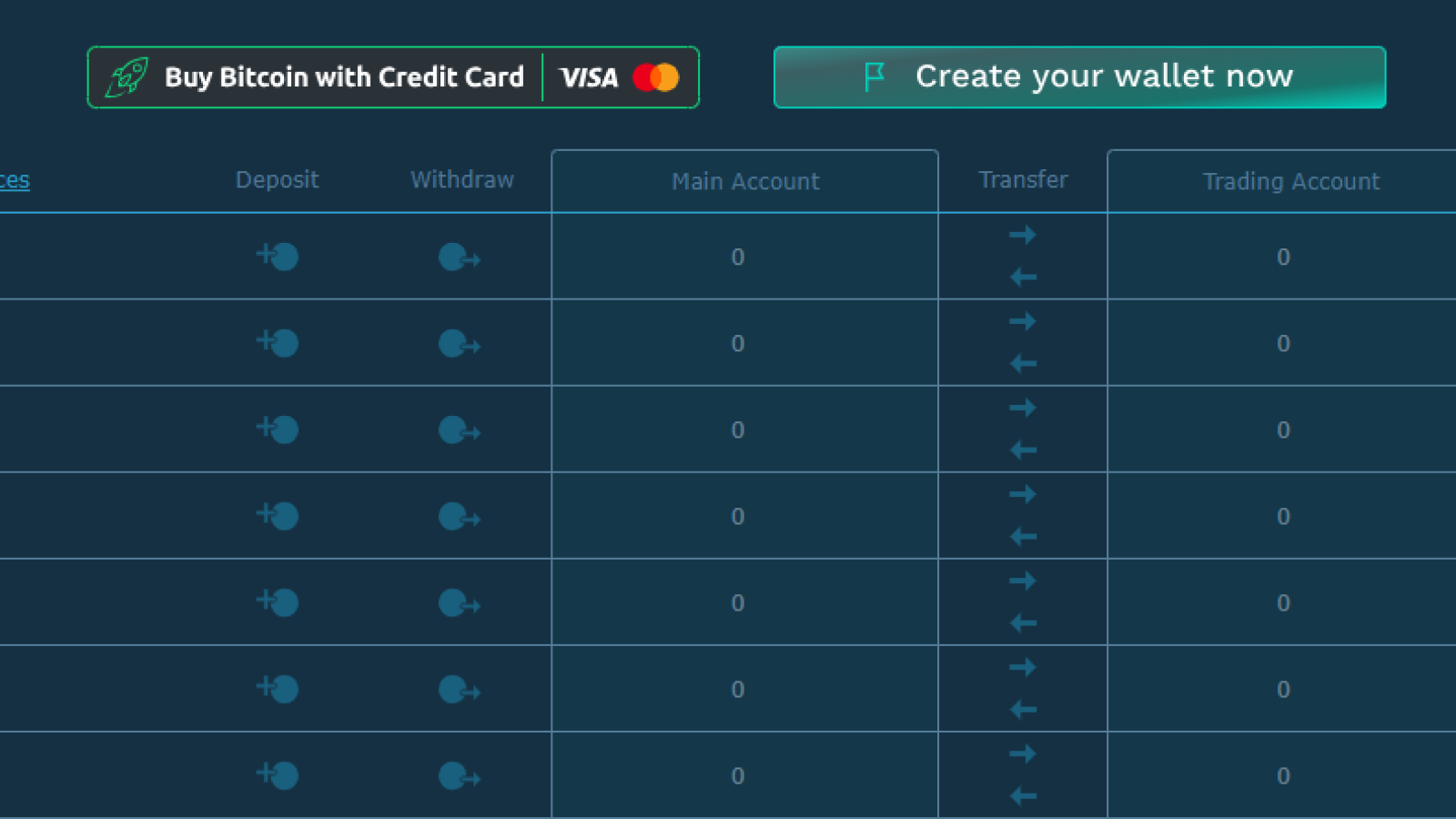 Additional Payment Methods
If you, say, want to transfer a specific amount of cryptocurrency to the HitBTC exchange, it is recommended to use any well-known fiat-to-crypto exchange (Coinbase, Gemini, LocalBitcoins). Speaking of the deposit fees, they are generally determined by the price of a specific coin you want to transfer to your account.
How to Withdraw Funds from HitBTC?
Withdrawing funds from HitBTC presupposed the same modus operandi as deposits. This time, HitBTC users have to open the "Withdraw" column.

NB! There is no possibility to withdraw cryptocurrencies from your personal account on HitBTC, so make sure you send the funds to your main account.
In order to withdraw money from HitBTC, one has to specify the exact amount of crypto and enter the address of your wallet. However, some assets also require additional data (like payment ID in the case with Ripple). Also, pay attention to the fact that withdrawals are irreversible. All funds that have been withdrawn from your account can be accessed by viewing your payment history on HitBTC.
How To Trade on HitBTC?
If there is a particular currency you are looking for, you easily type it in the search box. Once you choose the coin, you will see the options "Buy" and "Sell" on the right. Go below the charts in order to see the "Instrument" option.

Go to the "Market" section if you want to purchase the currency instantaneously. Simply type in the specific amount and click the "Buy Market" button. If you, for instance, put 1 BTC into the amount box, and you can buy this amount of crypto in a snap at the current market price.

For those HitBTC traders who want to buy a virtual coin at a certain price, it is recommended to place limit orders. As the name suggests, the transaction will only be conducted in case the prices reaches certain limit on the exchange. The "Good Till Canceled" feature allows users to change any settings of the order on HitBTC.

NB! Limit orders can be seamlessly close before their actual execution

Notably, limits orders can be only placed to buy assets at a lower price. Subsequently, you have to opt for a stop order if you want to go for a higher price.

HitBTC traders without an expansive experience can take advantage of the so-called demo trading option. That means that one can access all of the aforementioned trading features without spending a dime. That is the reason why many developers flock to the HitBTC exchange in order to try out bots for automated trading.
Margin trading
On June 2, HitBTC, due to "numerous requests", also launched margin trading. Now, HitBTC users are able to trade with 1:3 leverage. Margin trading allows traders to hugely profit off unexpected price upticks, but it is also very risky.
HitBTC Fees
While Robinhood is creating the growing no-fee niche, HitBTC, like the majority of cryptocurrency exchanges, has to charge fees in order to stay in business. Remarkably low fees are considered to be one of the most salient features of the exchange. Takers (the users who place instantaneously filled orders) are paying a minuscule 0.1 percent fee on HitBTC. As the name suggests, they purchase the asset at the price they want at any given moment.

Meanwhile, the so-called makers aren't supposed to pay any fees. In fact, they are actually rewarded with a 0.001 rebate.
HitBTC's Market-Making Contracts
In order to incentivize market makers, HitBTC aims to enhance their trading experience with the help of Market-Making (MM) contracts. HitBTC offers MM market-maker contracts that work with one trading pair. For a certain token to be listed on the HitBTC exchange, you have to find a trading partner since HitBTC requires two MM contracts before listing a specific asset. All the contracts are reviewed on a monthly basis. After fulfilling the contract, the HitBTC account is paid 10,000 USDT.
HitBTC Affiliate Program
HitBTC referral program is designed to expand the list of traders who use the HitBTC's services. The modus operandi is rather straightforward - the number of people you persuade to use HitBTC directly correlated to the reward that you get (up to 75 percent of their trading fees). 0.01 BTC is the minimum threshold for withdrawing rewards.

Still, some users claim that HitBTC's referral program is simply not working, labeling it as a scam. Indeed, their affiliate program is "soon" expected to be relaunched, but the users keep complaining.
Is HitBTC Safe?
HitBTC is an exchange with robust security. After suffering from a major security breach in 2018, HitBTC has already learned its lesson by placing a huge emphasis on their safety. Here's the list of its major security features:

1) The whitelist option. HitBTC provides its user with a very useful security feature that allows whitelisting all addresses. The option presupposes creating a list of trusted addresses that prevents hackers from sending HitBTC funds to their own wallet. In order to delete the HitBTC whitelist, the user also has to gain access to the victims' email (that would be rather challenging).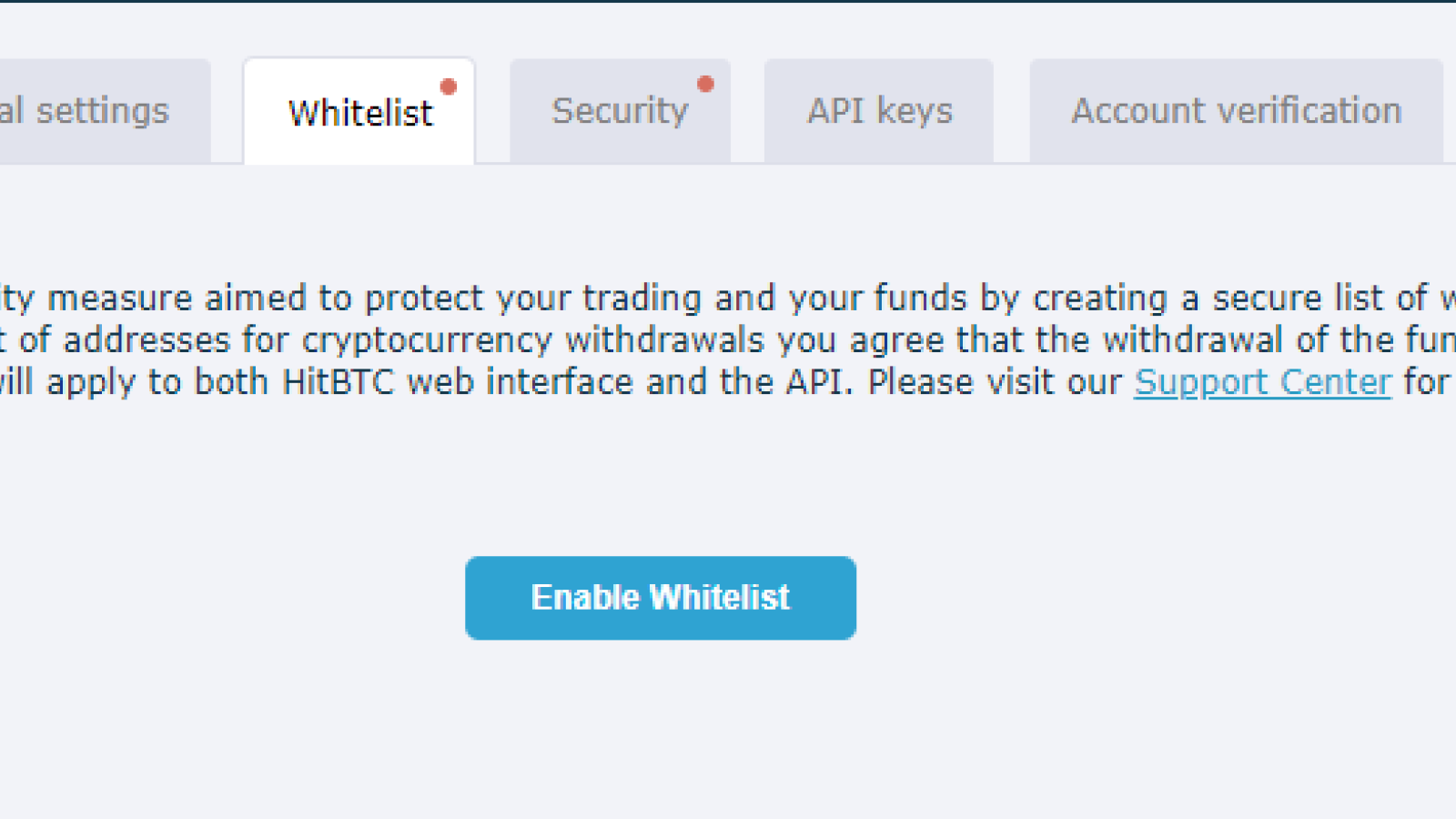 2) Automatic logout. While it's rather a mundane feature, it could come in handy to those users who failed to make a habit of logging out from their accounts. Numerous time spans of automatic logout are available (from 30 mins to 7 days).

3) 2FA. Two-factor authentication is a security tool of paramount importance, which is a must for every reputed exchange, including HitBTC.

4) Terminating active Sessions. HitBTC keeps track of all of your trading sessions that can be easily terminated with a single button.

In general, HitBTC has all security features of an exchange, but it doesn't hold a candle to such crypto behemoths like Coinbase which prints private keys in a remote Faraday tent. On top of that, there is very little information pertaining to the team behind HitBTC and its regulatory compliance. It is safe to say that there is a lot of legal uncertainty surrounding this trading platform, and that might be concerning for investors.
HitBTC Reputation: the Bigger Exchange, the Bigger Target
This September, HitBTC appeared at the epicenter of yet another controversy which started with a CoinBene's publicity stunt. One of the major competitors of HitBTC claimed that it would list any coin for free if it leaves the seventh biggest exchange in the world.

The controversy goes even deeper, involving the infamous crypto baron John McAfee. McAfee, who teamed up with CoinBene in order to eliminate corruption in the crypto space, also decided to wage a war against the HitBTC exchange. Earlier, he himself called the HitBTC exchange "the worst", expecting that HitBTC will pay a big price for its alleged shenanigans.
I'm keeping the pressure on HitBTChttps://t.co/gRfDsXSC9T

— John McAfee (@officialmcafee) September 13, 2018
This is merely a continuation of the long-lasting war between McAfee and HitBTC. Earlier, Mr. McAfee threatened the exchange with legal actions.
June 30, 2018
However, its troubles extend far beyond the McAfee beef — HitBTC would constantly draw ire from its users for randomly freezing accounts. A cursory glance at HitBTC subreddit reveals a slew of posts related to failures of the HitBTC cryptocurrency exchange.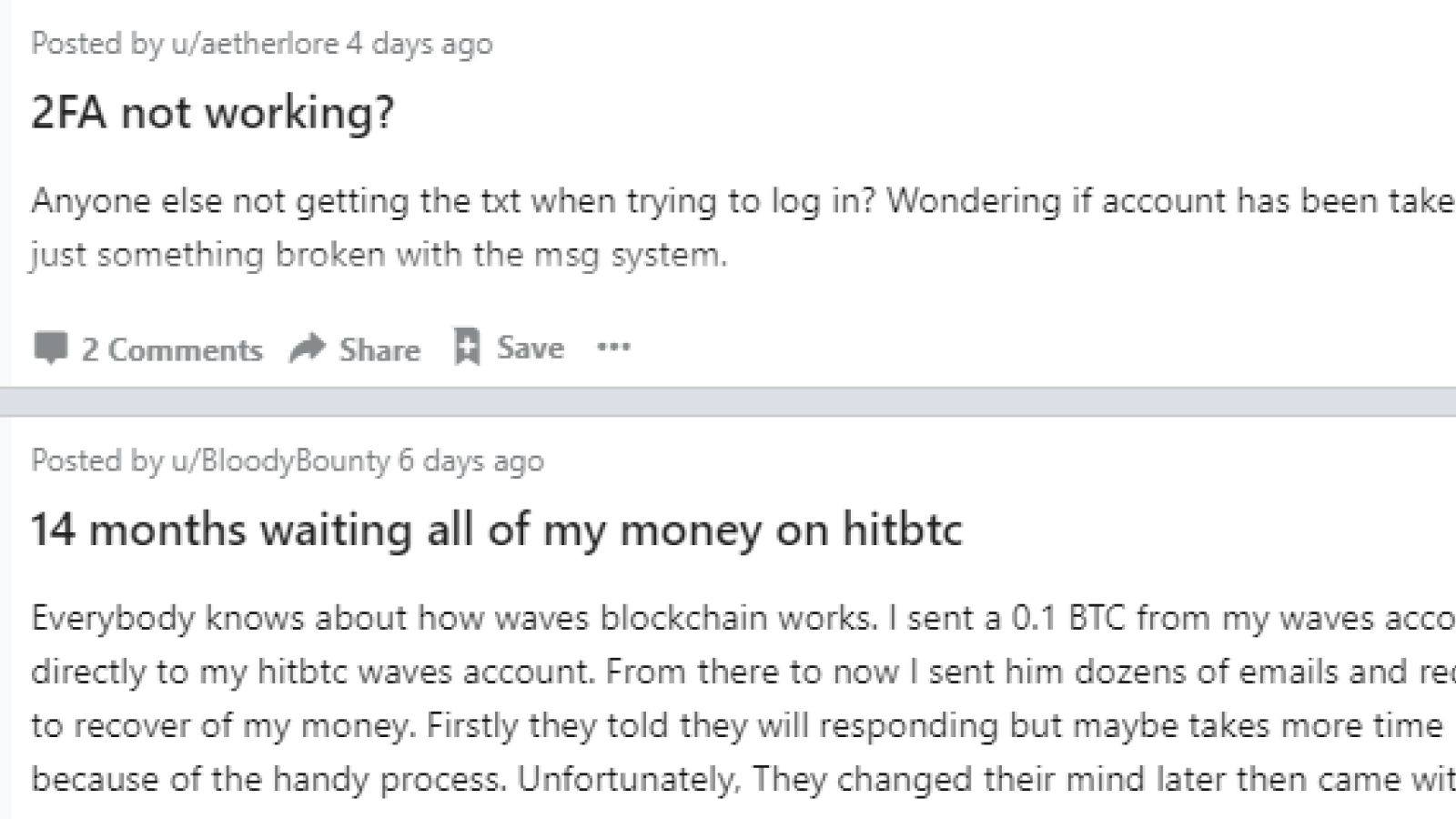 Customer Support
The FAQ section on the HitBTC site covers a slew of topics that will show the light to the newly arrived users. Still, the customer support is frequently slammed by HitBTC since it fails to quickly respond to help requests. HitBTC customers are generally complaining about withdrawal delays and unexpected losses. The social media are swarming with complaints from disgruntled HitBTC users, but the administration doesn't seem to care (and it comes at a price).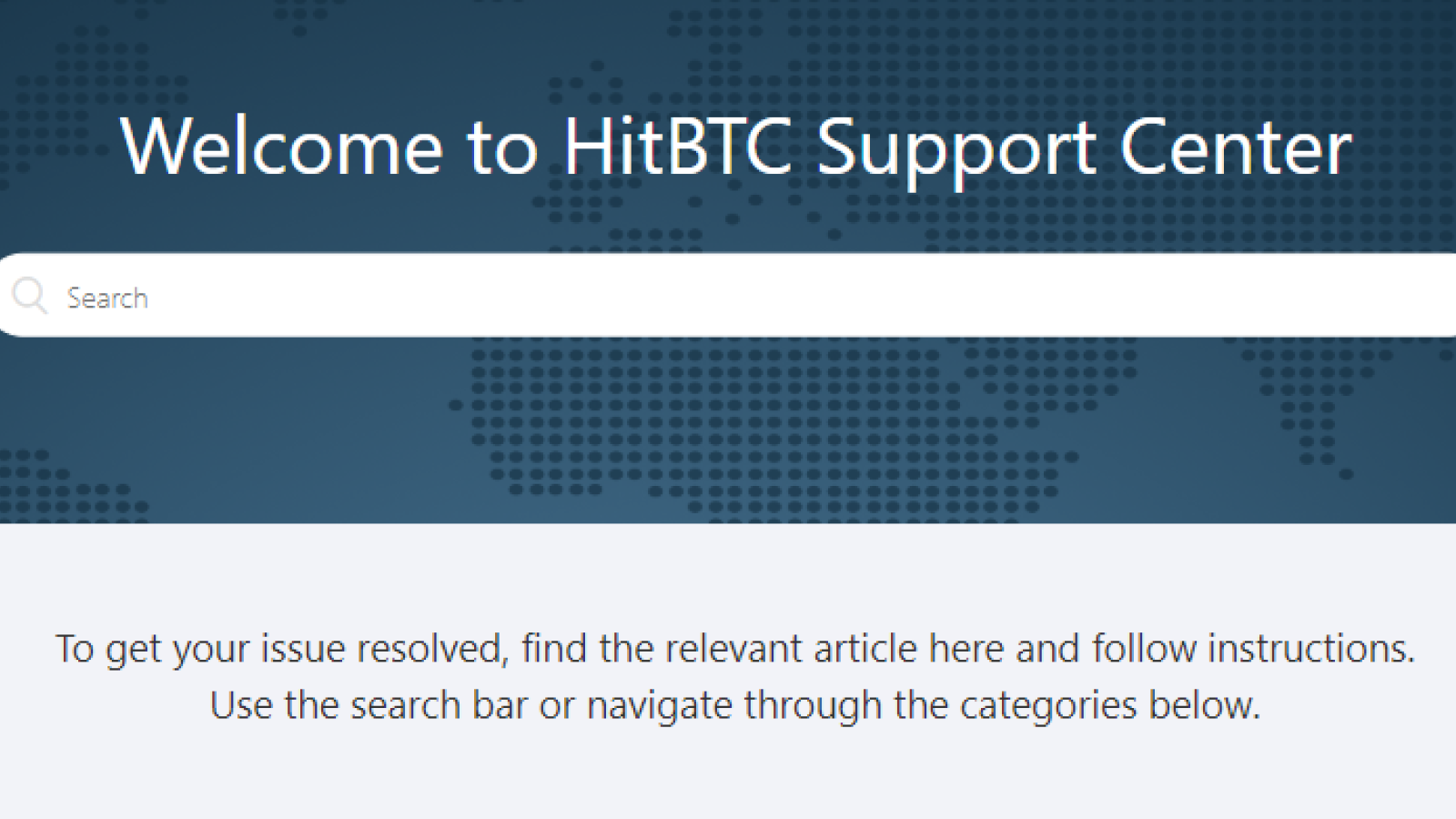 While many HitBTC's competitors strive to excel in this department, the lack of proper customer support is probably one of the major downsides of HitBTC. HitBTC, one of the biggest exchanges, should seriously consider taking notes from Binance, KuCoin, and other competitors.
The Bottom Line
HitBTC, like practically any other cryptocurrency exchange, has its pros and cons. While posing like an obvious option for inexperienced traders, it definitely raises some security concerts on top of its abominable customer support. What started as a promising startup in 2013 and riding the crypto wave in 2016 and 2017, the Hong Kong-based exchange, is now lagging behind its major competitors. As the crypto space is getting more and more competitive and Binance is slowly taking over the world, users can clearly ditch HitBTC for any other crypto-to-crypto trading platform.