Hello dear readers! This is Andrew Strogoff and we are going to talk about HitBTC cryptocurrency exchange in this article. This worldwide trading platform is famous among investors. It was launched in 2013 with more than $6 mln worth of investments.
This project is widely covered by the different media including Cointelegraph, Finance Yahoo, and the others. Developers may benefit from API.
The HitBTC team offers an opportunity to any other project to add its token to the exchange. This procedure is rather easy as you need to provide the exchange with links to the Reddit page and Bitcointalk discussion, add your email address and a brief description of the project.
All those who invite new users may receive their money according to the referral program. There are three languages available.
Before I start my HitBTC review I would like to write some words about the recent scandal. I think some of you have heard about this "war" between McAfee and the exchange. I cannot skip this issue doing my HitBTC review.
McAfee vs. HitBTC
John McAfee, famous antivirus software creator and ICO promoter have recently asked the crypto community to boycott HitBTC. To tell the truth, I can't understand the reason for the accusation. McAfee says that exchanges have great power nowadays and such trading platforms as HitBTC increased the suffering of millions of people who cannot afford minimum amount.
What is the main issue here? I don't know as I cannot understand what is the idea of McAfee's "assault." I think that this was due to high fees that the exchange retains from its clients. However, McAfee himself avoids making it clear. He also said that he was going to become the exchange's enemy until its administration solve this "problem" (undescribed, however).
To tell the truth, HitBTC gave a quick response to McAfee's accusations. They said that they are ready for McAfee's proposals and they have even presented their rules of fee calculations. McAfee was unsatisfied with the answer and developed his idea telling that HitBTC killed many people and he knows no algorithm of calculations that may compensate them.
However, the only thing that I think is worthy of attention here is that McAfee mentioned that HitBTC pressurized Docademic project, which should be respected according to the famous ICO's promoter. Well, here I Think is the point we need to pay attention to.
McAfee is famous for protecting different ICOs and advising during token sale procedures. Moreover, he was promoting Docademic in his Twitter channel recently. McAfee is a token holder and some experts think that all this "campaign" was paid by Docademic.
Creating an account with HitBTC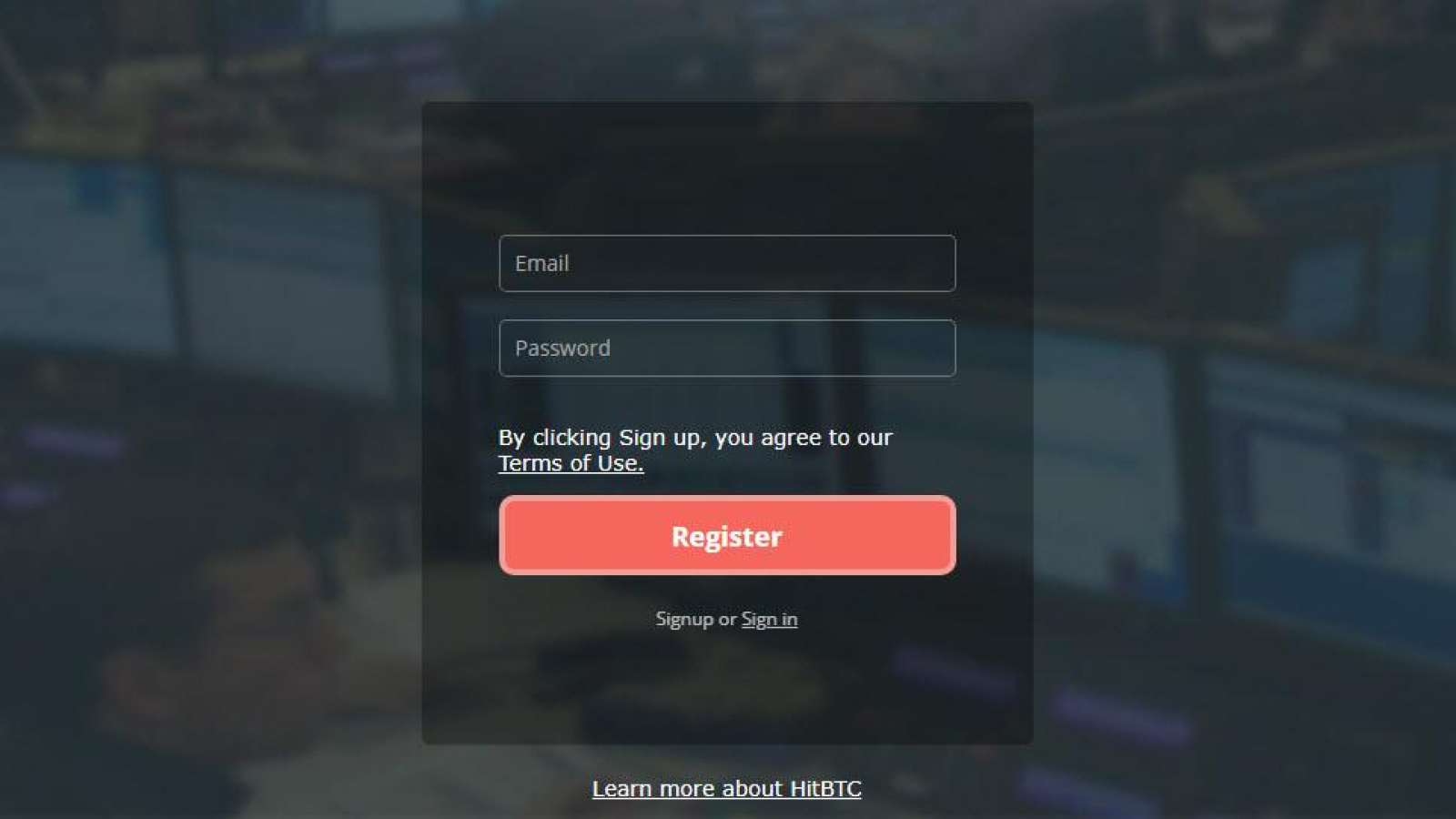 Before you start trading with this exchange, you need to create your account and leave a deposit. This procedure is mandatory for every trading platform. To tell the truth, HitBTC's sign in procedure is very easy. You need to provide the company with your email address and the password that you create in the moment of registration.
The next step– email confirmation. Once you have provided your data, HitBTC sends a letter to your email that contains a confirmation link. You need to click on it. After that, your account is ready.
However, your account is limited as you cannot work with fiat money there. In order to get access to fiat currencies, you need to verify your account. This procedure includes providing your full name, country of residence, date of birth and ID documents scan copy to the exchange administration.
How to make a deposit with HitBTC and withdraw money
There are different ways to make a deposit here. You can use both cryptocurrencies and fiat money to work with HitBTC. The exchange receives SWIFT transfers, and SEPA as well. Depositing procedure is easy as it has just several steps to do.
As for withdrawal, you can also use both cryptocurrencies and fiat money. There are no difficulties there.
Platform or how to trade on HitBTC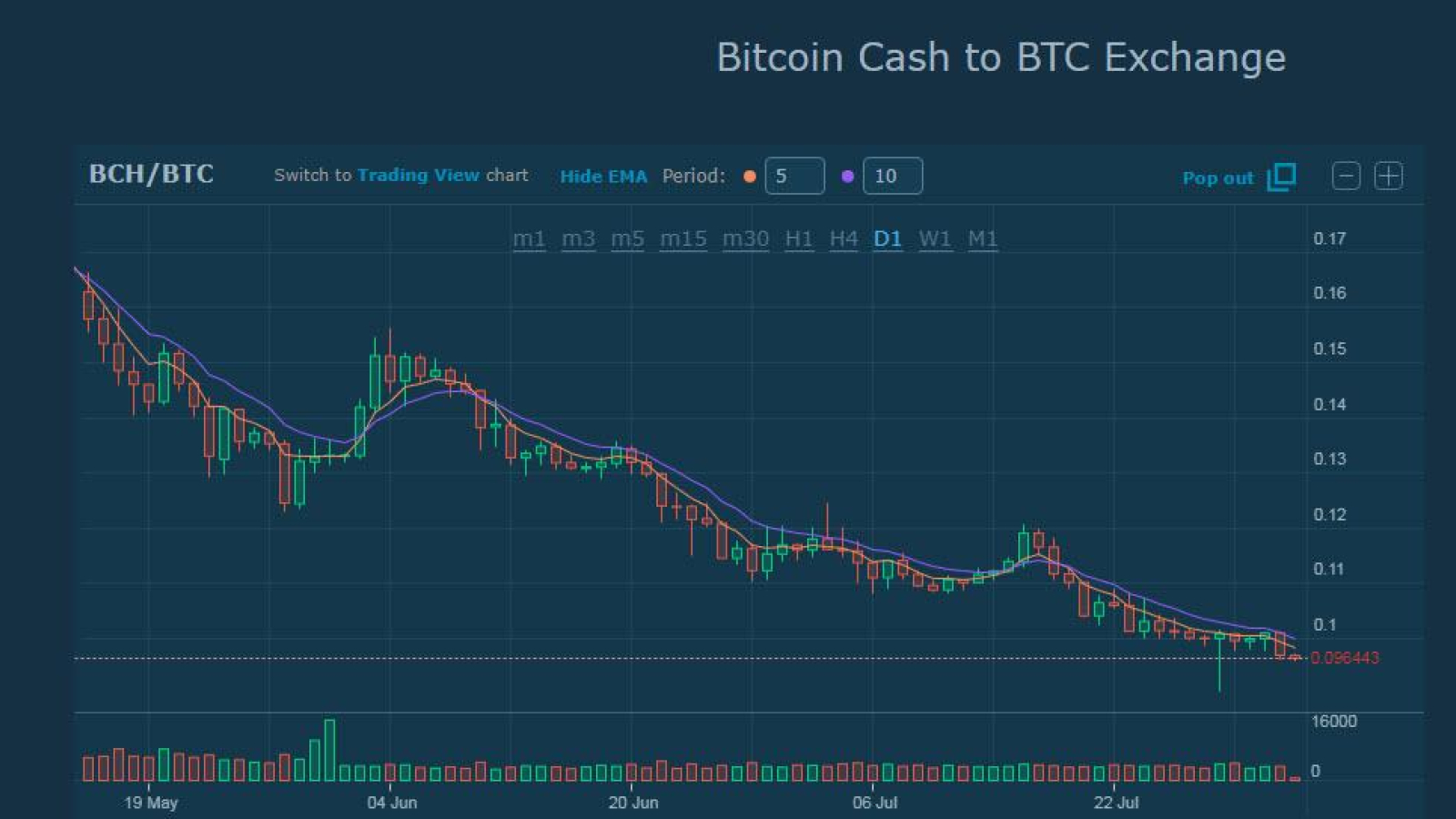 Once you have left a deposit to your trading account, you can start trading. Before I start describing the trading platform, I would like to mention that HitBTC offers many coins and tokens including Bitcoin forks etc.
HitBTC trading platform offers a wide range of tools to their clients. Let me start by mentioning the chart. This one is rather primitive I think. There is no indicator choice (you are offered EMA with different periods only). There are no graphic tools as well.
Below the price chart there are volumes. As you may see, nothing special there. You can also change timeframes and that is all. Nothing more to set up. However, there is one special hint that I would like to mention. If you are a professional trader and need much more tools, you can use additional chart that HitBTC offers to all their clients. To do this, you need to go to the upper side of the platform and click on Trading View link. This will allow you to open this famous platform in a separate window.
Besides the chart, you can look through the order book as well. There you can find all propositions that are available in the real time. As for the instruments, you can use over 500 trading pairs, which are divided into several groups. To make the search easier, you can choose a primary currency tab (BTC, ETH or USDT). You can also set up your favorites by simply clicking the "Favorites" button.
Another interesting tool is the market overview. It allows you to monitor all markets in a single place. You can see market volumes, and prices that are changing in real time. There are also important tabs such as market spread, depth, and activity.
How to buy on HitBTC
There are three types of orders that you can choose according to your needs. Let me introduce them:
Market orders.

Limit orders.

Scaled orders.
Now I'm going to depict every type in details. Market orders are the easiest ones. You place them when you want to buy or sell a cryptocurrency pair at market price, which is defined as the best available market price in the moment of placing an order.
This order has a stop price variety. You can specify stop price, which will be the trigger for the market order. Once the level of the stop price is reached, your order becomes market.
Limit orders are designed to allow traders to enter the market at the price they want to. For example, BTC/USD price is $8,400 and you want to buy Bitcoin for USD, but you think that BTC is going to decline further before the uptrend. You can set up buy limit order at $8,000 for example and if the price reaches this level, you order will be executed.
There are some other sub-limit order types that you can use while trading with HitBTC. Here they are:
Good-Till-Cancelled. This one lasts until the order is completed or canceled.

Day. This type of order expires if not executed within the day. The expiry time is set at 00:00 UTC.

Good-Till-Date/Time. This order expires at the exact date or time specified by the trader.

Fill-Or-Kill. This order must be executed entirely. Otherwise, it is canceled. How does this work? Let's suppose you want to buy one Bitcoin at a desired price. However, there is no offer to fill this order entirely. If this happens, your order will be canceled.

Immediate-Or-Cancel. This type of order must be executed immediately. Otherwise, it will be canceled.
There is one more feature that I want to share with you and to describe in my HitBTC review. It is called "Scaled Orders." How to use it and how do traders may benefit from it? Well, those scaled orders allow you to open multiple positions automatically without monitoring the chart.
Why do traders use this feature? Let's suppose, you want some purchase orders to be opened while the price is declining. When you do it manually, you have to sit in front of your desktop or look through your mobile device constantly in order to succeed. Scaled orders allow you to set and forget.
To open such orders, you need to do the following steps:
Use the amount section to specify the volume you want to buy.

Use the price step feature to specify the distance between orders.

Set price min and price max in order to establish the interval in which your orders will be filled.

You can look through "the Order count" window in order to see the amount of orders to be opened.
There are also some other features. You are able, for example, to select Flat, Up or Down options. They are important as they help to set the conditions of the opening orders.
Trading and withdrawal HitBTC Fees
There are fees for trading that you need to pay when opening trading positions. There are two types of trading commissions on HitBTC. Fees are equal to 0.1 percent and rebates are 0.01 percent. Fees are paid by traders and investors and rebates are given to them by the exchange. The logic here is simple. You pay for emptying the book of order and you are paid for filling it with new orders.
When you open a market order or limit order which has suitable pairs from the book of orders, you are to pay a commission as you are "draining" liquidity from the exchange. Those who open limit orders that are placed to the book of orders are paid rebates as they "push" liquidity to the exchange.
AS for trading volumes, they are rather high. HitBTC is in the top 10 cryptocurrency exchanges and is highly competitive as compared to the other platforms. Those results were achieved due to the big number of currency pairs and several useful features that the platform offers to the clients. Daily trading volumes are $100,000.
HitBTC security and support
Security is one of the most important aspects that every trader and investor pays attention to before depositing money. HitBTC developers offer several solutions to make the service reliable. All users activities are logged and you can see later the IPs to be sure that nobody has got access to your trading account.
The login procedure is also protected as HitBTC offers two-factor authentication by Google. This 2FA method is also used when you conduct transactions and change options. If you were inactive in your account for some time you will have to re-login there.
As for the support service, they are working hard, but there are cases when users have to wait for a long time before getting any answer from managers. Anyway, support service promises their clients that all their issues will be solved sooner or later.
HitBTC pros and cons
The advantages of this cryptocurrency exchange are as follows:
The verification procedure is not required for those who want to work with cryptocurrencies only. This means you don't need to provide the platform with your personal data if you want to trade coins or tokens. However, for those who aspire to trade fiat money, the verification procedure is necessary.

High trading volumes and liquidity for the most popular cryptocurrency pairs. HitBTC is famous for its great daily trading volumes.

The number of cryptocurrency pairs. The team invites all projects to list their tokens. The procedure is rather simple. However, as far as I know, they delist tokens in a very fast manner and without any explanation to the project teams.

User interface and features. This platform offers many tools for all kind of traders (both beginners and professional market players).

Long term project. HitBTC appeared in 2013 and there was no serious issues or complaints. The team is working in this industry for a long time already. They have all the necessary experience to run on such a platform.
As for the disadvantages, there are few of them:
Lack of European languages. HitBTC offers English and Chinese. No other European languages are presented there.

Low popularity among traders and investors. HitBTC has launched long ago, but the number of traders and investors are lower than it could be as compared to other "older" exchanges.
HitBTC overview
I have almost done with this HitBTC review. As you may see the exchange is rather interesting as there are plenty of coins there and many opportunities for both novice and professional traders.